New Suit Alleges Another Case of Abuse by Former St. Louis Priest
St. Louis Post-Dispatch
October 20, 2015

http://www.stltoday.com/news/local/crime-and-courts/new-suit-against-former-st-louis-priest-alleging-another-case/article_6cd5aba9-23ae-54d5-a1c0-a6fac647db6b.html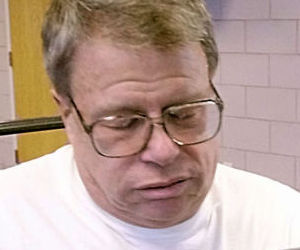 The Rev. Leroy Valentine, in a 2002 file photo



A new sexual abuse lawsuit has been filed against the Archdiocese of St. Louis and Archbishop Robert Carlson over a priest who has been accused multiple times in the past.

The Rev. Leroy Valentine, also a defendant, is accused in the suit of repeatedly abusing a young student who attended the Church of the Immacolata in Richmond Heights between about 1977 and 1981, starting when the boy was age 11.

Attorneys from Chackes, Carlson and Gorovsky filed the suit last week in St. Louis County Circuit Court. The petition says Valentine told the boy the abuse was "special training" required for becoming an altar boy.

Valentine has been accused of childhood sexual abuse multiple times in the past.

Three brothers who said they'd been molested by Valentine in 1982 sued the priest in the 1990s, eventually settling with the archdiocese for $20,000 each.

In 2002, at the height of the clergy sexual abuse crisis in the Roman Catholic church, the archdiocese said that while the brothers' allegations against Valentine had not been credible, it was investigating a new accusation. Valentine resigned from St. Thomas the Apostle in Florissant, where he was serving as associate pastor, during that investigation.

In 2013, the St. Louis Archdiocese permanently removed Valentine from the ministry, saying in a statement that an independent advisory board had determined a recent allegation against the priest over an incident in the 1970s was credible.

Although Valentine's privileges as a priest were removed, he has not been laicized, a sanction that can only be taken by the Vatican. The unnamed plaintiff said in a statement released by his attorney that filing the suit was "a last resort" due to the inaction.

Ken Chackes, the attorney who filed the suit, urged any other victims to contact police. A spokesperson for the Archdiocese could not be reached for comment Tuesday.