John Conley, Priest Who Was Whistleblower, Dies
By Cynthia Laird
Bay Area Reporter
November 12, 2015

http://www.ebar.com/news/article.php?sec=news&article=71067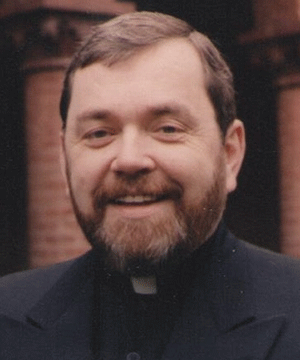 Father John Conley. Photo: Courtesy Kate Hoepke



Father John Conley, a gay man who entered the priesthood later in life but was castigated by Archdiocese of San Francisco officials after he reported to police a fellow cleric who he suspected of sexually abusing an altar boy, died November 4 at his residence in South San Francisco. He was 71.

Mr. Conley was a federal prosecutor when he decided to follow his dream of becoming a priest. According to a news release from the archdiocese, Mr. Conley entered Saint Patrick's Seminary and was ordained to the priesthood April 17, 1993 at Saint Mary's Cathedral in San Francisco by then-Archbishop John R. Quinn.

But it was in his role as a whistleblower that he made news, having witnessed what he believed were improper actions by another priest, James Aylward, at a Burlingame church in 1997. Mr. Conley reported the incident to his superiors but was later viewed as an outcast by Aylward's supporters.

Then-Archbishop William Levada transferred Mr. Conley to a parish in Mill Valley, and ordered him not to discuss the incident he witnessed with nuns assigned to St. Catherine's parish, where Aylward was pastor, according to a 2004 SF Weekly article.

"But newly unsealed court documents show that long after Aylward admitted having touched boys for sexual gratification, Archbishop Levada expressed misgivings about Conley's role and said that under the same circumstances he – Levada – would not have reported Aylward to police as Conley had done," the paper reported.

Mr. Conley was vindicated years later when Aylward admitted sexual misconduct and when the church grudgingly admitted that Mr. Conley had acted properly in reporting the incident, the paper stated.

"He had made peace with the archdiocese," his niece Kate Hoepke told the Bay Area Reporter in a phone interview Monday, November 9. "It was a long, drawn-out ordeal."

Hoepke said that her uncle was the type of person who "was not going to let go of it until it was resolved."

"John challenged the Catholic Church in a way that they don't get challenged," she said. "He challenged them about horrible crimes against children" and the subsequent cover-up.

Hoepke said she and Mr. Conley's surviving family members were "very proud" of his actions during that time.

The archdiocese eventually settled with Mr. Conley. SF Weekly reported that the settlement allowed Mr. Conley to retain his privileges as a priest, provided a lump payment, and monthly annuity payments.

Mr. Conley was born December 10, 1943 in Detroit, Michigan, to Elizabeth McNamara and William Raymond "Ray" Conley. He was the youngest of seven children. Mr. Conley attended Catholic Central High School in Detroit and graduated from Loras College in Dubuque, Iowa in 1965 with a degree in history. He completed his law studies at Detroit College of the Law in 1971.

While still in his early 30s, Mr. Conley was appointed by President Gerald Ford as chief federal prosecuting attorney for Southwest Michigan. He served as chief of the criminal division of the U.S. Department of Justice in Detroit before turning to private practice in Flint, Michigan.

Mr. Conley came to San Francisco in 1983, where he was employed as an estate administrator and attorney with the federal bankruptcy court, Northern California District.

In his capacity as a pastor, Mr. Conley served as parochial vicar at Saint Brendan Church, Saint Mary's Cathedral, Saint Bartholomew Church, Saint Catherine of Siena Church, and Saint Philip the Apostle Church, the archdiocese said in a statement. He retired in January 2003 and lived independently for 10 years until his health necessitated his move to an assisted care facility in South San Francisco.

Hoepke said that her uncle loved people, partly because he came from a large family where people were always around.

"He had a fierce sense of justice," Hoepke said. "Throughout his life he felt deeply about things and wanted to right things that were wrong."

Mr. Conley loved to travel, Hoepke said, and she said that he told her that he learned a lot about himself. He also enjoyed and studied history, particularly the early part of the 20th century.

"And drinking coffee and sitting around talking," she said, mentioning other things Mr. Conley enjoyed.

In addition to Hoepke, Mr. Conley is survived by his sister, Jane Anne Williams; nephew Tom Conley; and many other family members.

A funeral mass will be held Friday, November 13 at 10 a.m. at Most Holy Redeemer Catholic Church, 100 Diamond Street, San Francisco.

Mr. Conley will be buried at Holy Sepulchre Cemetery in Southfield, Michigan.