Two Come out As Victims of Priests
By Olivier Uyttebrouck
Albuquerque Journal
November 19, 2015

http://www.abqjournal.com/678417/news/two-come-out-as-victims.html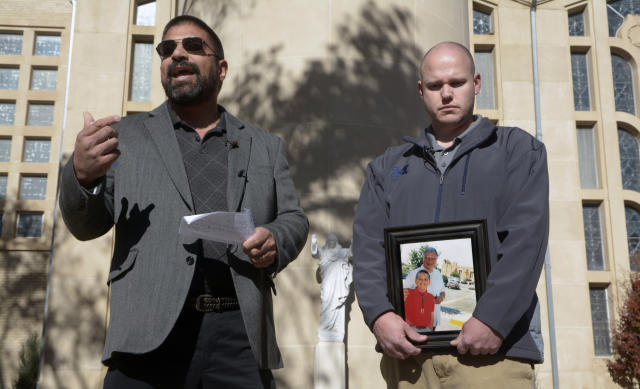 Brian Gutierrez of Albuquerque, left, and Ken Wolter of Detroit identify themselves as John Doe C and D, who filed lawsuits last year against the Archdiocese of Santa Fe alleging they were sexually abused as children by priests in Albuquerque. Wolter holds a photo of himself at age 11 or 12 standing with his alleged abuser, Arthur Perrault, a former pastor of St. Bernadette Parish. (Greg Sorber/Albuquerque Journal)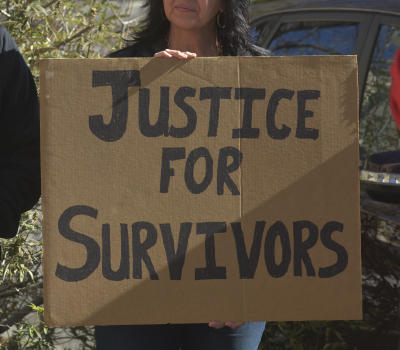 A supporter holds a sign calling for justice for survivors of sexual abuse by priests during a news conference where two men identified themselves as abuse victims. (Greg Sorber/Albuquerque Journal)



Two men suing the Archdiocese of Santa Fe alleging that as children they were sexually abused by priests gave up their anonymity Wednesday, saying they wanted to prod the church "to release secrets and truths" and encourage others to come forward.

"In order to heal this community, you must remember that there are a lot of victims out here," said Brian Gutierrez, 46, of Albuquerque who had been identified only as "John Doe C" in a lawsuit he filed in May 2014. "We ask the archdiocese, and Archbishop (John C.) Wester in particular, to begin a new era of forgiveness."

Joining Gutierrez at a media conference outside an Albuquerque church was Ken Wolter, 34, of Detroit, Mich., who sued the archdiocese in August 2014, identified as "John Doe D," alleging that as a pre-teen he was repeatedly raped in the early 1990s by Arthur Perrault, then pastor at St. Bernadette Parish in Albuquerque.

During the event, Wolter held a framed photograph of himself at age 11 or 12 with Perrault standing beside him outside a church.

Perrault fled Albuquerque in 1992 after allegations of his sexual misconduct surfaced, and his whereabouts remain unknown, according to news reports.

The archdiocese did not respond to phone and email messages on Wednesday.

Gutierrez alleged that he was raped in 1986 by Sabine Griego, then pastor at Queen of Heaven Church in Albuquerque. Gutierrez said he was a 17-year-old freshman at the University of New Mexico at the time and considering a vocation as a priest.

"It was a rape of my faith, essentially," Gutierrez said of the attack. "I had the faith of a child up to that point. I truly thought I had a calling" to be a priest, he said.

A Villanueva native and 1986 graduate of West Las Vegas High School, Gutierrez said his lawsuit is scheduled for trial in August 2016 and that he has no interest in seeking a settlement with the archdiocese.

His and Wolter's lawsuits are among nine clerical abuse civil cases scheduled for trial next year in 2nd Judicial District Court in Albuquerque, said their attorney, Brad Hall.

In all, Hall has filed about 50 suits since 2012 on behalf of alleged victims of clerical abuse, most naming the archdiocese. Negotiated settlements have been reached in about 30 of the cases, all for undisclosed amounts, he said.

Both men said they want the archdiocese to release church records and files about priests accused of sexual abuse of children.

However, 2nd Judicial District Court Judge Alan Malott issued a confidentiality order last year affecting the abuse cases that prohibits public disclosure of a wide variety of records produced by the archdiocese, including files on priests.

Gutierrez's wife, Dolores Herrera, who joined her husband at the news conference, said Gutierrez had the support of his family to make public his allegations.

"This has to come out because it has been swept under the rug for so long, and there are so many people suffering – children, families," Herrera said.