Lawyer John Stobierski has unique perspective on child sexual abuse by Catholic priests portrayed in 'Spotlight'
By Diane Broncaccio
Daily Hampshire Gazette
November 25, 2015

http://tinyurl.com/nwqhku5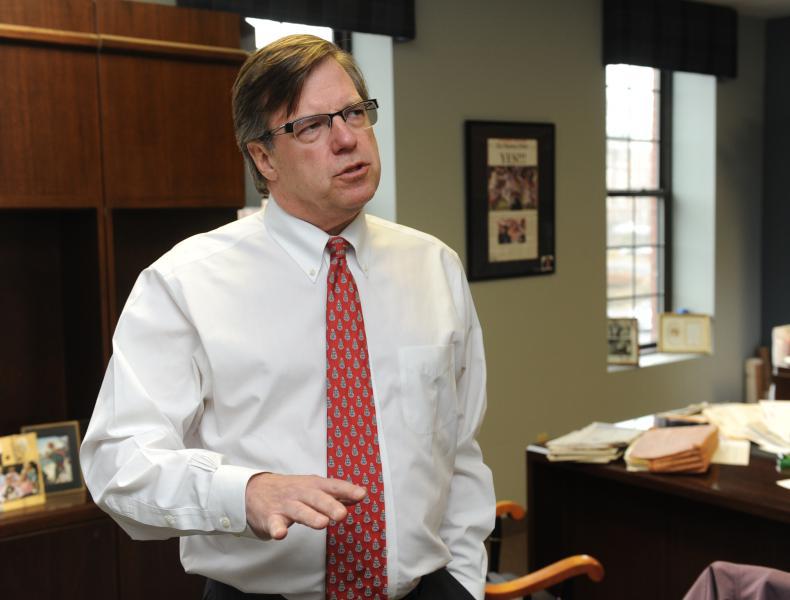 RECORDER/PAUL FRANZ Greenfield lawyer John Stobierski has a unique perspective on the child sexual abuse by Catholic priests portrayed in "Spotlight," the movie about the Boston Globe investigation.
GREENFIELD — If anyone has no need to see "Spotlight" — a movie about the Boston Globe's 2002 investigation of child sexual abuse by Catholic priests — it's probably John Stobierski, a Greenfield-based lawyer who has more or less lived the story.
Over the past 23 years, Stobierski has met with hundreds of families who told him disturbing stories of misplaced trust in and betrayal by clergymen. He has successfully litigated at least 80 cases, resulting in settlements of at least $10 million.
He was invited to the star-studded Boston premiere of "Spotlight" at the end of October. "I didn't need to go that far to see a movie," he remarked in his corner office at Stobierski & Connor law firm in Greenfield.
But last weekend, Stobierski did see the movie at Cinemark in Hadley.
"I think it's a wonderful movie that everyone should see," said Stobierski. "My involvement in this whole thing starts at the end of that movie — which was when that first piece (on clergy abuse) was published. But it only captures one chapter of an incredibly long story."
Stobierski, a lifelong Catholic, grew up in South Deerfield, where his grandparents were founding members of St. Stanislaus Church. Stobierski was an altar boy there and, as an adult, sometimes taught catechism.
He had only been practicing law in Greenfield for a few years when the Rev. Richard R. Lavigne of Shelburne Falls was first arrested in October 1991 on charges of molesting three boys in St. Joseph's parish. Lavigne eventually pleaded guilty and was placed on probation for 10 years and ordered to spend six months in a treatment program for sex abusers at a Maryland hospital.
Stobierski recalled that Superior Court Judge Guy Volterra, who gave Lavigne such a light sentence, was quoted in one news story as saying, "This story doesn't belong anywhere but on the back page of any newspaper."
The Recorder reported June 25, 1992, that "The judge, in sentencing, lambasted media for blowing the case out of proportion. Volterra said Lavigne's outstanding ministry to the people has been destroyed by his behavior toward the young who were entrusted to his care."
Volterra went on to say that the media had made the trial a "cause celebre" that did not merit such widespread attention.
It wasn't until December 2003 that the Vatican defrocked Lavigne, nearly a dozen years after he pleaded guilty, followed by a $1.4 million settlement in 1993 with 17 men who said Lavigne abused them as children. Allegations were then brought by dozens of others who were represented by Stobierski.
In 1993, within a year of Lavigne's sentencing, a woman whose son was allegedly molested by the Shelburne Falls priest came to Stobierski for help.
"She said her son was behaving strangely, and she asked if I could get counseling for him," said Stobierski. "She knew I was on my parish council at St. Stanislaus," he said. Stobierski reported the matter to the Diocese of Springfield, which provided money for the boy to receive therapy.
But then Stobierski read the Boston Globe Spotlight report on Jan. 6, 2002, which happened to be Epiphany Sunday in the Catholic Church. The story was headlined: "Church allowed abuse by priest for years."
Stobierski said the irony of reading this on the Epiphany "had kind of religious connotations for me. This was the beginning of the realization of the depths of this crisis. I knew (Lavigne) was suspected of killing Danny Croteau," he said referring to the 13-year-old altar boy found dead in the Chicopee River, whose 1972 murder has never been solved. "I knew Lavigne had pleaded guilty (to child molesting), but I thought, at that time, it was a one-time thing."
The Boston Globe series, Stobierski said, revealed the church's policies including transferring abusive priests to less populated rural communities and confirmed "the secretiveness and the habit of protecting the reputation of the church over protecting children."
"There was a whole sea-change of opinion, that the hierarchy of the Catholic Church would not place the interests of children above the institution," he said.
A few days after the Globe report, Bishop Thomas L. Dupre announced that he had reported all known child-abuse cases to the Northwestern district attorney's office. But when Stobierski learned from the district attorney's office that the boy for whom the diocese had paid for therapy was not among the victims named, Stobierski called the family. The family sued the diocese, and Stobierski filed the lawsuit on behalf of "John Doe," accusing Lavigne of molesting the child from 1987 to 1991, when the boy was between the ages of 7 and 11.
In June 2002, Stobierski filed a civil complaint to end impoundment orders for documents that might have been used in Lavigne's criminal trial before his guilty plea to indecent assault and battery in 1992. The complaint also charged the diocese with negligence.
"I filed the lawsuit and, literally, what happened after that was almost out of a movie scene," Stobierski said. "People started coming to my office. Families were lining up. Within a month, there were 15 to 20 people to come forth. It was traumatic for me.
"Looking back on it, I don't know how I did it," he added. "I was almost in a state of shock. I heard stories of abuse victims that were sickening."
Although Stobierski's law firm eventually won settlements, he said working on a contingency basis for his clients was risky in the beginning, when he had his own young family to support. "I risked my future," he said. "But these people needed help. They were desperate. No one else was stepping up. It might as well be me."
Stobierski believes his own Catholicism was an advantage, because a non-Catholic lawyer suing the diocese could have been accused of being anti-Catholic. "In the beginning, I was shunned by a lot of people in my church," he remarked. "But after awhile, there became a general awareness, and 95 percent of my parish was extremely supportive."
Lavigne was not the only priest named in Stobierski's lawsuits. Other priests, later defrocked, who were named included Richard F. Meehan, who had a brief ministry in Turners Falls, and Alfred Graves, a chaplain at the former Farren Memorial Hospital in Montague from October 1977 to June 1981 who held a position at Holy Trinity Church in Greenfield from 1978 to 1981, and was a curate at St. Mary's Church in Orange from 1967 to 1970. He was also catechism director for Franklin County from 1978 to 1981. Graves was placed on leave by the diocese in 2002 and defrocked in 2006.
"There were boys who were shared by priests — a family" of brothers, said Stobierski. "It was as gross as the Lavigne (allegations). It involved taking the boys on camping trips."
Stobierski has also represented the family of Danny Croteau, joining a lawsuit to lift an impoundment order on the results in the investigation of his unsolved murder.
In his office, Stobierski has a Josh Simpson glass planet. One globe is part of a set he commissioned as gifts to give his clients, along with their settlement checks, as a remembrance of their victory. The fist-sized globe shows a small cane-glass bead floating above a world of objects; below is a light sprinkle of gold. The floating bead symbolizes the survivor, rising above a world of obstacles. And the gold leaf below the objects represents the pure soul of a child, says Stobierski.
Each is signed and numbered, and the one in his office is number 75.
"One of the ways we've connected, is that (Simpson's) general manager happened to live next door to the mother of that first kid — the very first family that happened to come in," said Stobierski. "They were all involved in trying to help people heal."
Stobierski knows some of the Globe staff members who worked on the series. Reporter Matt Carroll came to a press conference that was organized by Stobierski to announce a lawsuit. He also knows Walter Robinson, the editor who led the Spotlight investigation of the Catholic Church sexual abuse who is played by Michael Keaton in the film.
"Robinson's wife is from South Deerfield," Stobierski said. One night, Stobierski said he was sitting at St. Stanislaus during a Christmas service when he noticed Robinson sitting behind him in church. "He says, 'Nice work' to me," Stobierski recalled. "So I go, 'Yeah, nice work' to him."