Duterte Names Priest-abuser
By Jefry Tupas
Manila Times
December 5, 2015

http://www.manilatimes.net/duterte-names-priest-abuser/232809/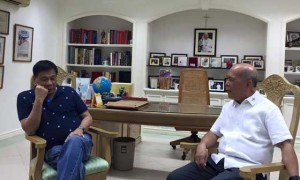 Davao City Mayor Rodrigo Duterte listens as Davao Archbishop Romulo Valles gives him a lecture on Christian values and good manners. During their meeting, Duterte promised not to spew expletives again and pledged to fine himself P1,000 for each violation. Photo from Rody Duterte's Facebook account



Davao City Mayor Rodrigo Duterte on Thursday night named the Jesuit priest who allegedly abused him and several others while he was a student at the Ateneo de Davao University.

Duterte said a certain Fr. Mark Falvey molested him when he was between 14 and 15 years old.

"It happened during our generation, two years ahead of us and two years following us," he added.

"It cost him some P25 million because other victims filed a case, it was a case of fondling–you know what–he did during confession, that's how we lost our innocence early," Duterte said.

As a young boy, according to him, he was afraid, thus, no case was filed against the priest.

"It was a sort of sexual awakening for each of us," he said. "We realized quite early that ganun talaga ang buhay [life was like that], "Paano magreklamo [How to complain]."

But he said he still respects some members of the Catholic clergy, particularly Archbishop Oscar Cruz.

"That's why, I respect Bishop Oscar Cruz, who is very frank and very brutal in his language, I respect him, kasi hindi siya [because it was not him]. It was an actionable wrong," according to the mayor.

He said he remains to be a loyal member of the Catholic Church.

"I'm a member of the Catholic Church, I haven't changed religion, I only have one God, " Duterte added.

Who is Fr. Falvey?

A 2007 report of the Los Angeles Times said the Jesuit order paid $16 million to settle claims against a certain Mark Falvey who allegedly sexually abused nine children over 16 years ending in 1975.

"Mark Falvey was accused of molesting four girls and five boys between 1959 and 1975 at Blessed Sacrament Roman Catholic Church in Hollywood. Falvey died 31 years ago (1976) and "was never charged with a crime," the LA Times report read.

According to lawyer Raymond Boucher, one of Falvey's victims was an 8-year-old girl who tried to commit suicide.

"This guy brought a lifetime of misery to a group of young children. They'll never get over it," Boucher said.

A blog post by a certain Rex Valmores said, a "Fr. Mark Falvey, SJ, was in Balingasag [Misamis Oriental] until July 1952."

Balingasag is about five hours away by land from Davao City.

According to Duterte's biographical profile, the Dutertes came to the Davao region in 1951 where his father, Vicente, would later become governor.

The younger Duterte spent his elementary days at the Santa Ana Elementary School in Davao City, where he graduated in 1956.

He finished his secondary education at the Holy Cross Academy of Digos in Davao del Sur after being expelled twice from previous schools, including the Ateneo de Davao University because of misconduct.

Jesuits spokesman Fr. Nono Alfonso, in an earlier statement, said Duterte did not finish elementary or high school in Ateneo de Davao and was in fact expelled for misconduct.

He, however, added that allegations of abuse against minors would be investigated as abuses by the clergy has no place in the Jesuit congregation in line with the mandate coming from Pope Francis himself.

"We are an educational institution and there is no room for wolves in sheep's clothing," Alfonso said.

Whether the mayor will file a case, he said, they will respect his decision.

"But we certainly have to look into this because we are in the business of education and we could not tolerate something like this to happen within our institution," Alfonso added.

Christian values, good manners

Duterte named the Jesuit priest a day before he met with Davao Archbishop Romulo Valles on Friday afternoon after a deluge of criticisms that the mayor received after his controversial speech last week where he cursed Pope Francis.

With inputs from The Times News Desk

"I got an admonition and a lecture on Christian values and a little on good manners and right conduct," the mayor disclosed after the meeting at the Archbishop's Palace.

During the meeting, Duterte vowed not to spew expletives again and pledged to pay P1,000 for each violation.

When he left the Palace, he said he gave a P2,000 donation to the Caritas Foundation.

Valles, he disclosed, told him to "stop talking anymore."

"To atone for my sins, I was told not to cuss. Magastos din [It's too costly]," Duterte said.