Child Sex Abuse Allegation Against Late Priest Deemed 'Credible'
CBS Detroit
December 8, 2015

http://detroit.cbslocal.com/2015/12/08/child-sex-abuse-allegation-against-late-priest-deemed-credible/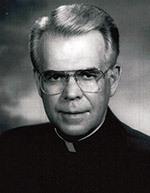 Father David F. West
DETROIT (WWJ/AP) – The Archdiocese of Detroit says a child sex abuse allegation has been "found to be credible" against a late Roman Catholic priest and pastor who served in about 20 parishes across southeast Michigan.
The Rev. David West was ordained in 1964 and served in many high-profile positions, including on the faculty of Sacred Heart Seminary in Detroit, as a minister at Wayne State University and as chaplain at Bishop Gallagher High School in Harper Woods. He died in 2004 at age 65.
According to a recent news release from the Archdiocese of Detroit, the allegation against West was brought forward to a review board and found to be credible years after his death.
An archdiocese spokesman says church officials "put no deadlines or time limits on reporting the sexual abuse of minors by priests, deacons and other personnel."
West has worked at the following parishes, according to the archdiocese:
Our Lady of Sorrows, Farmington
Our Lady Queen of Peace, Harper Woods
St. Anastasia, Troy
St. Andrew, Rochester
St. Dennis, Royal Oak
St. Joan of Arc, St. Clair Shores
St. Matthew, Detroit
Our Lady Star of the Sea, Grosse Pointe Woods
St. Agatha, Redford
St. James, Ferndale
St. Louise de Marillac, Warren
Our Lady of Mt. Carmel, Temperance
St. Aidan, Livonia
St. Basil the Great, Eastpointe
St. Joseph, Maybee
St. Mel, Dearborn Heights
St. Michael, Livonia
St. Victor, Rockwood