Popular Priest Who Served in 20 Area Parishes Found to Be a Child Sex Abuser
Deadline Detroit
December 8, 2015

http://www.deadlinedetroit.com/articles/13818/popular_priest_who_served_in_20_area_parishes_found_to_be_a_child_sex_abuser#.Vma_a_mrRdc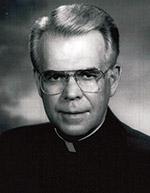 Father David West
Popular Roman Catholic priest and pastor, Father David West, served in about 20 parishes in southeast Michigan. He died in 2004 at age 65.
Now, more than 10 years after his passing, the church has concluded that an allegation of sexual abuse involving a minor is "credible," Bill Laitner of the Detroit Free Prss reports.
Laitner reports:
The Rev. David West died in 2004 at age 65, well before anyone came forward charging him with sexual abuse, according to the Archdiocese of Detroit.

But church officials "put no time limits on the reporting of sexual abuse of minors" by members of the priesthood or any other personnel connected with churches and related institutions such as parochial schools and seminaries, said Joe Kohn, spokesman for the Archdiocese of Detroit.

"It doesn't matter when it happens or when it's reported. We try to determine if it's credible and, if it is, we notify every place" in which the perpetrator ever served because "that increases the likelihood that this might have occurred elsewhere," Kohn said.

The goal is to find other victims, if any, and to offer them counseling services, he said, adding: "We do everything in our power to help every victim." In West's case, the abuse occurred in the 1970s and "the victim was male," Kohn said.

The Archdiocese posted this on its website:
Ordained in 1964. Years after his death, an allegation of sexual abuse of a minor was brought forward to the Archdiocesan Board of Review, considered, and was found to be credible.

Parish assignments included serving as an associate pastor Our Lady of Sorrows, Farmington, Our Lady Queen of Peace, Harper Woods, St. Anastasia, Troy, St. Andrew, Rochester, St. Dennis, Royal Oak, St. Joan of Arc, St. Clair Shores, St. Matthew, Detroit; as pastor of Our Lady Star of the Sea, Grosse Pointe Woods, St. Agatha, Redford, St. James, Ferndale, St. Louise de Marillac, Warren; as administrator at Our Lady of Mt. Carmel, Temperance, St. Aidan, Livonia, St. Basil the Great, Eastpointe, St. Joseph, Maybee, St. Mel, Dearborn Heights, St. Michael, Livonia, St. Victor, Rockwood; and, served on the faculty of Sacred Heart Seminary, as a minister at Wayne State University, and as chaplain at Bishop Gallagher High School.

The Archdiocese of Detroit places no deadlines or time limits on reporting the sexual abuse of minors by priests, deacons, and other personnel and/or to speak to the Victim Assistance Coordinator c/o (866) 343-8055 or vac@aod.org.