Monsignor John Bonzagni named leader of 3 Catholic churches of the Berkshires
By Clarence Fanto
Berkshire Eagle
December 12, 2015

http://www.berkshireeagle.com/news/ci_29224411/monsignor-john-bonzagni-named-leader-of-3-catholic-churches-of-the-berkshires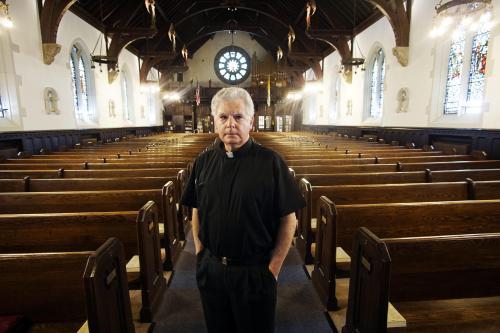 Monsignor John J. Bonzagni has succeeded as the new pastor of St. Ann s Church in Lenox, St. Vincent de Paul in Lenox Dale and St. Patrick s in West Stockbridge.
LENOX — The Springfield Diocese of the Roman Catholic Church has appointed Monsignor John Bonzagni as the new priest in charge of three area churches, effective immediately.
Bonzagni, 60, succeeds the Rev. Christopher "Father CJ" Waitekus, pastor at St. Ann's Church in Lenox, St. Vincent de Paul in Lenox Dale and St. Patrick's in West Stockbridge. His appointment was announced to parishioners at Masses this past weekend. St. Ann's members include about 820 families, with another 100 at the Lenox Dale church.
Waitekus was named pastor of St. Mary's Church in Longmeadow last month after 14 years of service in Lenox. Last July, he had been named co-vicar of the Springfield Diocese, assisting Bishop Mitchell T. Rozanski.
"Father CJ," as he was known, celebrated his final Masses at the three parishes on the weekend before Thanksgiving. Bonzagni already had been tapped as interim minister and had started his assignment the weekend of Nov. 28.
A native of West Springfield, Bonzagni graduated from Cathedral High School, earned his undergraduate degree from Holy Cross College in Worcester and trained at St. John Seminary in Brighton, said Mark Dupont, spokesman for the Springfield Diocese.
Bonzagni was ordained by the late Bishop Joseph F. Maguire on May 24, 1980. He spent the next 10 years as parochial vicar at Our Lady of Hope in Springfield and then at St. Mary's Parish in Lee.
He served as director of Catholic Schools in Pittsfield from 1991 to 1997, while earning his master's degree in educational administration from the former North Adams State College (now the Massachusetts College of Liberal Arts).
After receiving a Canon Law degree from Catholic University of America in Washington, D.C., in 1999, he obtained a law degree from Western New England College of Law in Springfield in 2004. He was made a Monsignor by the Springfield Diocese two years later.
For the past 16 years, he has been in residence, assisting at St. Vincent de Paul in Lenox Dale and also serving as the director of pastoral planning.
He will continue in his capacity as the Judicial Vicar overseeing the Tribunal of the Diocese of Springfield.
As the Diocesan Court, the Tribunal hears cases involving many issues of Church law, but its primary role is adjudicating questions concerning the bond of marriage, Dupont stated. The Judicial Vicar is assisted by Ecclesiastical Judges, the Defender of the Bond, the Promoter of Justice, Advocates, Auditors, Experts and Notaries.
"Most of the cases brought before the Tribunal involve challenges to the canonical validity of marriage," Dupont explained by e-mail. "The Tribunal court also acts as the competent forum for other issues, such as the protection of the rights and obligations of the faithful as well as penal matters."
Contact: cfanto@yahoo.com