Judge Rules Li Woman's Lawsuit Can Proceed against Priest She Claims Molested Her
CBS New York
December 15, 2015

http://newyork.cbslocal.com/2015/12/15/diocese-rockville-centre-priest-sex-abuse-lawsuit/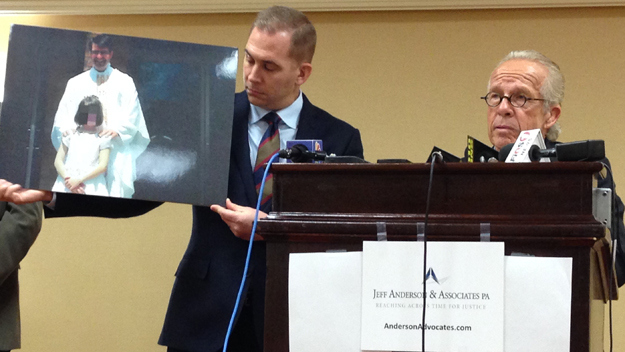 Lawyers John Michael Reck (left) and Jeff Anderson (right) holds photo of Father Gregory Yachyshyn, accused of sexual abuse, with accuser at news conference on Wednesday, Jan. 21, 2015. (Credit: Mona Rivera/1010 WINS)



A Long Island college student who claims she was sexually molested by her parish priest when she was a child has scored a court victory.

A state Supreme Court judge in Nassau County has ruled that the 21-year-old woman's civil lawsuit against Father Gregory Yachyshyn and the Diocese of Rockville Centre can proceed.

"She is thankful that the courts are going to allow this important case to proceed," said the woman's attorney, John Michael Reck.

The alleged abuse took place around the woman's first communion when she was 8 years old and a parishioner at St. Francis of Assisi Church in Greenlawn, Reck said. The lawsuit claims the diocese "failed to protect children, ignored credible complaints of sexual abuse and failed to act on obvious warning signs of sexual abuse."

The diocese could eventually be forced to reveal the names of 66 priests accused of molesting minors, Reck said.

"This is unheard of and this is the first ruling of its kind in New York," Reck said.

Yachyshyn, who was moved to a parish in Mastic Beach, denies the allegations.

A spokesman said the diocese is reviewing its options.