Ex-rockwell Priest Jailed for Four Years for Abusing Schoolboy
By Conor Kane
Irish Times
December 15, 2015

http://www.irishtimes.com/news/crime-and-law/courts/circuit-court/ex-rockwell-priest-jailed-for-four-years-for-abusing-schoolboy-1.2467265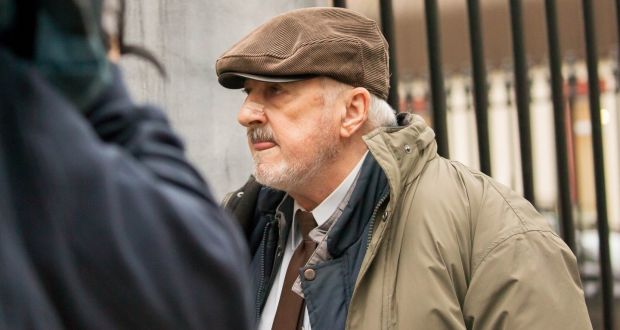 Former priest Henry Moloney (77) was sentenced to four years for abusing a boy at Rockwell College, Co Tipperary in the 1980s. Photograph: Dylan Vaughan.



A former priest and music teacher who told the Pope in a letter last year he had a history of "abusing young boys" has been given a four-year prison term for indecently assaulting a secondary school student in the 1980s.

Henry Moloney (77) with an address at Kimmage Manor, Dublin was handed down the sentence on Tuesday at Clonmel Circuit Court for abuse which had a "devastating" impact on his victim.

He was given consecutive sentences of 18 months, 18 months and 12 months, with the last of those four years suspended, as well as four concurrent sentences.

The only time Moloney spoke during the sentencing hearing was when asked if he acknowledged he would be bound to the peace for a year upon his release from prison, and he replied "I do indeed".

Moloney had denied all charges against him in a trial earlier this month but was found guilty of seven counts of indecent assault, an eighth charge having been withdrawn.

The court heard yesterday he had previous convictions for indecent assault and was given a 15-month prison sentence in 2000 after pleading guilty at Dublin Circuit Court to three counts dating back to between 1970 and 1972; and was given an 18-month suspended sentence in 2009 after admitting six counts which arose from a period between 1968 and 1974.

The five-day trial in Clonmel heard that the abuse started within a week or two of the beginning of a school year in the 1980s at Rockwell College in Co Tipperary after Fr Moloney, as he was then, asked the victim to join the choir.

In the first incident. Moloney put his hand under the victim's shirt and down his trousers. Eventually, Fr Moloney asked him to go to his room in the college and abused him there, starting with "feeling me or groping me" and getting worse "to the point where you would call it rape, buggery," the victim said during the trial.

The trial also heard of a letter written last year by Moloney to Pope Francis, asking to be laicised, in which Moloney said: "I have greatly sinned over 10 years, from 1969 to 1979 in my abusing young boys," and that "from 1980 to 1991 there were sporadic betrayals". He was granted laicisation in October of 2014.

In a victim impact statement read in court yesterday, the victim said the abuse "blighted my life" and that his childhood was robbed by Moloney.

The victim said he wondered if the Spiritans knew that Moloney "was an abuser when they placed him in Rockwell," and this upset him greatly. He accepted there are "a lot of good people" in the order and good people at Rockwell College and said "I do not wish for any of this to reflect upon them".

A "simple apology" from Moloney at any stage during the intervening years would have been a comfort, he said, but instead he was subjected to a very difficult trial which had left him with nightmares and cold sweats, not dissimilar to how he felt as a student when the abuse was going on.

Judge Teehan described Moloney's actions as "an enormously damaging breach of trust". There were few mitigating factors, the judge said, but among them were Moloney's age, his poor health, and the fact that he himself was abused as a child, as outlined in a report.