Reverend August William Pucar
The Vindicator
January 19, 2012

http://www.thevindicator.com/obituaries/article_ef7502e8-42e4-11e1-8cd8-0019bb2963f4.html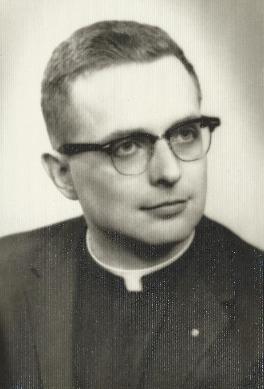 Reverend August William Pucar

August William Pucar, age 77, of Houston died Tues., Jan. 17, in Houston, Texas, of congestive heart failure.

He demonstrated great strength of character throughout his illness. He was born in Galveston, Texas to Frank and

Melania Pucar, who predeceased August along with his sisters, Mary Anonsen and Catherine Ducoff, brother Frank

Pucar, and niece, Cindy Ann Farine.

August graduated from Galveston's Kirwin High School in 1952 and then worked for the Santa Fe Railroad in

Galveston for three years before attending and graduating from St. Mary's Seminary and being ordained into the

priesthood in May 1963 at Sacred Heart Co-Cathedral. The Reverend "Augie" Pucar served in various capacities at

churches throughout southeast Texas, including St. Mary's in Orange, St. Anne's in Beaumont, Immaculate Conception

Church in Groves, All Souls Church in Silsbee, and its mission, Infant Jesus Church, in Lumberton. He served as pastor

of St. Charles Church in Nederland before taking some time off from active ministry, but working weekends assisting

various churches throughout the Houston area. He returned to the Beaumont Diocese and was loaned to the Victoria

Diocese as pastor of the Yoakum Church. The Reverend Pucar celebrated his 30th anniversary as a priest in 1993 at

Immaculate Conception in Liberty with a mass and reception with family, friends and parishioners. He retired in 2000

and moved to Houston where he said Mass at various churches for several years.

The Reverend Pucar stressed to his parishioners the need to accept people for who they are, regardless of their

background. He also felt that we should obey the Lord's command not to judge people and that no one was truly worthy

of Christ's mercy. He would say that, "Jesus said 'Judge not lest you be judged'... that is how we should live our lives."

August was a devoted son, brother, uncle and friend. He leaves behind his siblings: Patricia Farine and husband

Ormond, Ann Heffernan and husband Dan, Melania Miller and husband Henry, and numerous nieces, nephews, great

nieces and nephews, and even great-great nieces and nephews. The family wishes to thank Ormond Farine and Carol

Ducoff Gimenez for their help at this trying time.

Pallbearers are Richard Anonsen, Joey Gimenez, Gary Farine, Scott Farine, Christopher Clark, Bob Oppermann,

and Ron Popp. Honorary pallbearers are Ormond Farine, Dan Heffernan, Henry Miller, Duke Ducoff, Jr., Danny

Heffernan, and Gary Kobza.

A viewing will be held from 9 a.m. until 10:30 a.m. on Fri., Jan. 20 at Carnes Brothers Funeral Home.

Morning Prayer and the Mass of Christian Burial will follow at 11 am Friday at St. Patrick Catholic Church 1010 35th

St. in Galveston officiated by Father Nils Thompson, a high school friend of August's. Interment will follow services at

Calvary Catholic Cemetery, 2506 65th St in Galveston. A reception at St. Patrick Church Hall will follow the graveside

services.

In lieu of flowers memorials may be sent to the charity of your choice.