Fr. Brennan Retrial Set for Oct. 24
By Joe Slobodzian
Philly.com
January 4, 2016

http://mobile.philly.com/beta?wss=/philly/blogs/crime_and_punishment&id=364158001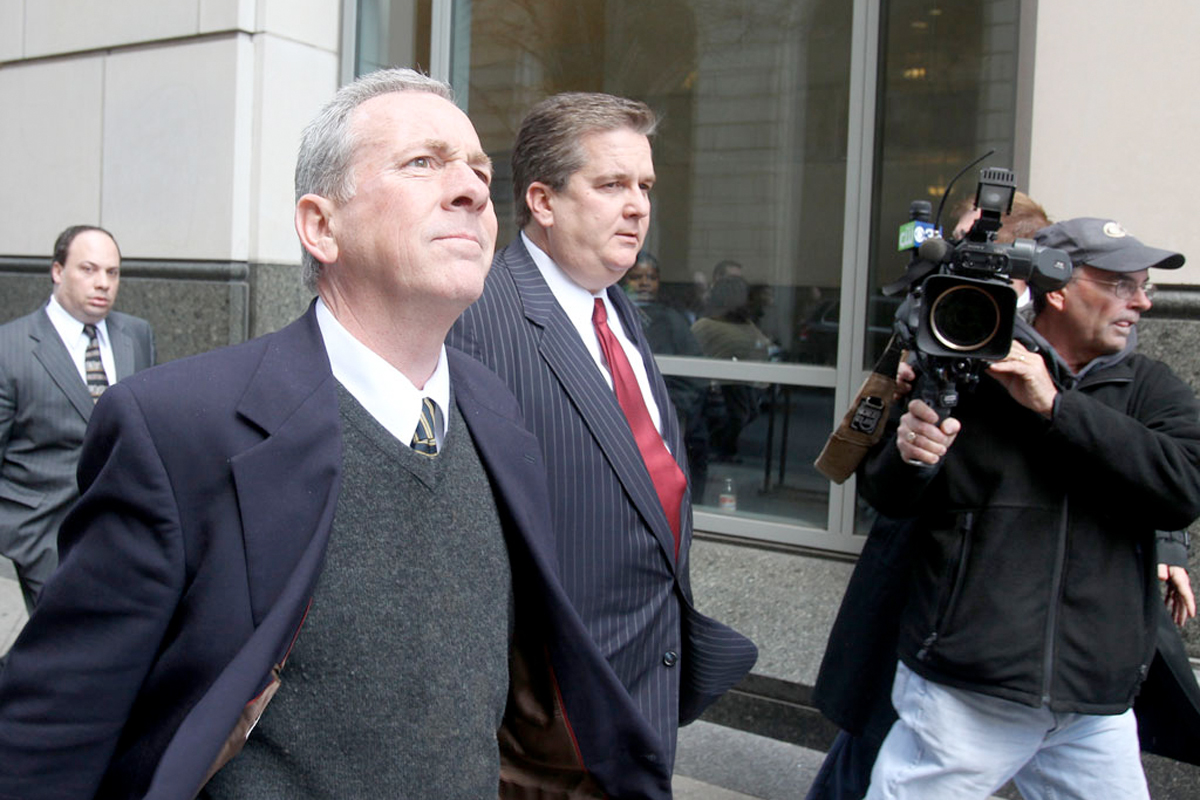 The Rev. James J. Brennan, seen here leaving the Criminal Justice Complex in 2012. He was charged in 2011 for the attempted rape of a 14-year-old boy in 1996.



After six postponements, former Roman Catholic priest James J. Brennan has a new retrial date – Oct. 24 – on the 2011 charges of attempted rape of a 14-year-old boy in 1996.

The new trial date was agreed on Monday by Assistant District Attorney Meghan Goddard and defense lawyer William J. Brennan [not related to his client], working with courtroom staff for Philadelphia Common Pleas Court Judge Gwendolyn N. Bright.

Some 3-1/2 years have passed since June 22, 2012, when a Philadelphia jury announced it could not reach a verdict in the case against the 52-year-old. This time, a seventh date may be the charm: Bright ordered Brennan – a busy, high-profile criminal defense lawyer -- and Goddard attached for trial. That means that the judge has dibs on Goddard's and Brennan's time for what is estimated will be a three-day jury trial.

Just to be sure, Bright has set a status hearing for March 4 and a "trial readiness conference" on Oct. 17.

Brennan, who is charged with attempted rape and child endangerment, was one of the five original people – a monsignor, three priests and a parochial schoolteacher -- charged in 2011 following a county grand jury investigation into how officials of the Archdiocese of Philadelphia handled child sex-abuse complaints against priests.

This was the same trial in which Msgr. William J. Lynn, an archdiocesan official, was convicted of child endangerment for his supervisory role investigating and recommending discipline against priests found to have sexually abused children.

Lynn, who turns 65 on Jan. 5, was the Archdiocese of Philadelphia's secretary for clergy from 1992 to 2004. He is serving a three- to six-year prison term in the state prison at Waymart in Northeastern Pennsylvania.

On Dec. 22, a Superior Court panel reversed Lynn's conviction a second time and ordered a new trial. The Philadelphia District Attorney's office has asked the full Superior Court to reconsider that decision, which is pending.

The other three charged with Lynn and Brennan were convicted and sentenced. Brennan remains free on $95,000 bail while awaiting retrial.