Priest Who Admitted Sex with 15-year-old Boy Is Subject of Criminal Complaint
By Mark Mueller
NJ.com
January 7, 2016

http://www.nj.com/news/index.ssf/2016/01/priest_who_admitted_sex_with_15-year-old_boy_hit_w.html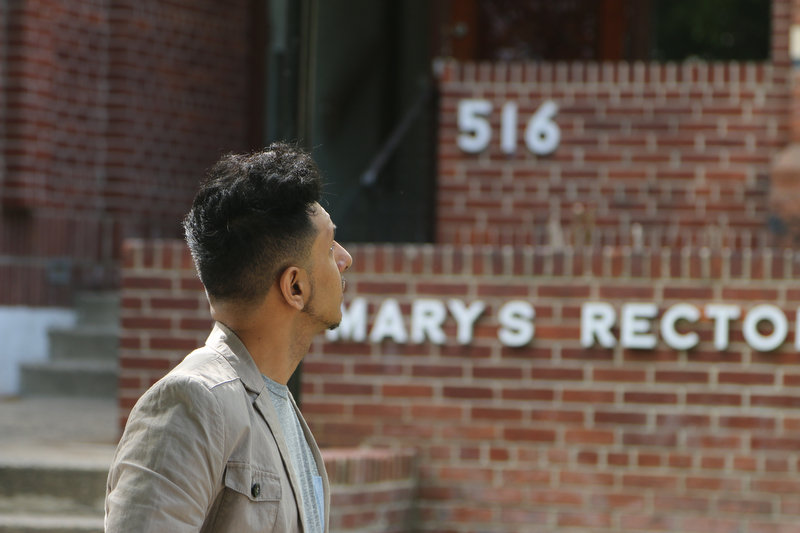 Max Rojas Ramirez stands outside the rectory of St. Mary's Church in Plainfield. It was his first visit there since he was 15, when he told others he was raped in the rectory by the Rev. Manuel Gallo Espinoza. Gallo Espinoza fled the country after the claim was reported to police. (Mark Mueller | NJ Advance Media for NJ.com)



UPDATE: An arrest warrant has been issued for the Rev. Manuel Gallo Espinoza on a charge of sexual assault.

Five months after a suspended priest admitted to a reporter that he had a sexual encounter with a 15-year-old boy in 2003, the alleged victim filed a criminal complaint against the clergyman in municipal court Wednesday, saying prosecutors have been slow to act in the case.

The accuser — Max Rojas Ramirez, now 28 — said his sexual assault complaint is intended to speed a resolution in authorities' investigation of the Rev. Manuel Gallo Espinoza, who has been sought for questioning by the Union County Prosecutor's Office.

"I want him to be charged," Ramirez said before filing the complaint Wednesday afternoon in Plainfield Municipal Court. "I want justice to be served. It's been a long time, and nothing has happened."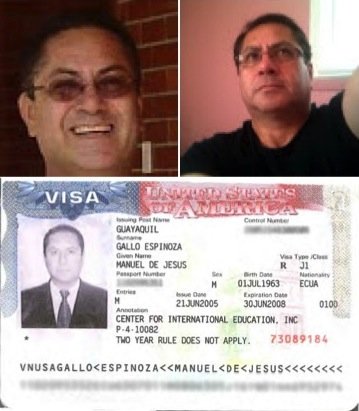 The Rev. Manuel Gallo Espinoza, seen in social media photos (top), fled the country in 2003 after a 15-year-old boy accused him of rape. At bottom is a copy of the visa he received when he returned to the United States to work as a teacher.



Because the charge is an indictable offense, a Superior Court judge must find probable cause to support it before issuing an arrest warrant. Ramirez said a hearing on the issue had been tentatively set for Feb. 1. The prosecutor's office, which has not brought its own charges, declined to comment on the complaint.

New Jersey lawmakers abolished the statute of limitations on sexual assault in 1996.

Gallo Espinoza, now 52, fled to his native Ecuador after Ramirez first reported the alleged assault in 2003. As a result, he was never questioned, and the investigation fell into dormancy.

The prosecutor's office reopened the probe last spring after inquiries by NJ Advance Media, which disclosed the priest had returned to the United States in 2005 to work as a teacher at schools in Maryland and Virginia.

He disappeared again in February 2014. But after the NJ Advance Media story about him in June of last year, Gallo Espinoza reached out to the news organization last August in hopes of contacting Ramirez.

In a series of telephone and email interviews, Gallo Espinoza admitted engaging in a sexual encounter with the teen in the rectory of St. Mary's Church in Plainfield, calling it a "mistake." He also blamed Ramirez, saying he "had something evil in his mind."

"One thing that I am conscious (of) is he was at that time a teenager, and it is a big mistake for me. But I didn't force him to do anything he didn't want," Gallo Espinoza wrote, adding that he continues to teach in Ecuador. "He was older (sic) enough to walk away, but I think that I was attracted to him, that is the only explanation that I can think right now."

Asked if he realized he could be committing a crime by having sex with a 15-year-old boy when he was 40, Gallo Espinoza responded, "I just came fr (sic) my country and really in Ecuador a person at 15 years old is not consider (sic) so innocent."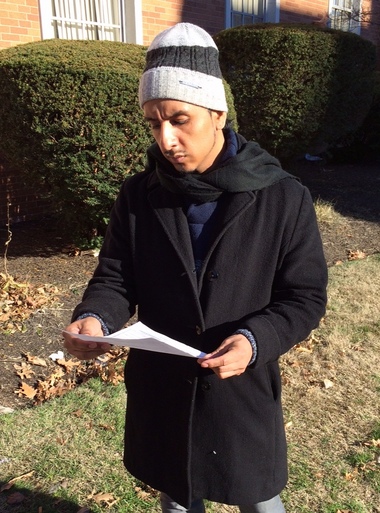 Max Rojas Ramirez, seen here outside Plainfield Municipal Court, reads a copy of the sexual assault complaint he filed against the Rev. Manuel Gallo Espinoza. (Mark Mueller | NJ Advance Media for NJ.com)



Ramirez, a former altar boy and member of the youth group at St. Mary's, fully rejects the claim, saying the priest held him down and raped him in a bedroom at the rectory just before Easter in 2003. Gallo Espinoza had been drinking heavily before the incident and complaining that he was depressed and suicidal, Ramirez said.

He said the incident has haunted him ever since, leading him for a time to drug use and stays in psychiatric hospitals. He is now clean and in therapy, he says.

Ramirez was accompanied Wednesday by Mark Crawford, the New Jersey director of the Survivors Network of those Abused by Priests, an advocacy and support group.

Crawford chided the prosecutor's office for not acting more quickly against Gallo Espinoza, saying the priest should have been charged in absentia given his admission.

"Thirteen years is more than enough time to act on this, and since he made his statement in August of last year — another five months — they still have not charged him," Crawford said.

Greg Gianforcaro, a lawyer representing Ramirez in an ongoing civil suit against the Archdiocese of Newark, said his client will cooperate fully with the prosecutor's office "in the hopes that Fr. Espinoza is eventually convicted."

"Up until now," Gianforcaro said, "the wheels of justice have turned too slowly for Max Ramirez."

A spokesman for the archdiocese declined to comment Wednesday. The archdiocese removed Gallo Espinoza from ministry shortly before he left New Jersey.

Mark Mueller may be reached at mmueller@njadvancemedia.com