77 Washington Clergy Implicated in Sexual Abuse of Minors
By Joel Connelly
Seattle PI
January 15, 2016

http://blog.seattlepi.com/seattlepolitics/2016/01/15/archdiocese-publishes-list-of-77-catholic-clergy-whose-abuse-of-minors-was-deemed-credible/

The Catholic Archdiocese of Seattle, on its website, has published the names of 77 clergy for whom allegations of sexual abuse of a minor have been "admitted, established or determined to be credible," in the words of Archbishop J. Peter Sartain.

The list covers conduct from the late 1930s to the 21st century, involving priests who have served the length and breadth of the Western Washington diocese, from Assumption parish in Bellingham to St. Joseph Church in Vancouver to Our Lady of Good Help in Hoquiam. One priest served in nine different parishes. Forty-one of the priests, brothers, and religious order members listed are deceased.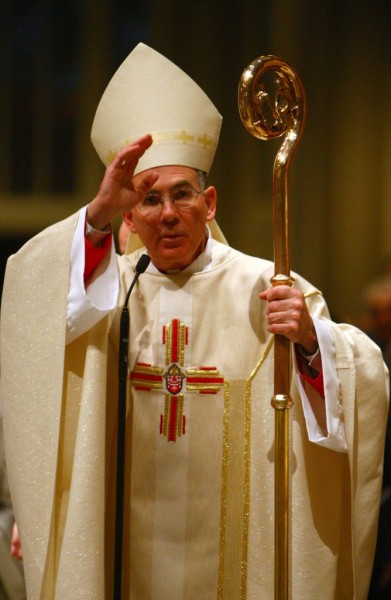 Seattle Archbishop J. Peter Sartain: "I express my deepest apologies for the actions of those who were in positions of trust and who violated that sacred trust by abusing the vulnerable in their care."



The list includes such former diocesan luminaries as now-deceased Rev. James Gandrau, a longtime editor of the Catholic Northwest Progress and pastor at St. Monica's Church on Mercer Island. The Rev. David Jaeger, who once headed the diocesan AIDS ministry, was buried at a 2014 mass with 20 celebrants at St. Joseph parish on Capitol Hill. The Rev. John Cornelius, a former Seattle police chaplain popular in the African-American community, has been defrocked.

"I express my deepest apologies for the actions of those who were in positions of trust and who violated that sacred trust by abusing the vulnerable in their care," Sartain said in a letter accompanying the disclosure.

"Our work in this area will not be complete until all those who have been harmed have received assistance in healing and until the evil of child sex abuse has been eradicated from society."

Several Northwest dioceses, including those in Portland, Spokane and Helena, Montana, have sought bankruptcy protection as a result of legal action brought by victims and alleged victims of clergy sex abuse. The Seattle archdiocese has not filed for bankruptcy protection.

The Archdiocese of Seattle was ahead of the curve in recognizing the abuse problem, but behind where it should have been.

Then-archdiocesan chancellor George Thomas (now bishop of Helena) was one of the few to take seriously a report on clergy sex abuse presented to the National Council of Catholic Bishops in 1986.

The issue would not blow up in the face of the church until 2002, with a Boston Globe series on how known abusers had been transferred from parish to parish. Cardinal Bernard Law of Boston, a close associate of Pope John Paul II, was forced to resign. He was, however, given a cushy sinecure in Rome. The Globe's work is the subject of the Oscar-nominated movie "Spotlight."

Still, a notorious priest abuser, the Rev. James McGreal, continued to serve in parish work until 1988. A dozen of McGreal's victims later settled a lawsuit for $1.8 million. Parishoners at Immaculate Conception Church in Everett were not told when Cornelius was transferred to their parish after a 1996 allegation.

The lone woman on the list is Sister Delores Crosby, a Sisters of the Holy Names nun (and Bing Crosby's niece) who served as principal of Our Lady of the Lake School in Seattle, Immaculate Conception School in Everett and St. Francis Cabrini School. Crosby died in 2007.

Then-Archbishop Alexander Brunett established an archdiocesan Case Review Board in 2003, which reviewed allegations against 13 priests. Its chairman, retired King County Superior Court Judge Terrence Carroll, was publicly critical that Brunett had refused to release names of the priests being investigated. "It seems unfair to the victims — and in many ways to the clergy," Carroll said at the time.

The issue came up again in 2014 in the case of the Rev. Harry Quigg. Although suspended from priestly duties and forbidden to present himself as a priest — the result of sexual contact with a 17-year-old boy — Quigg had continued to celebrate mass and perform weddings at St. Bridget's Church in Seattle. He had served as pastor at the parish.

The archdiocese, under Sartain, refused to release review board documents in the Quigg case. Carroll was heard from again, declaring: "By God, let these files be open so people can know what and who we are dealing with."

The list of 77 includes Jesuit priests who taught at Seattle Prep and Bellarmine Prep in Tacoma, as well as teachers from O'Dea High School as recently as 1994.

The list also includes clergy from outside the Seattle archdiocese whose whereabouts are unknown, priests who have been defrocked (laicized) and as clergy in a category called "permanent prayer and penance."