Psychiatrist questions 'Billy Doe's' claim of priest sexual abuse, Newsweek reports
By Christina Lobrutto
PhillyVoice
January 20, 2016

http://www.phillyvoice.com/psych-evaluation-altar-boy-billy-doe-unreliable/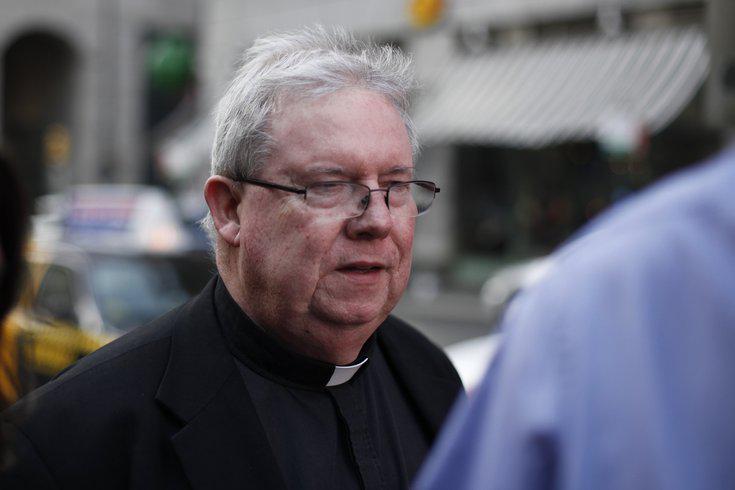 Monsignor William Lynn leaves the Criminal Justice Center, Monday, March 26, 2012, in Philadelphia.
A report by a forensic psychiatrist suggests that a former Philadelphia altar boy known as "Billy Doe" may have provided "unreliable information" in a landmark 2011 sexual abuse case, Newsweek reports.
"Billy Doe," who was identified in the Newsweek piece, underwent a court-ordered forensic psychiatric evaluation by Dr. Stephen Mechanick, a Main Line psychiatrist, in October 2015.
The 27-year-old accused two Archdiocese of Philadelphia priests and a teacher of molesting him at a Northeast Philadelphia parish in the 1990s. He told grand jurors in the case that he was sexually assaulted regularly by three men at St. Jerome's Parish in Holme Circle, a traumatic experience that he said produced years of torment, drug abuse, behavioral problems and suicide attempts.
All of those charged were convicted, as was Monsignor William J. Lynn, the former archdiocesan secretary for clergy who was sentenced for failing to supervise a priest accused of sexual misconduct who later assaulted a then-10-year-old altar boy in 1999.
Newsweek obtained Mechanick's report on "Billy Doe":
The client is apparently immature and self-indulgent, manipulating others to his own ends…. He refuses to accept responsibility for his problems. He may have an exaggerated or grandiose idea of his own capabilities and personal worth. He is likely to be hedonistic and may overuse alcohol or drugs. He appears to be quite impulsive, and he may act out against others without considering the consequences…. Paranoid features and externalization of blame are likely to be present…. His manipulative and self-serving behavior may cause great difficulties for people close to him…. An individual with this profile is usually viewed as having a Personality Disorder, probably a Paranoid or Passive-Aggressive Personality. Symptoms of a delusional disorder are prominent in his clinical pattern.
Mechanick writes that it is "not possible to conclude to a reasonable degree of psychiatric or psychological certainty that Mr. Gallagher was sexually abused as a child."
The story was written by Philadelphia journalist Ralph Cipriano, who has covered the "Billy Doe" case extensively on the bigtrial.net legal blog.
Lynn is serving a three- to six-year term as he appeals his conviction for endangering the welfare of a child. He was ordered back behind bars in late April after Philadelphia Court of Common Pleas Judge Teresa Sarmina revoked his bail. But in December a panel of three state Superior Court judges overturned his conviction, and ordered a new trial. He remains in a Northeast Pennsylvania prison.
The Rev. Charles Engelhardt and English teacher Bernard Shero were both convicted in the case, while Edward V. Avery was sentenced to five years in jail after pleading guilty in 2012. Engelhardt died in prison while appealing his conviction.
According to Newsweek, Slade McLaughlin, a Center City lawyer for "Billy Doe," dropped the civil suit against the individual defendants shortly after receiving Mechanick's report on Oct. 28.
Read more from Newsweek here.
Contact: Christina@phillyvoice.com