Apologetic Bishop Underestimated Reaction to Nienstedt's Presence
By Rosemary Parker
MLive
January 21, 2016

http://www.mlive.com/news/kalamazoo/index.ssf/2016/01/michigan_bishop_says_he_undere.html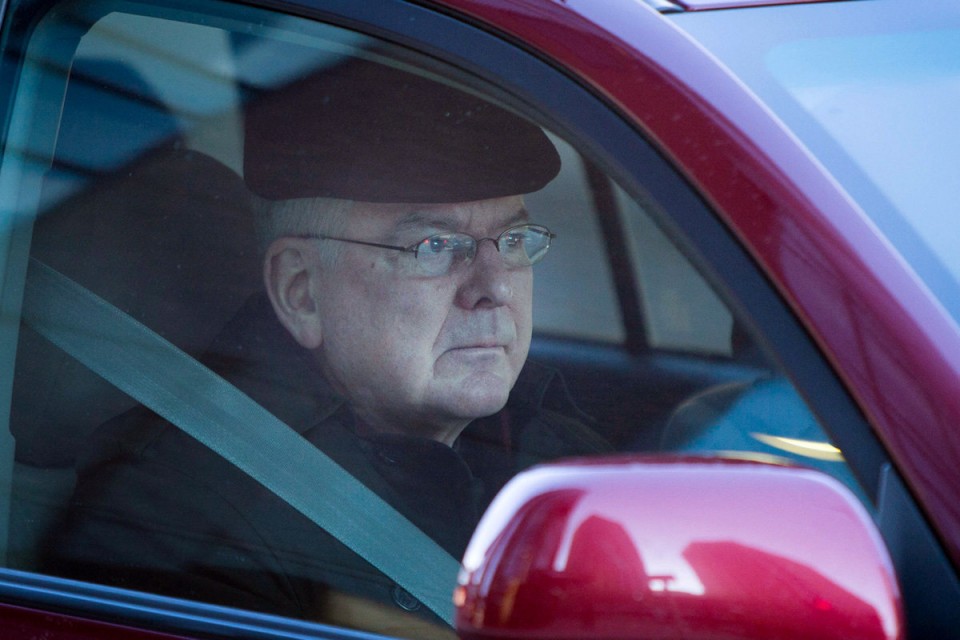 Archbishop John Nienstedt, leader of the Archdiocese of St. Paul and Minneapolis, rides in a vehicle in St. Paul, Minn., on his way to giving a deposition April 2, 2014. Attorneys for victims of alleged sexual abuse by priests are releasing the deposition of Nienstedt. It was the first time since he became archbishop six years ago that he has had to answer these questions under oath. The deposition was taken as part of a lawsuit filed by a man who claims a priest abused him in the 1970s. (AP File Photo/Jennifer Simonson)



The bishop of the Diocese of Kalamazoo told Catholics today that he should have anticipated their distress at news that an archbishop embroiled in a sex scandal in Minnesota had been accepted in Battle Creek for parish work.

Archbishop John Neinstedt's departure from this diocese was announced Thursday morning, just two weeks after his quiet arrival in Battle Creek, where he had planned to stay for six months to help the pastor there, an old friend, who is ill.

There was an immediate hue and cry from parents, community members, former clergy sex abuse victims and other who objected to Nienstedt's move here, especially since there was only late mention of his notoriety after stories in Minnesota and Michigan detailed his history.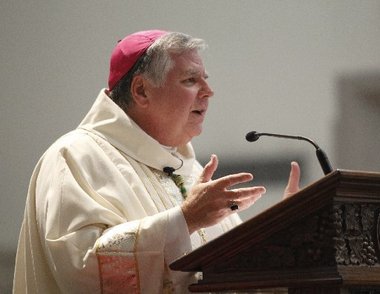 The Rev. Paul Bradley, bishop of the Catholic Diocese of Kalamazoo, during a Mass at the Cathedral Church of St. Augustine in September.



Nienstedt and his high-ranking clergy in the Archdiocese of Minneapolis and St Paul are accused of repeatedly ignoring warnings that went on for years about sexually abusive priests, and of failing to contact law enforcement to report possible criminal acts they knew about. He resigned from his post after the archdiocese was charged with civil and criminal complaints last summer.

In a letter distributed to priests in the Kalamazoo diocese Thursday and posted on the Diocese of Kalamazoo's website and Facebook page, Bishop Paul Bradley wrote that he "should have foreseen the full impact and strong emotional reaction" to the presence of the archbishop.

"Archbishop Nienstedt's presence has unintentionally brought about a sense of disunity, fear, and hurt to many of you during this brief period of time," Bradley wrote. "As your spiritual father and shepherd, I regret that more than words can express. While I made every effort to ensure that there were no canonical restrictions regarding the exercise of Archbishop Nienstedt's priestly ministry at St. Philip Parish, I should have foreseen the full impact and strong emotional reaction to his presence in the Diocese."

Bradley said the Diocese followed all the proper protocols, including appropriate background checks, but "it quickly became clear to me as the issue evolved that I had not anticipated well enough the emotional factors."

He said he appreciated those who contacted him, and listened to each one of them. "All of your concerns made it abundantly clear to me that this situation had to be resolved immediately."

He wrote that he deeply regretted causing any questioning of safety and security.

"I assure you that priority remains sacred to me, and I will do my very best to maintain that standard absolutely, Bradley wrote, adding:" In charity, I hope you will join me in praying for Archbishop Nienstedt.

Barbara Blaine of Chicago, president of SNAP, Survivors Network of those Abused by Priests, said in a statement in response to the news of Nienstedt's departure that Catholic officials in Rome, Kalamazoo and St. Paul should have ordered him to leave.

"For the safety of the parishioners and the public, he should not ever be put back into ministry. Doing so would be a risky, callous move that would reward and encourage more recklessness and deceit."

To read the entire letter from Bishop Paul Bradley click here.

Click here to read the letter from Fr John Fleckenstein announcing Nienstedt's departure.

rparker3@mlive.com