Whistleblower priest claims Palm Beach Diocese forced him out
By Joe Capozzi
Palm Beach Post
January 25, 2016

http://www.mypalmbeachpost.com/news/news/whistleblower-priest-claims-palm-beach-diocese-for/nqCHJ/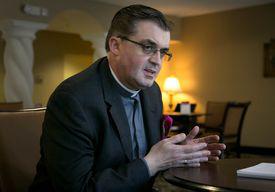 Father John Gallagher says he was punished by Catholic Church for blowing the whistle on on a priest who showed pornographic photos to a minor.
Photo by Allen Eyestone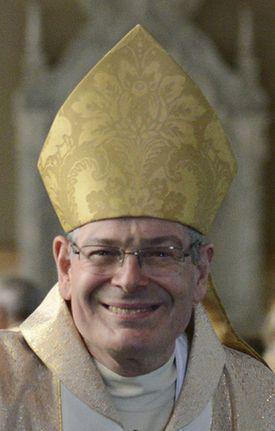 Palm Beach Bishop Gerald Barbarito in January 2015.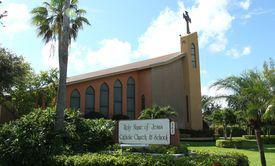 The Holy Name of Jesus School at 345 S. Military Trail in 2012.
Photo by Thomas Cordy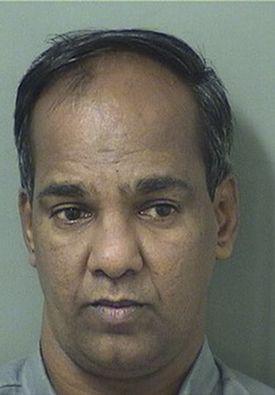 Father Jose Palimattom, booking photo by PBSO, after his arrest in January 2015.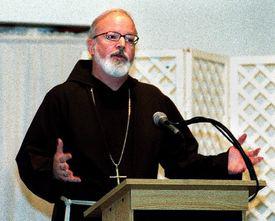 Sean P. O'Malley, then bishop of Palm Beach, now cardinal of the Boston archdiocese.


[with video]



Father John Gallagher is a priest without a parish — the result, he said, of his decision to tell authorities about a West Palm Beach priest who showed pornographic material to a minor.

He received praise from the Palm Beach County Sheriff's Office, whose chief deputy urged Boston Cardinal Sean O'Malley to make sure Gallagher receives "accolades" for helping prosecute the priest.

Instead, Gallagher said he has been "frozen out" by the Catholic Diocese of Palm Beach, which changed the locks on his parochial house at Holy Name of Jesus Christ Catholic Church on Military Trail and placed him on medical leave.

The diocese denied Gallagher's assertions, which were detailed in a story published Monday by The Irish Independent newspaper, calling them "an inaccurate representation of the facts.''

But Gallagher stands by his claims, which he says point to a larger problem in a diocese that in 2002 pledged a zero-tolerance policy after the resignation of the second of two bishops in four years over charges of improper sexual relationships with teenage boys.

"They are asking for zero tolerance. But based on the experience I've had, what priest would ever be a whistleblower now? What parent would let their son go into the priesthood if they're going to end up like this?'' said Gallagher, who said the episode contributed to a heart attack he suffered last spring.

"It is obvious to me that I am being silenced and hidden for my actions taken to ensure the safety of my parish and diocese."

Gallagher said his saga started Jan. 4, 2015, when Jose Palimattom, a 48-year-old priest new to the diocese, exposed a 14-year-old boy to pornographic photos on his cellphone. Palimattom, a native of India, approached the boy after Mass and said he needed help deleting the pictures, which included 40 shots of naked boys, according to a PBSO report.

Later that night, according to deputies, Palimattom sent the boy a message on Facebook which read: "Good night. Sweet dreams."

The victim that night told a friend who reported it to a church employee who told Gallagher. Gallagher said he met that night with Palimattom and a retired law-enforcement officer whom he would not identify.

He said Palimattom confessed, prompting Gallagher to report the incident to PBSO. Gallagher said he was told by PBSO that the victim's father had filed a complaint, but deputies would later praise Gallagher for his initiative and cooperation.

Gallagher said he was troubled a few days later when a church official suggested "to not have too many notes," adding, "When I told them the evidence was on a smartphone camera, it was implied I should not make this known to authorities,'' he said.

"She told me we don't have to share all of that information,'' he said. "I said, 'Are you asking me to obstruct an ongoing criminal investigation?' There was silence. "I said, 'Good, because I'm cooperating with law enforcement.'"

Six days after the incident was reported, Gallagher said he received a call from Bishop Gerald Barbarito, leader of the Palm Beach diocese, who thanked him "for taking care of the situation.''

Palimattom eventually was sentenced to six months in jail and one year of probation on a charge of showing obscene material to a minor, according to court records.

But Gallagher said he soon felt the wrath of the church. In April, he said he was due to be promoted but instead Barbarito demoted him with no explanation, moving him to a Stuart church.

Four weeks later, Gallagher said he suffered a heart attack, collapsing while hearing confessions. Barbarito visited him at JFK Hospital, he said, but refused to anoint him or bring him Communion.

When Gallagher got out of the hospital, he returned to his parochial house to find the locks changed and a new priest in his place.

The diocese said in a statement Monday afternoon that Gallagher was not demoted but given a new assignment with residence. The locks at his former parochial house were never changed, the diocese said, adding that it was Gallagher who requested medical leave. And has failed to inform them of his current residence.

The diocese also released two statements it put out about Palimattom's arrest in January 2015. They make no mention of Gallagher's role.

David Clohessy, director of the Survivors Network for those Abused by Priests, said he is familiar with Gallagher's saga and believes the diocese retaliated against a whistleblower.

"It's part of a long continuing pattern where church officials shoot the messenger and put their careers ahead of the safety of kids," Clohessy said.

Local SNAP representatives plan a news conference at 1:30 p.m. Tuesday at the diocese offices, 9995 N. Military Trail in Palm Beach Gardens.

Gauger did not respond to messages from The Post, but he gave Gallagher glowing praise in a letter to Cardinal O'Malley on July 20 for helping prosecute Palimattom. O'Malley served eight months as Palm Beach bishop in 2002 and 2003 and heads a pontifical commission for the protection of minors set up by Pope Francis in 2014.

"Over the last 44 years of law enforcement experience I have witnessed other events where church staff was not forthright in providing information to our investigators and actually impeded our investigation by their lack of cooperation," Gauger said.

"I would expect that Father Gallagher's immediate cooperation should be recognized by the Catholic Church and he receive accolades for his compliance with criminal investigators.''

Knowing the stress he has gone through, Gallagher said, he still would call law enforcement if another case came to his attention.

"I do not regret my decision. I do not regret protecting a minor or protecting the people under my care," he said.