'No regrets' at speaking up about paedophile priest - Father John Gallagher
By Erin Hutcheon
Derry Journal (Northern Ireland)
January 27, 2016

http://www.derryjournal.com/news/no-regrets-at-speaking-up-about-paedophile-priest-father-john-gallagher-1-7184022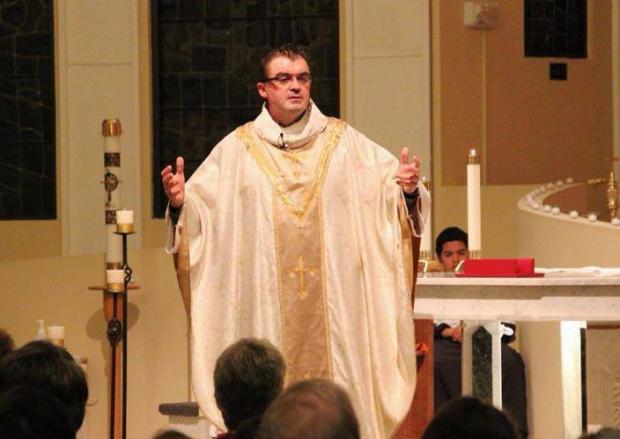 Father John Gallagher.
A Derry priest who has been frozen out of his priestly duties in the USA after refusing to cover up sex crimes by another priest, says he has no regrets about what he did.
Father John Gallagher who now lives in Palm Beach but previously ministered in the Long Tower parish told the Journal how the locks were changed on his parochial house after he refused to put a paedophile priest on a plane rather than co-operate with police.
This week the Strabane born priest broke his silence after almost a year and he says he has concerns that the priest at the centre of the sex crimes could still be working as a priest, and be a danger to children.
This week Father's Gallagher's story made headline news across the world. Indeed one of this friends remarked: "There are only two people in the U.S. news today - Donald Trump and Father John Gallagher."
The Irish priest's facebook page has been flooded with messages of support and he says he has received letters and cards from people all over the world, many from his former parishioners in Derry,
Father Gallagher interviewed the priest Fr Jose Palimattom in January 2015 along with a retired police officer when he was made aware that he had shown indecent images to a young teenager.
Father Palimattom admitted to the crimes, and also told how he had sexually assaulted young boys in India before arriving in the States.
However Father Gallagher told the 'Journal' how church officials told him to put the priest on a plane rather than involve the police.
"That would have been wrong and against the law," he said,
Father Palimattom took a plea deal on April 1, served six months in jail, had one year probation and was then deported
"The fundamental question that no one has been able to answer is where did he go," said Father Gallagher. "Is he still a priest - are kids in danger."
Father Gallagher said last year he was told he due to be promoted but instead received a phone call telling him he was being demoted.
The stress of the situation left Father John Gallagher in hospital with a suspected heart attack and when he was released he claims the locks on the door of his parochial house were changed.
"I've lost my job, my right to earn a living and my home," said Father Gallagher. "My character has been assassinated. I don't know what the end goal will be. But I know we have to protect those who are vulnerable and have no voice.
"The Vatican are saying zero tolerance, we have seen no results. We are being told they want to stamp out sexual abuse. Whose job is it?
"You can't keep quiet. I have employed all the policies and procedures of the Catholic church, but the church has not been able to follow their own policies and procedures.
"I have no regrets about what I did. If I had to go back and do it again. I would."
Father Gallagher says he intends to remain in Palm Beach.
The Palm Beach Diocese said "Father Gallagher's reassignment was not related to the incident with the visiting priest,"
This week Survivors Network of those Abused by Pries held a protest in support of Father Gallagher outside the Palm Beach Diocese.
Contact: erin.hutcheon@derryjournal.com