Accused Priest Had No Role at Our Lady of Sorrows School, Says Principal
By Mary Mann
Village Green
January 27, 2016

http://villagegreennj.com/police-and-fire/accused-priest-no-role-lady-sorrows-school-says-principal/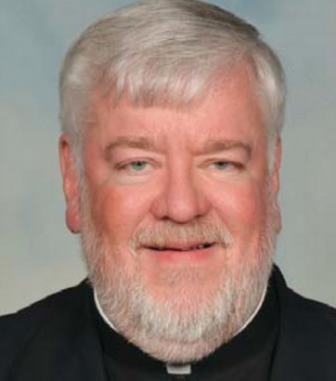 Fr. Michael Walters
Officials report that Fr. Michael Walters, a priest who formerly worked as an assistant pastor at Our Lady of Sorrow Church in South Orange and who has recently been accused of sexual misconduct with minors at another parish in the 1980s, had no role in the school there and no contact with students.
Media outlets reported earlier this month that Fr. Walters was removed from his ministry at the church in October amid allegations that he sexually assaulted two minors in the early 1980s.
Walters, 60, denies the allegations and reportedly left the ministry by "mutual agreement" with the Archdiocese of Newark.
David Ohlmuller, 46, told NJ.com that Walters fondled him, kissed him and offered him wine on various occasions in 1982, when Ohlmuller was 12 and a parishioner at St. Cassian Church in Montclair, NJ. A second accuser, who wishes to remain anonymous, said that Walters molested her during the same time period when she was 13 and 14. Both are being represented by Boston-based attorney Mitchell Garabedian, who has represented hundreds of accusers in the sexual abuse scandal that has engulfed the Catholic Church in recent years.
According to NJ.com, Garabedian informed the archdiocese in August that he planned to file separate lawsuits on behalf of the accusers if settlements could not be reached. The archdiocese informed the Essex County Prosecutor's Office when Garabedian filed a notice of a possible suit.
OLS parishioners report that the church informed them in October; however, one parent of a child in the nursery school said he had received no notification from the school about Fr. Walter's removal from the parish.
Jim Goodness, spokesman for the Archdiocese of Newark, reported that parishioners were informed of the allegations against Fr. Walters and his subsequent departure at masses in October.
However, Goodness and Sr. Judith Blair, the principal of OLS, noted that families in the school were not directly notified by the school as Fr. Walters had had no role at the school nor contact with students through the school.
"Fr. Walters is not, and has never been, in any way involved with the children at Our Lady of Sorrows School, or with the children at The Nursery," wrote Sr. Judith in an email. "In addition, he has not even been on the property since October 2015."
"The safety of our students is of the utmost importance to us," Sr. Judith continued. "All our staff receive training under the Diocesan Protecting God's Children program, and we go to great effort to ensure that Our Lady of Sorrows is a safe and welcoming environment for all our children."
When asked if Sr. Judith's message had been relayed directly to parents, Goodness responded, "Since he [Fr. Walters] didn't have duties in the school, there wasn't a communication in the school."
Goodness also noted that, prior to October, the parish and the archdiocese were unaware of any accusations involving Fr. Walters. Goodness said there had been "no previous direct contact from either accuser and there continues to be no contact."
"We are frustrated by that because we do want the information so that it can be investigated and so that a full inquiry can be made by the Archdiocesan Review Board," said Goodness. The Archdiocesan Review Board is a volunteer group of law enforcement and clinical professionals who review accusations of sexual misconduct and then make recommendations to the Archdiocese based on canon law. [Read more about the Archdiocesan Review Board and the Archdiocese's policy for the review of complaints of sexual abuse here.]
Goodness noted that parishioners were having difficulty grappling with the news as Walter is a "much beloved" priest. Goodness's characterization of Walters echoed testimonials from locals who know the priest; one former OLS parishioner told Village Green, "He was our favorite."