Lake Bluff Man Says Priest Abused Him
By Steve Sadin
Daily North Shore
January 27, 2016

http://dailynorthshore.com/2016/01/27/lake-bluff-man-says-priest-abused-him-2-hires-spotlight-lawyer-garabedian/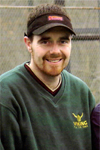 Dave Ohlmuller



Dave Ohlmuller is well-known on the North Shore as a Platform Tennis Hall of Famer, coach and father. He also said he is a survivor of sexual abuse at the hands of a Roman Catholic priest and is fighting to prevent what happened to him from happening to others.

Ohlmuller, 46, said his memories of abuse came rushing back when his son turned 11. He said he felt intense feelings of fear and anger stemming from his days as an altar boy in New Jersey. Ohlmuller said he was sexually abused multiple times. His feelings made him an overprotective father.

"I'm not a little overprotective, I'm way overprotective," Ohlmuller said of his son. "I want to know where he's going all the time, who he's with. We live in a nice place. It shouldn't have to be like that here."

When the memories returned in 2015, Ohlmuller did two things. He reached out for support to get counseling and he hired lawyer Mitch Garabedian, who was featured in the current Academy Award nominated movie "Spotlight." Garabedian called his client a hero.

"Dave Ohlmuller should be proud of himself for being so courageous to stand up to the church," he said. "There were thousands of abusers and thousands of enablers and most people were silent. He is a real hero."

Rev. Michael "Mitch" Walters left his position by mutual agreement with the church in October 2015, nj.com reported. A woman now in her 40s also claims she was abused by Walters when she was 13 and 14. She wants to remain anonymous, according to the nj.com article.

Walters has denied any wrongdoing and no criminal charges have been filed, nj.com reported.

At the time of Walters' left, he was assistant pastor at Our Lady of Sorrows Church in South Orange, N.J. He was also director of the Center for Ministerial Development and director of the Pontifical Mission Societies for the Archdiocese of Newark, according to nj.com.

Though Walters' departure only came to light Jan. 15, it occurred between August and December, according to Garabedian. Garabedian questioned the timing.

"We notified the archdiocese of this matter in August 2015, and they sent out a fundraising letter under his signature during the Christmas season," Garabedian said. "The church was raising money under his name."

Ohlmuller said he does not go to church anymore and he will not send his son there. "I lost my faith" in the Catholic Church, Ohlmuller said. But he did not lose faith in God.

"I believe in God," Ohlmuller said. "I know it was a monster who did that to me and the church protected him."

For Ohlmuller and Garabedian an award from potential litigation or a financial settlement with the Archdiocese of Newark is not the motivation. Ohlmuller said it is about protecting current and future generations of children.

"I don't want this to happen to another child again, ever," Ohlmuller said. "I don't want anyone else to get molested. Unless it's happened to you you can't know what it's like."

Garabedian said he is doing his own investigation before filing a lawsuit or entering into negotiations with church authorities.

Ohlmuller said he was first approached by Walters in a confessional at St. Cassian Church in Montclair, N.J., in 1982. Ohlmuller said Walters fondled him on at least 10 occasions, kissed him on the lips and gave him wine. Ohlmuller also said Walters cautioned him to remain silent, saying he would be disbelieved. Ohlmuller said he got away from Walters by absenting himself from church.

Today Ohlmuller is a Hall of Fame paddle tennis player, teaching pro, and family man living in Lake Bluff. He said people he interacts with in his daily life would not notice a hint of his past.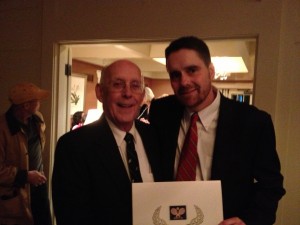 Dave Ohlmuller, at right, after being inducted into the Platform Tennis Hall of Fame



"I keep it inside at work," Ohlmuller said. "I have to. Otherwise I can't be a teacher."

Ohlmuller said he understands his son is under a more watchful parental eye than many of his peers through no fault of the youngster. Ohlmuller said he looks forward to the day he will be comfortable easing up.

"He understands what's going on and he has to deal with it," Ohlmuller said. "It's probably not going to be for a while."