Court stands by decision overturning cleric's conviction
By Jeremy Roebuck
Philly.com
February 10, 2016

http://mobile.philly.com/beta?wss=/philly/news&id=368360011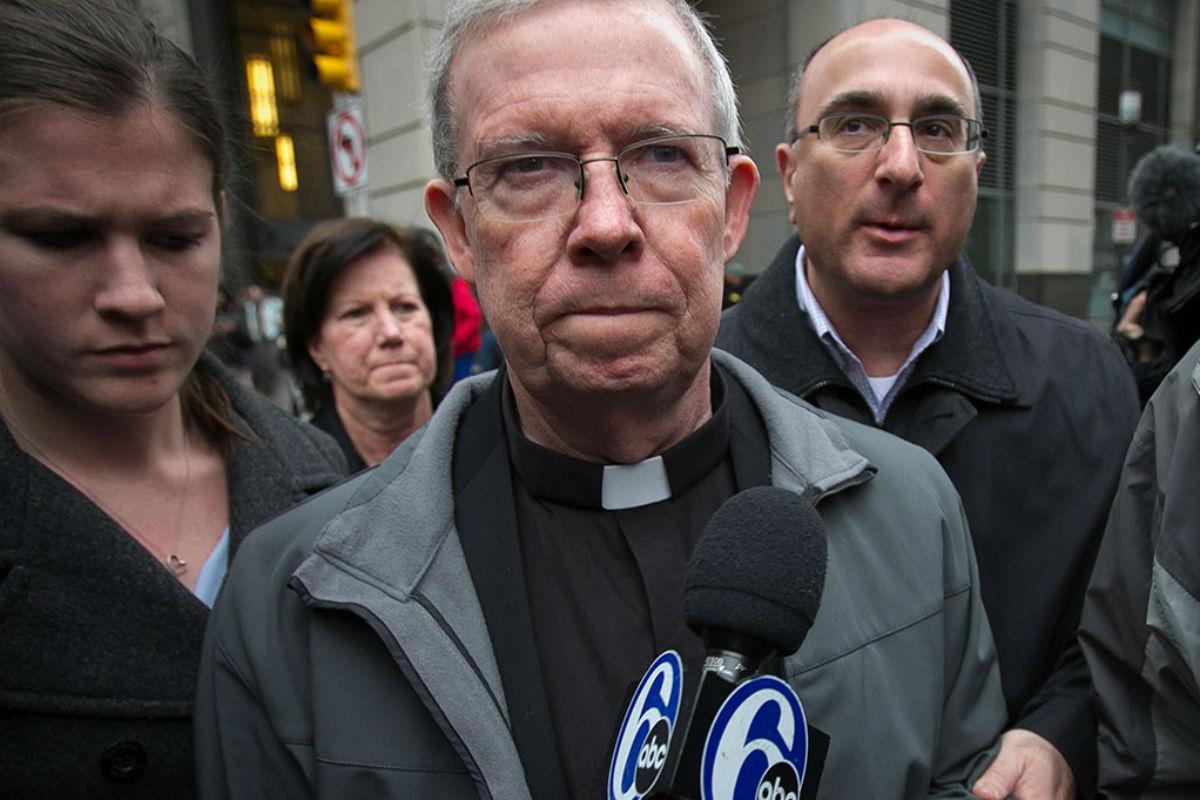 Msgr. William J. Lynn leaves the Criminal Justice Center in Philadelphia on Jan. 6, 2015.
Photo by ALEJANDRO A. ALVAREZ
A state appellate court refused Wednesday to reconsider its decision last year to overturn what had been the first conviction nationwide of a Roman Catholic Church official for covering up child sex abuse by priests.
Superior Court denied a request from Philadelphia District Attorney Seth Williams to reargue the case against Msgr. William J. Lynn in front of a full panel of the court's nine judges.
The decision came two months after a three-judge panel ordered a new trial for Lynn, continuing a drawn-out legal fight for the 64-year-old cleric years after his conviction on child-endangerment charges.
Williams could now appeal to the state Supreme Court or move forward with a new trial. "We are in the process of reviewing the decision," a spokesman for his office said.
Lynn remains in the state prison at Waymart, northeast of Scranton, having completed more than two years of his three- to six-year term.
His lawyer, Thomas A. Bergstrom, said he intended to cite the decision Wednesday in a renewed push to have his client released on bail.
"I fully expect the D.A. to appeal this to the Supreme Court," Bergstrom said. "He's going to try to keep this guy in jail for the rest of his life."
In tossing Lynn's conviction, the Superior Court panel took issue with evidence prosecutors introduced in the 2012 trial in an attempt to prove that the Archdiocese of Philadelphia had historically mishandled child-abuse complaints involving priests.
Some files shown to jurors from the archdiocese's "secret archive" dated to the 1940s, preceding by decades Lynn's tenure as the official in charge of handling sex-abuse cases.
Lynn had been charged with mishandling decisions involving one priest - the Rev. Edward J. Avery. Despite previous allegations against Avery, Lynn allowed him to live in a Northeast rectory, where he assaulted a 10-year-old altar boy. Avery pleaded guilty to the 1999 attack and is serving five years in prison.
Common Pleas Court Judge M. Teresa Sarmina, who presided over Lynn's original trial, ruled that the historic evidence of the church's treatment of accused priests offered insight into Lynn's decision-making once he took over as the secretary for clergy in 1992.
It also shed light on the archdiocese's practice of protecting its institutional interests by covering up abuse complaints, Sarmina found.
The Superior Court panel's majority disagreed in its December opinion, describing such evidence as "unfairly prejudicial" in a way that, as Lynn argued, turned him into a scapegoat for wider sins of the church.
Its decision to overturn Lynn's conviction was the second time Superior Court had taken such a step in the monsignor's case.
In 2013, the appellate judges found that Lynn had been improperly charged under a law that did not apply at the time of his alleged crimes. That ruling was rejected upon review by the Pennsylvania Supreme Court, which reinstated the jury's guilty verdict two years later.
Contact: jroebuck@phillynews.com