Indian Bishop Lifts Convicted Priest's Suspension
UCA News
February 11, 2016

http://www.ucanews.com/news/indian-bishop-lifts-convicted-priests-suspension/75204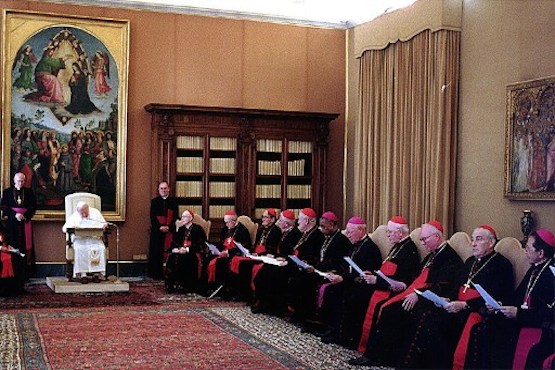 Addressing U.S. cardinals in 2002, Pope John Paul II issues a stern warning against priests who would harm young people. An Indian bishop has lifted the suspension of a priest convicted of sexually abusing a 16-year-old girl in the United States. (Photo by AFP)



A Catholic bishop in southern India has lifted the suspension of a priest convicted last year of sexually abusing a 16-year-old girl in the United States.

The 2010 suspension order imposed on Father Joseph Palanivel Jeyapaul, 61, was lifted on Jan. 16 after consultations with the Vatican's Congregation for the Doctrine of the Faith, Bishop Arulappan Amalraj of Ootacamund told ucanews.com Feb. 9.

"It was not a personal decision, but was done after extensive consultation and under the guidance of competent authorities," Bishop Amalraj said.

Father Jeyapaul, posted to Crookston Diocese in Minnesota for parish work in 2004, returned home within a year following allegations of sexual abuse.

Interpol arrested him in 2012 to face charges in the U.S. of sexually abusing two girls while serving Crookston Diocese.

The priest pleaded guilty in one of the cases in June 2015 and was sentenced to a year in jail.

Father Jeyapaul took a 16-year-old girl to his rectory and "kissed her repeatedly, pulling her on top of him and at one point touched her beneath her clothing," bishop-accountability.org, an abuse victims' group website said citing a letter supposedly written to the Congregation for the Doctrine of the Faith in 2005 by Crookston Bishop Victor Hermann Balke.

The disgraced priest returned to India soon after having been freed for time served while awaiting trial, according to U.S. media.

Father Jayapaul did not face trial in the second case after the alleged victim dropped the charges.

Ooty diocesan public relation officer Father Sebastian Selvanathan said consultations with the Vatican on lifting the suspension order began soon after Father Jayapaul was freed last year.

"So far he has not been given any ministry in the diocese. We will consider that in May when the usual transfers and new assignment are decided," said Father Selvanathan.

He dismissed suggestion made by Internet groups that the bishop's decision was "inspired by the Year of Mercy" that began in November at the direction of the Pope Francis.

Efforts by ucanews.com to contact Father Jayapaul for comment were not successful.