Former Religious Brother Accused of Sexually Abusing Br. Rice, St. Laurence Students Surfaces in Hawaii
By Lorraine Swanson
Patch
February 15, 2016

http://tinyurl.com/gl6bogn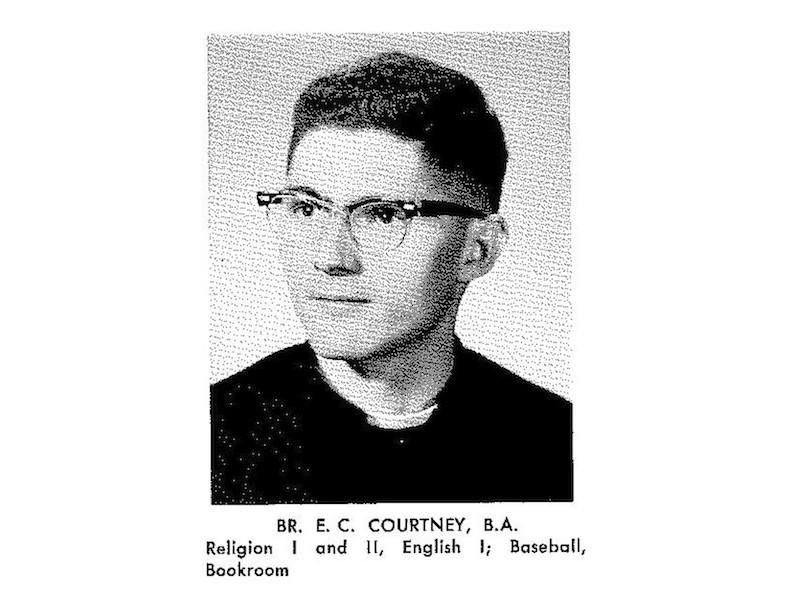 Br. Edward Chrysostom Courtney, as he appeared in the Br. Rice High School yearbook in 1961.
An ex-Catholic brother and teacher who left a trail of sex abuse complaints from New York to Chicago to Seattle, has surfaced in Hawaii.
Throughout his three decades as a member of the Irish Christian Brothers, Br. Edward Courtney was badgered by allegations that he had sexually abused children, including students at Chicago's Brother Rice High School and St. Laurence High School in Burbank.
in 2013, 80 alumni of Brother Rice, St. Laurence and Leo High Schools, were part of a $16.5 million settlement with over 400 accusers nationwide during a bankruptcy reorganization between creditors and the Edmund Rice Christian Brothers North American Province, known as the Irish Christian Brothers.
The order also agreed to enforce a no-tolerance policy for brothers accused of sexual abuse.
Courtney, among others, were named in a lawsuit against the order for allowing the men to continue teaching despite allegations that they had sexually abused children.
And, over the past decade, a Seattle law firm has also settled a total of 50 cases, 20 against Courtney alone, filed against the Irish Christian Brothers for a total of $25 million.
After leaving New York amid claims that he sexually abused children at a Catholic elementary school, a young Br. Edward Chrysostom Courtney arrived at Br. Rice High School's Chicago campus in 1961. There, until 1968, where Courtney oversaw extra-curricular activities and served in various teaching and administration positions, complaints of Br. Courtney bothering boys continued.
Receiving treatment for his "sexual immaturity" -- code for homosexuality -- Courtney moved on to Leo High School, which severed its ties with the Irish Christian Brothers in 1992, and eventually, St. Laurence High School in Burbank. He was asked to leave St. Laurence in 1974, when he was accused of sexually abusing a freshman boy.
Minutes from a March 1974 meeting of the Irish Christian Brothers Western Province, which had jurisdiction over the Chicago high schools, reveal that Courtney was to have "no contact with Rice, Leo or Laurence in any way, shape or form."
Courtney was transferred to another Irish Christian Brothers high school in Seattle, the Chicago brothers sent him with the full knowledge that he posed a danger to children, according to court documents.
During his tenure at the Seattle Catholic high school, the Los Angeles Times reports complaints surfaced of Courtney being seen carrying a student into a private residence used by the brothers. Another student accused Courtney of attacking him in a locked classroom.
Following a stint at a Canadian treatment facility for sexual deviancy, Courtney left the order in 1983. He accepted teaching and coaching assignments in public schools throughout Washington. When molestation allegations again surfaced, he disappeared for three years the Los Angeles Times said, until the law caught up with him.
In 1998,Courtney pleaded guilty to a felony indecent liberties charge and received probation. He never served a day of jail time.
According to the Los Angeles Times, Roman Catholic investigators aided by the FBI, claim to have put in over 1,000 hours compiling a list of 77 priests, brothers, deacons and nuns reported to have abused children in the Seattle Archdiocese. Courtney's whereabouts were listed as unknown. Nobody knew if he was dead or alive.
Until now. Courtney, who is now about 81, reportedly sold his Seattle-area home in 2013 and signed a sales document notarized in Hawaii, the Los Angeles times revealed.
His name and phone number are also listed in the Honolulu phone book.
"These guys [the Irish Christian Brothers] knew in spades how bad this guy was," Seattle-attorney Jason Amala said in a 2012 interview with Patch. "It wasn't a case of 'Oh, it was the '70s, we didn't know any better.' These guys knew for sure — sending him for treatment — and kept sending him back to kids."