Why has South India's Catholic Church re-inducted a convicted child molester priest?
By Dhanya Rajendran
News Minute
February 16, 2016

http://www.thenewsminute.com/article/why-has-south-india%E2%80%99s-catholic-church-re-inducted-convicted-child-molester-priest-39078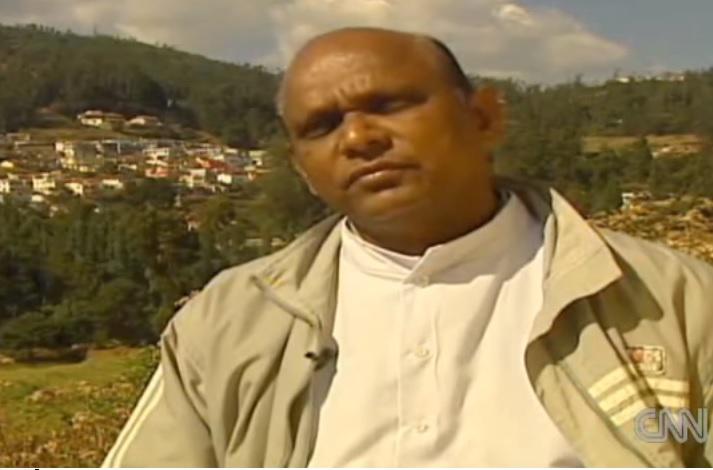 Screen grab from a CNN intv
Isn't it a moral travesty?
On August 24, 2005, the diocese of Crookton in Minnesota received an anonymous complaint stating that an Indian priest, Father Joseph Palanivel Jeyapaul, working at the church had sexually assaulted a minor.

A second victim later came forward. Another young girl who had wanted to become a nun had been sexually assaulted by Father Jeyapaul. The man hailing from Tamil Nadu rushed back to India and after almost a decade of legal wrangles, he was convicted by the Minnesota court and sentenced to a year in prison in 2015.

After serving a shorter prison term, Jeyapaul returned to India a few months ago. And in a move that has shocked child right activists in the state; the Roman Catholic Church of Southern India has now lifted the suspension against him.

He was sentenced a shorter term in jail based on a plea bargain, with the condition that he does not get back to ministerial duties or get in contact with children.

While the international media had first reported on the lifting of the suspension, the Ootacamund Diocese in Tamil Nadu confirmed to The News Minute that the church was not averse to allotting a role to Father Jeyapaul in the church ministry.

Sebastian Selvanathan, Spokesperson, Ooty Diocese told TNM, "He was released from the prison in USA through a court order. His case was then referred to the Doctrine of Faith in Rome. According to the direction from there, the suspension was lifted. He has not been given ministry now, if he is given, it will be given with certain restrictions." Doctrine of Faith is a congregation of the Roman Curia.

Catholic Bishops' Conference of India refuses to comment

Father Gyanprakash Topno, spokesperson of the Catholic Bishops' Conference of India refused to comment on Ootacamund diocese' decision. "We cannot comment on the decision sitting here in Delhi. It is the decision taken by the Ootacamund diocese. They must have reinstated him keeping in mind various factors that we cannot at the moment question. As far as I know he is not been given a position as yet," he said.

This is in clear contrast to the position taken by the Catholic Bishops' Conference of India in 2010.A plenary meeting of this apex body of catholic churches in India had then said that they would have a zero-tolerance policy to abuse of children in institutions run by the Church.

The church body had then said that "any clergy member accused of sexual abuse would be suspended from all priestly duties, and in extreme cases, the Church would consider defrocking the priest".

When asked about the Child Protection Policy of the church, Father Gyanprakash Topno reiterated that the decision was by the Roman Catholic Church in South India, and they cannot comment.

Vidya Reddy of - Tulir - Centre for the Prevention and Healing of Child Sexual Abuse (CPHCSA) calls it a case of mockery. "It is unfortunate that child protection is treated so trivially by the church that runs so many educational inst. If this is the way Jeyapaul is being dealt with, what is going to be the church's response to all the cases in which Indian priests have been accused? It makes a mockery of the recent proclamation by the church that they will look at child protection seriously," she told TNM.

Attorney Jeff Anderson of St. Paul, Minnesota, who represented the girls in the case, criticized church authorities for lifting Jeyapaul's suspension, said, "The Vatican must be held accountable.... This is on them. This is on the pope," Anderson said.

While Peterson has spoken publicly about her case before in hopes that it would help others, Anderson said she was too upset to comment Saturday. "They're both quite upset, disturbed and feel deeply betrayed that they would have the audacity to consider even putting him back in ministry," Anderson said. "To use Megan's words, 'They'll never get it and I'm feeling re-victimized.'"

But why is the Ooty church backing Father Jeyapaul relentlessly?

In 2005, despite repeated letters from Bishop Victor Balke of the Minnesota church, the Ootacamund diocese failed to act against Jeyapaul. Bishop Balke, through several letters, clearly said that he believed Jeyapaul was guilty not just of sexual misconduct, but of financial misappropriation. The News Minute has these letters.

That's not all. In spite of the complaints, Jeyapaul was made the secretary for the Diocesan Commission for Education in the Diocese of Ootacamund. It was only in 2006 when Archbishop Angelo Amato, secretary of Church Development Fund insisted that Jeyapaul was suspended from ministerial activities.

Statement of Megan Peterson during the case- "Father Jeyapaul then told me that it was a sin if I didn't cooperate. He raped me, both orally and vaginally.

After he was finished with me, he told me that I had to confess. I had always been taught how wrong it was to have pre-marital sex. I felt as if I didn't have a choice. So I did as he asked. Most mornings before school or in the afternoons following class, he would continue to rape me while I was in the confessional. Then he would give me penance."

Inputs by Divya Karthikeyan, Pheba Mathew and Sarayu Srinivasan.