Paedophile Priest Convicted in US, Now Roams Free in Ooty
The New Indian Express
February 17, 2016

http://www.newindianexpress.com/states/tamil_nadu/Paedophile-Priest-Convicted-in-US-Now-Roams-Free-in-Ooty/2016/02/17/article3281730.ece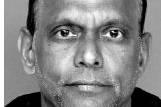 Fr Joseph Palanivel Jeyapaul
COIMBATORE: A 61-year-old priest, who had faced two accusations of child sexual abuse in the USA, now roams free in Udhagamandalam, where the Catholic Church chose to remain blind to the excesses of Fr Joseph Palanivel Jeyapaul.
On May 22, 2015, Jeyapaul had pleaded guilty to sexually assaulting a 16-year-old girl while serving in the Roman Catholic Diocese of Crookston, Minnesota.
The Roseau County District Court convicted him in June, but had to serve no time in prison beyond what he had done while waiting for court proceedings in the plea deal. He was then deported to India.
There was no conviction in the second case involving a 14-year-old girl in which Jeyapaul faced two counts of first-degree criminal sexual misconduct. The alleged misconduct was in 2004 and 2005.
Jeyapaul's suspension from priestly duties, imposed in 2010, was lifted recently after consultations between the Ootacamund Diocese and the Vatican, church officials said.
Meanwhile, Jeyapaul is still "on leave" and travelling across the country, Ooty Diocese PRO Fr Sebastian Selvanathan told Express. "We will ask him to speak to you once he returns," he added.
Jeyapaul would be assigned one in the coming months, Church officials said. However, there seems to be some opposition to it among priests in Udhagamandalam itself; one of them said that he had expressed his displeasure at Jeyapaul being allowed to preach when he had confessed to such serious charges.
The Udhagamandalam police said they were unaware of Jeyapaul's past. "We have not received any information from the Home Ministry or from the Interpol about Jeyapaul," said a police officer. He however promised to inquire into the priest's past and ensure that children were kept safe.
According to US media reports, the Survivors Network of Those Abused by Priests (SNAP), has voiced concern about what Jeyapaul would do in India. "We worry now about the safety of girls in India near Fr Jeyapaul," SNAP had said and urged Catholic leaders to warn the public about Jeyapaul and other predatory priests.