With Predator Priests Named, Survivors Still Want to Know Who Let It Happen
By Sara Bernard
Seattle Weekly
February 23, 2016

http://www.seattleweekly.com/home/963135-129/with-predator-priests-named-survivors-still

Last month, the Seattle Catholic Archdiocese published a list of 77 names of priests and other clergy credibly accused of child sexual abuse while working or living in western Washington. (It was updated a week later and now contains 78 names.) As a step toward healing and transparency, it made a significant splash, but perhaps not quite the one the church had hoped. Releasing a list of names is "not a worthless gesture," says David Clohessy, executive director of the St. Louis-based Survivors' Network of Those Abused by Priests (SNAP), but the information is, to him, infuriatingly incomplete.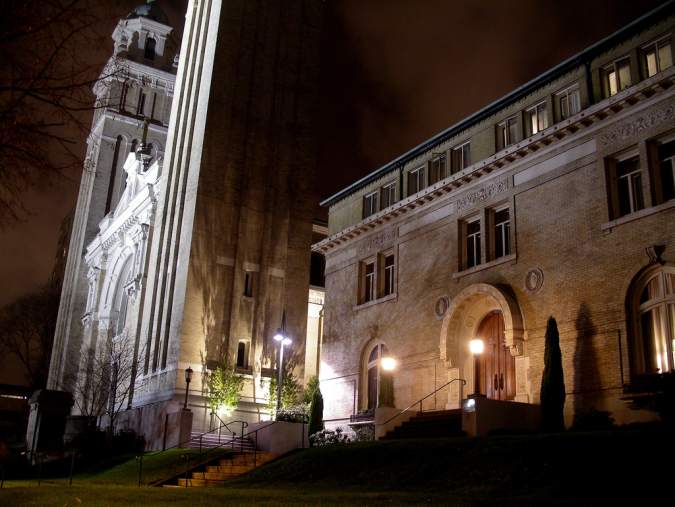 St. James Catherdral. Photo by Matthew Rutledge/Flickr



"There have been tons of exposes, and harsh editorials, and criminal prosecutions, and lawsuits, and settlements, and apologies, and promises" involving the Catholic church, argues Clohessy, who was molested for years, along with his two brothers, by a priest in Missouri's Jefferson City Diocese. He says Seattle is the latest in a list of dioceses across the country to "parcel out tiny bits of information" without revealing larger, systemic truths. "The one untried remedy here is punishing—or even exposing—the enablers. I challenge Catholics to name one church employee anywhere, from custodian to cardinal, who's lost one day's pay for ignoring or concealing horrific crimes against kids."

Clohessy, like many survivors and advocates, including former King County Superior Court judge Terry Carroll, former U.S. attorney Mike McKay, Seattle attorney Michael Pfau, SNAP Northwest director Mary Dispenza, and the Seattle Times editorial board, is urging the Seattle Archdiocese to release the full files on its predator priests—a trove of still-secret documents that private consultants used to put the original list together.

That would paint a much fuller picture, Clohessy and others say, of the system that allowed this abuse to happen.

"What we want is an open and full discussion," says Carroll. "If the intent is to put this behind you and move ahead, then do it in a way that helps us understand."

Carroll is a practicing Catholic and former chair of a lay committee that investigated allegations of sexual abuse within the Seattle Archdiocese and released a report on its findings in 2004. Among many other recommendations, the report urges the Archdiocese to publish names of abusers as well as church officials' decision-making processes regarding credibly accused priests. It also notes that there were "clearly lapses of institutional controls" that helped keep these crimes hidden, and that "there has been too much secrecy in these matters. The secrecy must stop."

The report is now public, albeit a bit buried in the Archdiocese's website, but was met with resistance at the time. "The diocese said, 'We want you to rewrite it,' " says Carroll. "We said 'No, we're going to publish it,' and we did. And we were basically fired." Then, over a decade later, "All of a sudden there is this release of names. Just names.

"This is definitely a problem of priests, and how they're behaving, and the denial of human sexuality, and all those things," he adds. "But at the end of the day, I hold the hierarchy responsible."

The Seattle Archdiocese did not immediately return requests for comment.

Secrecy is literally written into Catholic law, according to SNAP Northwest's Mary Dispenza, a former nun who's written a memoir about her own abuse.

She says she hadn't fathomed the extent of this secrecy until the Archdiocese of Los Angeles, where she was molested, finally released its full records as a condition of a $660 million legal settlement in 2007. "In exposing the records," she says, "you see what the bishops did."

Therefore, if the Seattle Archdiocese were to release those full files, it would not be the first Archdiocese to do so.

"People say to me sometimes, 'Mary, what do you want? Is anything enough? The names were released, and you're not happy about that?' " But for Dispenza, the fight is never over. "Yes, I was happy, and I want more. I want the stories behind those names. I want the records to be released. I want people to get the full picture of this terrible piece of history."

David Clohessy says his perpetrator took him on dozens of field trips from about age 11 to age 16—just him, never another boy or any member of his family. "I would wake up in the middle of the night, and whether we were at some lakeside cabin, or in a hotel, or in a tent, I'd wake up and find him on top of me, pressing his crotch against me, or his hand would be down my pants. And I was completely and utterly terrified . . . and confused. If somebody had burst in right then and said, 'What is he doing to you?', I don't think I even knew what words to use." Clohessy blocked the memories until decades later, and is pretty sure there were members of the church who suspected the abuse at the time. "You would think that even back then, a pastor might say, 'Hmm, that's a little suspicious that this guy goes on vacation and he always takes one boy with him. Just one.' "

Clohessy believes that Seattle's Archbishop Sartain is himself an enabler. In summer 2009 in Joliet, Ill., he ordained Father Alejandro Flores, a priest who pled guilty to sexual assault of a minor barely a month prior to Archbishop Sartain's move to Seattle. News reports say church officials had warning signs about Flores, including finding pornography on his computer that involved young boys.

Bishops "work overtime," Clohessy says, "to minimize and mischaracterize this as a small, old, sporadic problem rather than a continuing, deeply entrenched, systemic crisis."

There are many good people who belong to the Catholic church, maintains Terry Carroll, and the church does a lot of charitable work that in the community. "We need to save that good," he says. "Nobody's talking about breaking the institution, but healing has to occur," which for Carroll means full transparency.

Almost a month ago, he and Mike McKay put out a call for the Seattle Archdiocese to release the secret files. So far the church has stayed silent. "What happens next? I don't know," Carroll says. "We've been contacted by a lot of people; some press, a lot of people who were victimized. Other than that, that's it. Life goes on. I remain hopeful."

Sara Bernard writes about environment and education, among other things, for Seattle Weekly. She can be reached at sbernard@seattleweekly.com or 206-467-4370. Follow her on Twitter at @saralacy. Get more from your favorite writers by subscribing to our weekly newsletters.

SNAP's Northwest chapter meets at 7 p.m. on the last Tuesday of every month at Seattle Counseling Services, 1216 Pine St., #300.