More Priests Being Investigated
By Scott Tedrick
Advocate Tribune
February 26, 2016

http://www.granitefallsnews.com/article/20160226/NEWS/160229717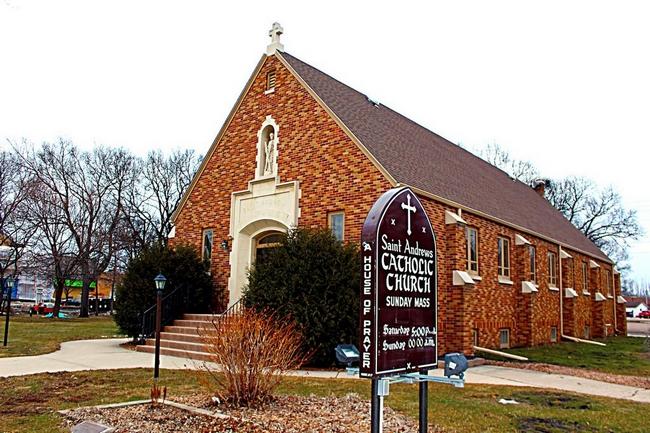 Three pastors with sexual abuse histories have been cycled through St. Andrews.



It was back in 2010 that a CNN?Special Report used Granite Falls as the setting for a story involving an 82 year old priest, Francis Markey, who died in jail in 2012 while facing charges of raping a 15-year-old boy in Ireland 40 years ago.

According to a statement issued then by the New Ulm Diocese, Markey filled in at St. Andrews Catholic Church in Granite Falls during an approximately three month period during the spring of 1982. Over those three months, a community's worst fears would be realized as CNN would bring to light the voice of an anonymous local resident living across the street from the church alleged that he was abused by Markey as a child.

This past week the story grew significantly more alarming as parishioners of St. Andrews Church received two additional letters signed by New Ulm Diocese Bishop John Levoir, dated February 5 and February 11, informing them of two other priests with a history of sexual abuse were assigned to the parish back-to-back during the 60s and early 70s.

The letters name Fr. Gordon Buckley, who served at the Church of St. Andrews in Granite Falls and the Church of St. James in Dawson, from 1963-69, as well as Fr. Charles Stark who was at St. Andrews from 1969-1971.

In the New Ulm Diocese's letter involving Stark, it said the case of sexual abuse was alleged to have been committed at St. John in Darwin, Minnesota––from 1965-69, or just prior to his assignment at Granite Falls)––while the letter involving Buckley, which said the case is "credibly confirmed," did not include a location of the incident. That information, however, was obtained with a follow up inquiry at which time it was made known that the abuse was also to have happened at St. Andrews––making it the second case of abuse reported to have been perpetrated by separate pastors assigned to Granite Falls parish by the New Ulm Diocese.

In the immediate area, Buckley also served at the Church of St. Mary in Cottonwood, 1960-61; the Church of St. Isidore in Clarkfield, 1961-63; and the Church of St. Michael in Milroy, 1969-78. He retired from active ministry in 1978 and died in 1985.

The letter indicates that the allegation's against Buckley are "credible" but does not indicate where the alleged abuse occurred. The New Ulm Diocese did not respond to a late inquiry regarding these questions prior to press time.

The lawsuit involving Stark alleges that the abuse took place during the time he was assigned at St. John in Darwin where he was located from 1965-69, just prior to his assignment in Granite Falls.

Schwiderski's perspective

During a five year stint from 1979 to 1984, Bob Schwiderski would wear three hats in the Granite Falls community while serving in stints as the Director of the Chamber of Commerce, Housing and Redevelopment Authority as well as Community Development–-which is now known as the Granite Falls EDA.

Today, Schwiderski is the former Director (or emeritus director, as he refers to himself) of the Minnesota Survivors Network of those Abused by Priests (SNAP).

It was back in 1993 that Schwiderski said he gathered the courage and conviction to announce to the world that he had been sexually abused by a priest as a child.

"Some say I was the first to stand up in corn fields of Minnesota to bring the issue of childhood clergy sexual abuse forward," he said.

Schwiderski says he was age seven the first time a priest ejaculated on him. And including inappropriate groping and hugging, Schwiderski said that he was abused over 100 times.

Regional and Twin City newspaper would report on the abuse scandal which was perpetrated in the town of Hector.

"After we got him away from my family, the New Ulm Diocese quietly picked him up and dropped him on the unsuspecting families of Green Valley Minnesota," Schwiderski.

Today, Schwiderski says ,"It's water over the dam," but since 1995 he has been working to change state law and expose childhood predators in the interest of the abused. The situation in Granite?Falls, he says feels all too familiar.

Markey's story

Francis Markey was first suspended as a priest for unidentified reasons in 1964 and sent for psychiatric treatment in Dublin. Throughout the 60s and 70s he underwent suspension and subsequent treatment a total of three times. Eventually, he was sent to New Mexico where it was reported that the Catholic church ran a treatment facility for priests with "various addictions or sexual problems."

Markey then resurfaced in Granite Falls following his stint in treatment. According to the New Ulm Diocese, he arrived in Willmar in December of 1981 and applied and was subsequently accepted into the Clinical Pastoral Education program at Willmar Hospital. While participating in the program he did some parish work in the diocese, which included his time at St. Andrews.

Markey filled in at the Granite Falls parish during an approximately three month period during the spring of 1982. Following the death of Fr. Henry LeMay, pastor James Moran was lined up to take on the post at St. Andrews. However, Moran was on a sabbatical in Rome at the time and unable arrive in Granite Falls immediately. Markey was brought in to fill in during the interim.

CNN reported that after Markey left the Granite Falls church, the reverend went back into treatment because the diocese said that "parents were concerned that he had an unnatural attraction to minor males."

The story also contained an interview with a Granite Falls community member who said that he was assaulted by Markey as a youth at the priest's home, formerly located across the street from St. Andrew's.

The individual, "to protect his family from embarrassment," asked to remain anonymous. He said that he was leaving Markey's home when, "he gave me a hug and as he did so he stuck his tongue down my throat ... he had been drinking ... I can't say if he was drunk but he was definitely drinking."

The abuse was said to have not gone any further, but nevertheless it left an indelible mark and lingering questions.

"To this day, I wonder how many people had encounters with him," he said.

A Minnesota Public Radio story broadcast in March of 2014 provided additional insight into Markey's actions after his departure from the Granite?Falls Parish.

"The New Ulm Diocese lawsuit stems from another lawsuit filed in 2013 by a man who accuses Markey of groping him and his two brothers at the family's home in 1982," which means it would have occurred shortly after Markey left St. Andrew.

"At the time of the alleged assaults, the man said, Markey was filling in at rural churches in Henderson and Jessenland. The family, which attended both churches, invited Markey to dinner.

"'He was at our parish for, like, seven to ten days and he was in our house for two hours and he abused three people, the man said,'".

No one ever imagined

According to former St. Andrews Parish Council President, Jim Almich, it is his belief that nobody a part of the St. Andrews' congregation was aware of Markey's perversion until after the interim pastor had left the church a few weeks prior to Moran's scheduled arrival.

In fact, Almich said that Markey was "a wonderful speaker, very humorous and very enjoyable to listen to." He said that some in the congregation had hoped that Markey would become the parish's full-time pastor, and he had planned to bring the idea up––until he found out that Markey was going to be leaving two weeks earlier than originally expected.

The former parish president said that he contacted Markey on a Wednesday and asked if he could meet with him that evening. Markey said that he was busy but happy to speak to him in the morning.

"I called him and told him that I wanted to talk to him," Almich said. "But The next morning [which would have followed the evening of the incident], he was gone."

Little time left for recourse

Schwiderski said that the New Ulm Diocese, which was formed in 1957, orignally wouldn't even acknowledge that Markey was a part of the diocese when allegations first arose.

"Nobody gave a crap about the people that were injured, they were just trying to protect an image."

Schwiderski said that SNAP, and like initiatives, have had to battle high-powered, high-priced lawyers to try and bring justice to the victims of child abuse. But in 2013, such interests gained a major victory.

"The Minnesota Child Victim Act was passed just a hair short of three years ago, he said. What that was, was a correction to civil law providing those who have suffered injuries and damage of childhood sexual abuse––whether at church, school or home––legal recourse,"

"Included in that law were legal ramifications for those who enabled child abuse, and that's how come you see all these cases now, moreso in the Catholic Church but then also with everything from Children's Theaters to Boy Scout activities.

Schwiderski has worked to produce of a map of 306 "Soul Shooters" comprised of institutional child predators whether in the church or elsewhere.

"When I look at the assignment history I can see where they dropped some of the 'less qualified'?on the prairie of Minnesota," he said, adding: "People like me say that the institution dropped those dangerous men on unsuspecting families, said Schwiderski." In this case, it was families of Saint Andrews and the people of Granite Falls.

Of great importance for the moment, said Schwiderski, is the fact that the Child Victims Act is scheduled to sunset in 90 days, on May 25.

"If anybody was abused by an individual they have to reach out now," said Schwiderski. "You will not have civil recourse after the portion of that law sunsets."

Schwiderski can be reached at SNAP?by phone or email at: 952 471 3422, skibrs@q.com

Meanwhile, the letter from New Ulm Diocese also offers recourse.

"The Diocese of New Ulm is dedicated to ensuring a safe environment in church ministry," reads the letters of Bishop Levoir to parishioners of St. Andrews. "For more than a decade, we have required participation in a comprehensive abuse awareness and prevention program for priests and deacons, diocesan and parish staff, teachers, parents, students, and volunteers who work with minors. We are committed to offering help and healing to victims and survivors of abuse.

If anyone who has suffered sexual abuse by a priest or anyone in church ministry in the Diocese of New Ulm should immediately report such misconduct to local law enforcement. Victims and survivors of abuse in the church are encouraged to contact the diocesan Victim Assistance Coordinator or the Bishop's Delegate in Matter Pertaining to Sexual Misconduct at 1421 6th Street North, New Ulm 56072, phone 507-233-5313.

A native of Minneota, MN, Buckley was ordained to the priesthood in 1953 for the Diocese of Pueblo, Co. In December of 1959 he was cardinated in the Diocese of New Ulm.

Fr. Buckley's assignments in the Diocese of New Ulm included: The Church of ST. Peter and Paul in Glencoe, 1959-1960; the Church of St. Mary in Seaforth, 1960; the Church of St. Mary in Bird Island, 1960; the Church of St. Cyril and Methodius in Taunton, 1960; the Church of St. Mary in Cottonwood, 1960-61; the Church of St. Isidore in Clarkfield, 1961-63; the Church of St. Andrew in Granite Falls and the Church of St. James in Dawson, 1963-69; and the Church of St. Michael in Milroy, 1969-78. Buckley retired from active ministry in 1978 and died in 1985.

Fr. Stark was ordained in January of 1944 for the Archdiocese of St. Paul and Minneapolis. He was incardinated into the Diocese of New Ulm in 1957, when the Diocese was formed.

His assignments included weekend ministry at the Church of Nativity in St. Paul, 1944: the Church of the Immaculate Conception, Faribault, 1944-45; associate pastor at the Church of the Holy Trinity, Winsted, 1945-1946; assistant pastor at the Church os St. Francis de Sales, St. Paul, 1946-47; assistant pastor at the Church of St. Michael, St. Paul, 1947-51; pastor at the Church of the Holy Name, Vesta, 1951-54; pastor at the Church St. Dionysius, Tyler, 1954-65; pastor at the Church of St. Michael, Gaylord, 1965; pastor at the Church of St. John, Darwin, 1965-69; pastor at the Church of St. Andrew, Granite Falls, 1969-71; pastor at the Church of St. Joseph, Clements 1971-77; pastor at the Church of St. Thomas, Sanborn while remaining pastor at the Church St. Joseph, Clements, 1977-86. He retired from active ministry in 1986.