Former Central City priest sentenced to 16 1/2 years behind bars and probation for life
By David Hurst
Tribune-Democrat
March 2, 2016

http://www.tribdem.com/news/former-central-city-priest-sentenced-to-years-behind-bars-and/article_92f3b32a-e0a6-11e5-a58c-679200a3fabb.html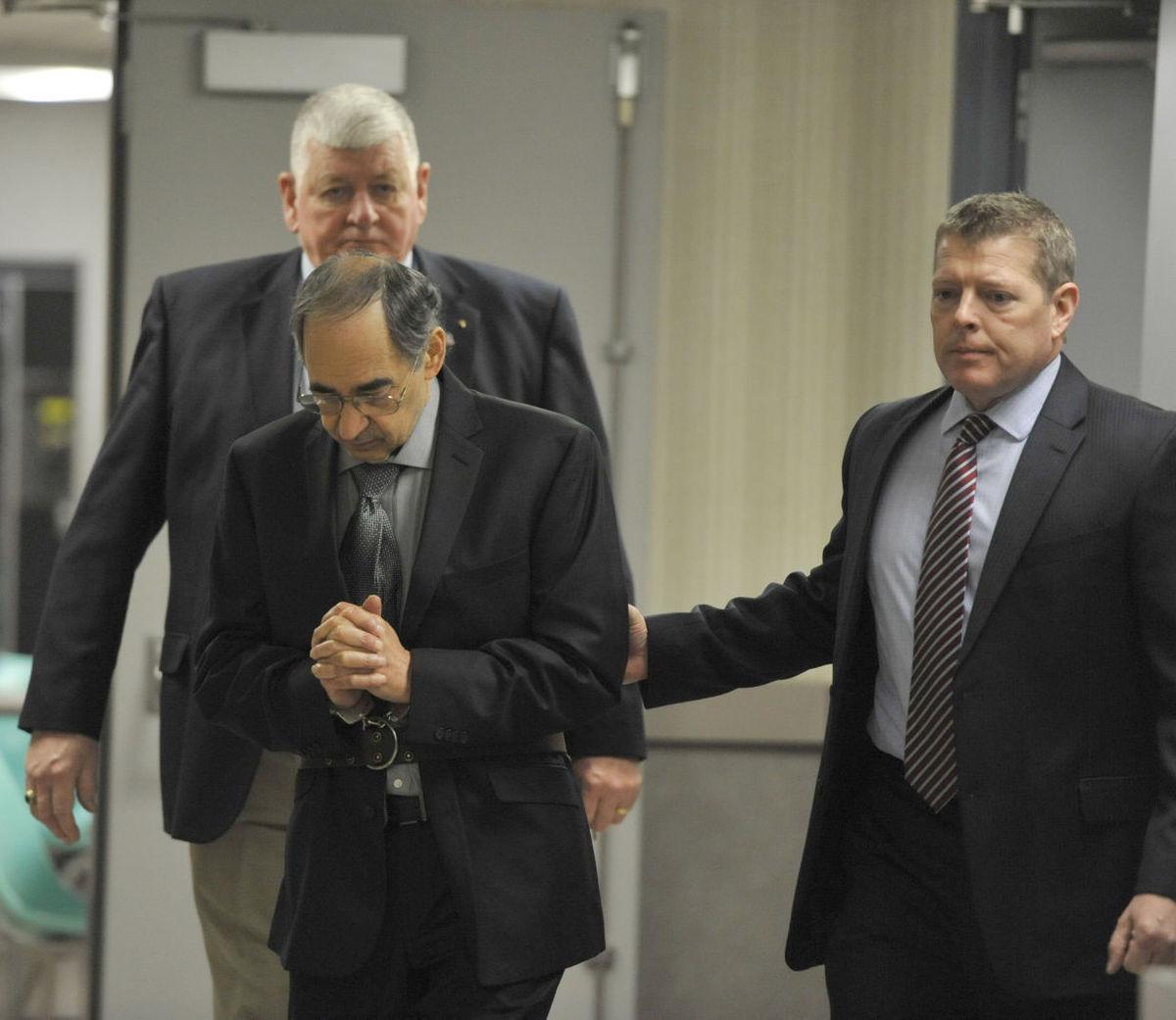 Members of the U.S. Marshals Service lead former Central City priest the Rev. Joseph Maurizio to a Tuesday, Feb. 2, 2016, evidentiary hearing in downtown Johnstown.
A former Central City priest was ordered to spend nearly 17 years in federal prison Wednesday for sexually abusing Honduran orphans.
U.S. District Judge Kim R. Gibson said the Rev. Joseph Maurizio Jr. "abused a position of trust" and then issued a sentence that will keep the suspended priest behind bars until he's in his mid-80s – and then, under federal probation's watch the rest of his life.
"Unfortunately, there is no punishment that will undo the harm Father Joe perpetrated against these kids," said Elizabeth Williams, former president of the ProNino charity and orphanage where Maurizio focused his mission work. "But I'm hopeful this sentence will ... validate their courage in coming forward and, in some small way, contribute to their healing."
The judge's ruling followed a hearing where the priest's friends and family urged leniency and prosecutors pressed for a nearly 30-year prison term for "shamelessly" abusing poor street boys.
Maurizio, 70, was arrested in September 2014 following a raid on his Paint Township home and Our Lady Queen of Angels rectory in Central City.
He was indicted on a list of counts afterward, on charges he sexually abused three boys, transferred money into Honduras to fund the fetish and possessed child pornography.
Following an eight-day trial last fall, Maurizio was found guilty of five charges. Gibson later acquitted him of one of the counts, noting that it was related to a former teen who testified in court that he was "never" harmed by the suspended priest.
Bishop working to "remove" Maurizio
Maurizio has been suspended by the Altoona-Johnstown Roman Catholic Diocese since news of the 2014 raid broke.
"This is another sad day for our diocese and, as always, our prayers are with the victims," diocese spokesman Tony DeGol said in a statement.
He said Bishop Mark Bartchak has already begun taking steps to have Maurizio removed as a priest, but said the process is not yet complete.
While a diocesan bishop can suspend or remove a priest from ministry, it requires Vatican approval to pull him from the priesthood, DeGol said.
In the meantime, Maurizio will not be able to function as a priest in any capacity, he said.
Attorney: 'We'll appeal'
Maurizio's 16 years and 8 month prison sentence will be reduced by 17 months for time served, the judge said.
The sentence was also lower than the standard guidelines for the crimes because of Maurizio's lack of criminal history, Navy service during Vietnam and decades of good deeds in the region, Gibson said.
Defense attorney Steven Passarello called on 11 people, including two of Maurizio's sisters, two nieces, a nephew and five longtime friends who described the priest as an honest and caring man who dedicated his life to helping children in need.
Kevin Kozlick of Stoystown said he was 15 years old when he first met Maurizio at Our Lady Queen of Angels.
He described Maurizio as a selfless servant of God, and recalled trips to Honduras where the man was mobbed by happy children when he arrived at ProNino.
"All he wanted to do was help them – to get them off of the streets and drugs," said Maurizio's sister, Angela, of Windber. "We will never give up hope the truth will come out."
Maurizio has maintained his innocence but did not address the court Wednesday.
Passarello said Maurizio was advised against it by his Pittsburgh attorneys, who are already preparing to file an appeal.
'A scourge'
Passarello and family members have argued Maurizio was framed after a charity power struggle prompted him to pull his resources from ProNino.
But U.S. Department of Justice Attorney Amy Larson disagreed.
"We are not here because anyone is jealous. We are not here because Honduran children came after him," Larson said. "We are here because he sexually abused two boys."
Maurizio used his power – money – and lured children into sex acts, she said.
"He took advantage of their extreme poverty. He knew these boys were desperate for clothing, money and toys," Larson said.
And whether here or across international borders, there's no excuse for it, Federal Homeland Security immigration and customs investigator David Abbate said.
"Sex tourism is a scourge – adults preying on the young and vulnerable to satisfy dark desires," said Abbate, assistant special agent in-charge for his agency. "There can be no place for the abuse of children, here or abroad."
Contact: dhurst@tribdem.com