Pennsylvania Prosecutors File Charges Against Three Retired Priests
By Scott Calvert And Kris Maher
Wall Street Journal
March 15, 2016

http://www.wsj.com/articles/pennsylvania-prosecutors-file-charges-against-three-retired-priests-1458056275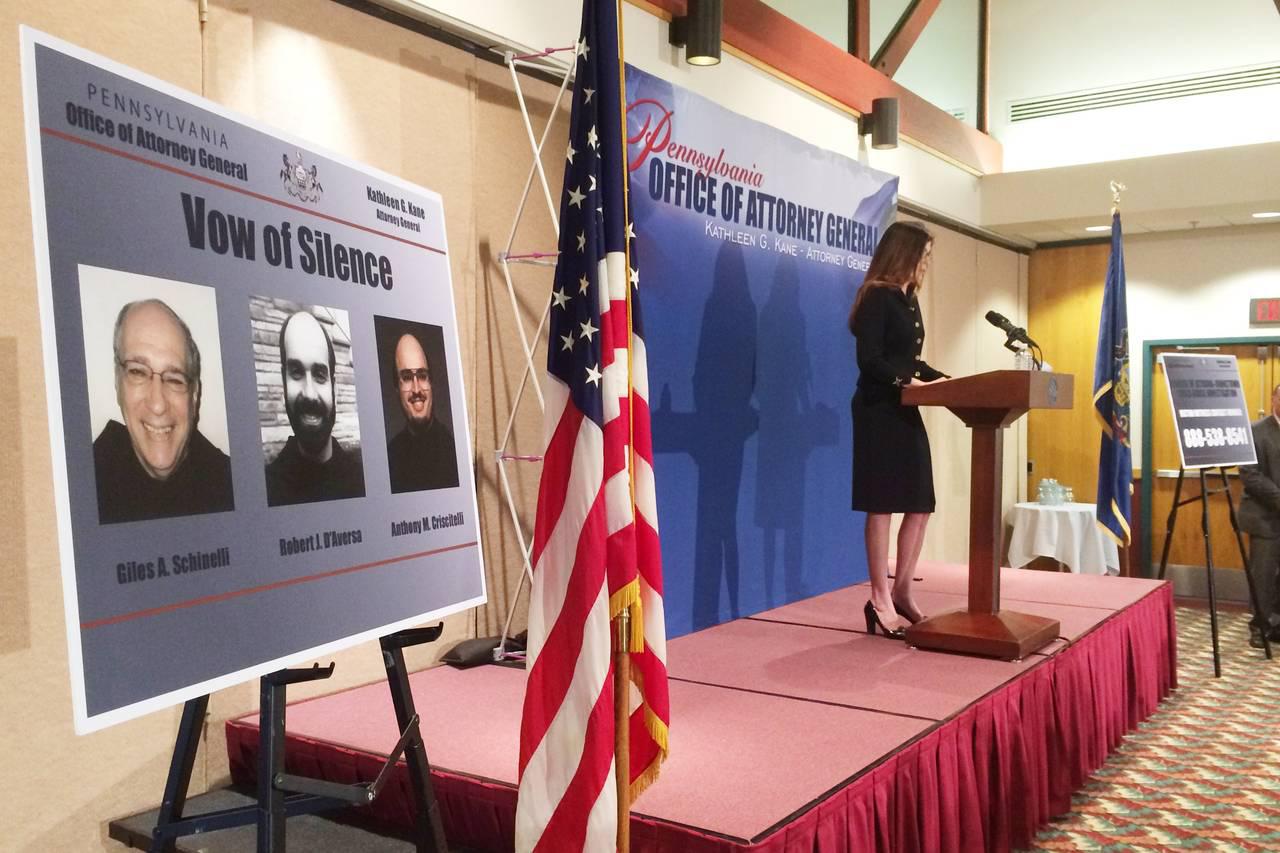 Pennsylvania Attorney General Kathleen Kane on Tuesday said three retired Franciscan religious leaders conspired to cover up the sexual abuse of dozens of Catholic high-school students in Johnstown, Pa.
Photo by Ed Hille
Pennsylvania Attorney General Kathleen Kane announced felony criminal charges Tuesday against three now-retired Franciscan religious leaders in central Pennsylvania, saying they conspired to cover up a serial predator's sexual abuse of dozens of students at a Catholic high school in Johnstown, Pa.
Special agents and prosecutors on Monday filed criminal charges against the three men—Giles A. Schinelli, 73, Robert J. D'Aversa, 69, and Anthony M. Criscitelli, 61—for allegedly taking part in a conspiracy to endanger the welfare of children, Ms. Kane said Tuesday.
All three are charged with one count each of endangering the welfare of children and criminal conspiracy. The maximum sentence for each charge is seven years, the attorney general's office said.
The charges focus on assaults at Bishop McCort High School in Johnstown by the late Brother Stephen Baker, from 1992 to 2010. The three friars charged Monday aren't accused of sexually abusing children themselves, but are being held criminally responsible for covering up and enabling the abuse. "We will continue to prosecute the case" against the three friars, Ms. Kane said.
Lawyers for the three didn't immediately respond to requests for comment. A spokesman for Ms. Kane said the three friars, who are also priests, were expected to turn themselves in over the coming days.
The attorney general's office said it spent two years investigating the allegations surrounding Mr. Baker, whose death in 2013 was ruled a suicide. Investigators took the matter to a statewide investigating grand jury in 2014. The grand jury heard witness testimony and reviewed more than 200 exhibits, the attorney general's office said.
Jeff Anderson, a Minnesota attorney who represents victims of alleged childhood sexual abuse, said the Pennsylvania charges are part of an emerging trend of prosecutors seeking to hold church officials accountable for abuse committed by subordinates. "Generally there's been a hands-off attitude," Mr. Anderson said, because it is somewhat unusual that top church officials are charged and held criminally responsible for enabling abuse or endangering children.
"It's very, very rare that perpetrators have been brought to justice, but it's even rarer for those in the hierarchy," said Marci Hamilton, a professor at Cardozo School of Law in New York who represents victims of sexual abuse. She said the only comparable criminal cases involve a former high-ranking official at the Archdiocese of Philadelphia, the former Catholic bishop of Kansas City and the Archdiocese of St. Paul and Minneapolis.
Between 1986 and 2010, the three charged Monday led the Franciscan Friars, Third Order Regular, Province of the Immaculate Conception, in Hollidaysburg, Pa. The province, an administrative subdivision, said in a statement that it is saddened by the charges and has cooperated with prosecutors. "The Province extends its most sincere apologies to the victims and to the communities who have been harmed," it said.
The charges come two weeks after the release of a grand-jury report that found two former bishops in the Altoona-Johnstown diocese had hidden allegations of child sexual abuse by more than 50 priests and religious leaders as far back as the 1950s.
None of the alleged crimes detailed in that report can be prosecuted, Ms. Kane had said at the time. Either the accused abusers have died or the statute of limitations has run out, she said, adding that some victims were too traumatized to testify in court. The same grand jury investigated the actions of the three friars, resulting in the criminal charges.
Ms. Kane said that after decades of abuse being hidden, it was now important to hold people accountable and allow victims to be heard.
"We are opening up the doors, we are opening up the blinds and we are letting the light shine in," she said. "And that is the significance, not just of holding people accountable, but of allowing the voice of the victims to finally be heard."
Messrs. Schinelli, D'Aversa and Criscitelli served as "ministers provincial," meaning they had final say on where to assign Mr. Baker. The grand jury found that Mr. Baker is accused of molesting more than 80 children from McCort between 1992 and 2010, including by groping boys' genitals and digitally penetrating them, according to prosecutors.
Assigned to the school in 1992, Mr. Baker taught religion and worked as an athletic trainer. Though his posting ended in 2000, he continued to participate in school events and had access to its facilities until 2010, prosecutors said.
Documents recovered during a search of the provincial monastery showed its leaders knew in 1988 about a sexual-abuse allegation involving Mr. Baker, according to prosecutors.
Mr. Schinelli, the minister provincial from 1986 to 1994, sent Mr. Baker for a psychological evaluation and was told he shouldn't have one-on-one contact with children, prosecutors said. They allege Mr. Schinelli nonetheless later assigned Mr. Baker to McCort High.
Mr. D'Aversa, minister provincial from 1994 to 2002, allegedly failed to tell school officials and police that Mr. Baker was removed from the school in 2000 after Mr. D'Aversa learned of a "new, credible" sex-abuse allegation, according to the attorney general's office. Mr. D'Aversa later appointed Mr. Baker as vocations director, a position in which prosecutors say he conducted overnight youth retreats around the U.S. The grand jury found that he sexually abused three more children after being assigned to be a volunteer trainer at Mount Aloysius College in Cresson, Pa., prosecutors said.
Mr. Criscitelli, the minister provincial from 2002 to 2010, allowed Mr. Baker to work at a shopping mall where he could be around children, according to the attorney general's office. Prosecutors said Mr. Criscitelli signed "safety plans" for Mr. Baker advising no contact with minors, but did so while he was living in Minnesota and Mr. Baker was living unsupervised in Pennsylvania.
Superiors have rarely faced criminal charges for failing to prevent or stop child sexual abuse.
In 2011, a Philadelphia grand jury blasted the Archdiocese of Philadelphia for its handling of priest sexual-abuse cases. In a landmark case, felony charges were brought against a former high-ranking archdiocesan official for allegedly shielding abusive priests in the late 1990s. That official, Msgr. William Lynn, was convicted and sent to prison. A state appeals court in December overturned his conviction and ordered a new trial.
When she released the grand-jury report on the Altoona-Johnstown Diocese, Ms. Kane had said the investigation was continuing.
The grand-jury report has spurred Pennsylvania lawmakers to join other states in trying to rewrite laws to facilitate sexual-abuse prosecutions. Statutes of limitations in Pennsylvania often bar victims of abuse and prosecutors from pursuing legal action against perpetrators.
One bill in the Pennsylvania legislature would remove criminal statutes of limitations for new incidents. Another measure would create a two-year window waiving statutes of limitations for civil cases. That would let victims file lawsuits against abusers who committed crimes many years earlier. A number of states already have such temporary waivers.
Contact: scott.calvert@wsj.com