Springfield Diocese Adds Priest Who Committed Suicide To List Of 'Credibly Accused Clergy'
By Sam Hudzik
New England Public Radio
March 29, 2016

http://nepr.net/news/2016/03/29/springfield-diocese-adds-priest-who-committed-suicide-to-list-of-credibly-accused-clergy/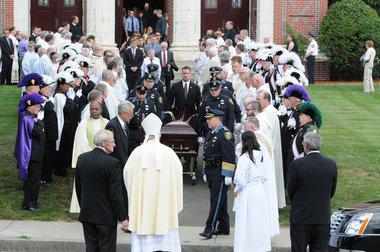 The casket bearing the Rev. Paul Archambault is escorted out of St. Elizabeth Ann Seton Parish Church by Hampden Police officers in July of 2011.
The Catholic Diocese of Springfield has settled a lawsuit over child sexual abuse by a priest who committed suicide in 2011.
The diocese says it appears that Father Paul Archambault killed himself shortly after he was confronted about the abuse. Those allegations came out in lawsuit in 2013, two years after the priest's death.
In a statement, the diocese says it "now recognizes this victim's allegation as credible."
"[The abuse] took place at a time when it was really the height of the clergy abuse scandal — being in the press and becoming public, which was extraordinary from our point of view that this was happening at that very same time where supposedly there was such heightened awareness of the issue," said John Connor, a lawyer for the victim.
The diocese has added Archambault's name to its public list of "credibly accused clergy." That list includes the names of 17 priests and former priests from the Springfield diocese, which includes the four western Massachusetts counties.
Bishop Mitchell Rozanski, in a statement, apologized to victims and said he's resolved to continue to address what he called a "terrible plague upon our church."