Austin Diocese Implicated in Child Abuse Suit
By Sarah Marloff
Austin Chronicle
April 1, 2016

http://www.austinchronicle.com/news/2016-04-01/austin-diocese-implicated-in-child-abuse-suit/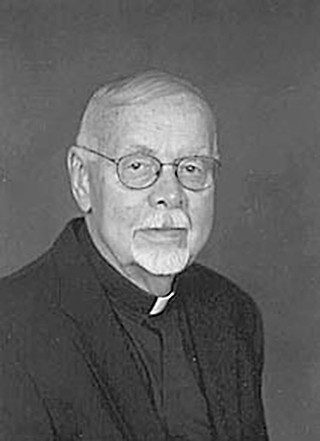 Father Milton Egglerling



On March 10, Father Milton Eggerling became the seventh Austin-based priest to be accused of sexual abuse (according to the Database of Publicly Accused Priests in the United States). Attorney Tahira Khan Mer­ritt filed a civil suit for her client, John Doe 120, who claims he was sexually abused by Eggerling from the ages of 11 to 16.

Due to Eggerling's death in 2008, and Texas' statute of limitations – the abuse allegedly happened from 1973 to 1978 at what is now known as St. Louis King of France Catholic Church on Burnet Road – Doe cannot pursue criminal charges. Instead, the civil suit looks to hold the Austin Diocese accountable for placing not only Doe but hundreds of other children in Eggerling's care. "The lawsuit alleges negligence and gross negligence against the diocese and its bishops because they knew, or should have known, of Eggerling's propensity to molest boys," Merritt states in the press release. The suit seeks unspecified damages and monetary relief of more than $1 million.

Doe was just shy of 12, a student and altar boy at St. Louis when he first met Eggerling. Doe served mass to Eggerling, who tipped the boy $5. Coming from a less than ideal home life, Doe embraced Eggerling's attention, according to Doe's attorney. "The boy confided in the priest, and rather than helping him, Eggerling used that to manipulate Doe," Merritt tells the Chronicle. The priest's attention continued. Soon he was taking Doe on trips to Barton Springs and the movies, claims the suit, all the while talking to the boy about masturbation and attempting to convince him that it was all right to change into (and out of) swim trunks in the priest's presence.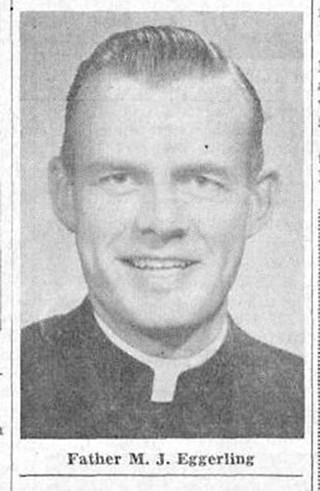 Father Milton Egglerling



The outings progressed into out-of-town and overnight excursions where, supposedly, Eggerling would feed Doe alcohol. "It escalated into sex," says Merritt. "It was abuse. But what's unique about this case is that it wasn't a hidden thing. Adults in positions all around him – no one questioned, 'What is this boy doing?' 'Why is this priest taking the boy out of school – out of state?!' Many adults had a chance to help this kid and they didn't."

Merritt's claim that someone should (or must) have noticed is bolstered by allegations that abuse and alcohol consumption happened in numerous places, such as the rectory where Eggerling lived, as well as the Adoration Convent, and in the chapel and offices of the Austin State Hospital where Eggerling worked as chaplain. It's also noted that one Father Louis Wozniak knew Doe was sleeping in Eggerling's room, and that multiple teachers were aware that Eggerling was taking Doe on out-of-state trips. "Yet no one intervened."

During the five-year period the abuse is alleged to have occurred, the lawsuit says Eggerling persuaded Doe to pursue priesthood, with Eggerling standing in as both a father figure and professional mentor. "Eggerling began his grooming with suggestive questioning involving sex and Catholic doctrine," states section 13 of the lawsuit. "His confusing sophistry quickly escalated into fondling, then very aggressive attempts at oral sex and finally anal penetration under the pretext of 'wrestling' or 'horsing around.'" Countless times after drinking with Eggerling, Doe recalls waking up in bed (often naked) with an undressed Eggerling beside him.

Eggerling isn't the only Central Texas priest accused of predatory behavior. Doe has named a second priest, Father James O'Connor, as well. The lawsuit states that O'Connor – who in 2003 was sued in Waco (part of the Austin diocese) for sexually abusing another child – cornered Doe at school one day and shoved his hands inside the boy's shorts. O'Connor then blamed Doe for the assault due to the shorts he was wearing. (Doe alleges that two additional priests from St. Mary's Seminary in Houston molested him as well.)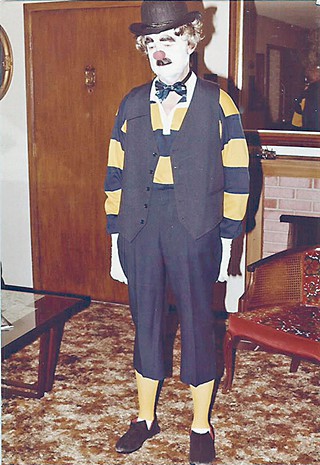 Eggerling dressed as a clown



Christian Gonzalez, the director of communications for the Diocese of Austin, confirmed to the Chronicle that O'Connor is a priest of the diocese but was removed from ministry in December of 2003 and has not been engaged in active ministry since that time, in accordance with policies laid out in the United States Conference of Catholic Bishops' Charter for the Protection of Children and Young People. Gonzalez issued a statement to the Chronicle regarding the civil suit and the late Eggerling:

"The petitioner alleges that abuse occurred more than 40 years ago by Father Milton Eggerling who died in 2008 at the age of 87. Father Eggerling was not a priest of the Diocese of Austin. He came to Austin in 1973 from another diocese and worked for the state of Texas. He left Austin in 1979. An investigation into the allegations is pending and the diocese is not able to comment further at this time.

"The Diocese of Austin remains committed to its safe environment program for the protection of children and young people. Bishop Joe S. Vasquez asks for prayers for those involved in these allegations."

Merritt, however, doesn't accept the diocese's official statement. "Claiming 'he didn't work for us' is a cop-out. We know he worked at the State Hospital and at the Texas School for the Deaf. Even if he wasn't ordained here in Austin, he had to be OK'd by the diocese to work here. It's almost as if they're lying and that's re-victimizing to my client. All they're doing is lip service."

Though Merritt has worked over 200 cases representing victims of sexual abuse by the clergy (all ministries, not just Cath­olic), she's still appalled by the numbers. "Every case, I say to myself it's incredible that this was allowed to go on," she says. "What people need to understand is that this is not about money. It's never about money for these people. Victims don't come forward to say 'terrible things happened to me' for money. It's about standing up and wanting validation, to be believed, and to hold people accountable. You can only do that in the civil justice system."

From here Merritt and Doe must wait for the diocese to file a formal answer and the court to set deadlines and trial dates, and the timeline is unknown. What is known is that it's crucial for other victims – if they exist – to come forward. Merritt anticipates that the diocese will file motions to dismiss based on statute of limitations, but she references Bill Cosby's case to prove that numbers matter. "It's easy to dismiss one person, but how can you dismiss 50? Statist­ic­al­ly, before these people are caught they usually have hundreds of victims."