After Nearly Six Decades, Woman Reveals Rape Allegation Against Priest
Deadline Detroit
April 4, 2016

http://www.deadlinedetroit.com/articles/14658/after_nearly_six_decades_woman_reveals_rape_allegation_against_priest#.VwJSRaQrJdc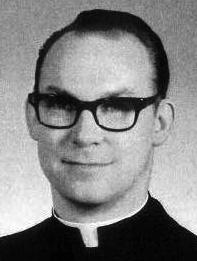 Richard Lauinger
Judy Larson was silent nearly 60 years until she couldn't hold it in any longer.
Larson, 68, in January told the Archdiocese of Detroit that Richard Lauinger, a priest in the 1950s at Our Lady of Sorrows in Farmington, had raped her when she was 10, Aftab Borka of The Oakland Press reports.
The archiocese declared last week that the allegations against Lauinger, now 85, were found to be credible, the paper says. He moved out of Michigan in 1985.
"He (the priest) told me then that nobody would believe me. I believed it all my life," Larson, recounting her days at the old church in Farmington, told the Oakland Press. "And now there are people who are saying 'We believe you'."
"It's like amazing to me because all my life I believed nobody would take me seriously," she said.
The paper reports that Ned McGrath, director of communications for the Archdiocese of Detroit, said Lauinger has been notified of the allegations and several victims have come forward so far.
The archdiocese issued this press release March 28:
Richard R. Lauinger, 85. Ordained in 1956; laicized* in 1975. Allegations of sexual abuse of minors while in ministry have been brought forward to the Archdiocesan Board of Review, considered, and found to be credible.

Parish assignments included serving as an associate pastor at Our Lady of Sorrows, Farmington, Christ the King, Detroit, Shrine of the Little Flower, Royal Oak, St. Eugene, Detroit; as co-pastor of St. Margaret of Scotland, St. Clair Shores.

The Archdiocese of Detroit places no deadlines or time limits on reporting the sexual abuse of minors by priests, deacons, and other church personnel. To bring forward a complaint and/or to speak to the Victim Assistance Coordinator contact (866) 343-8055 or vac@aod.org.

*Formalizes a priest's return to the status of layperson; severs ties to the diocese.