Details scarce in former Hazleton, Mountain Top priest abuse allegation
By Kathleen Bolus
Standard Speaker
April 5, 2016

http://standardspeaker.com/news/details-scarce-in-former-hazleton-mountain-top-priest-abuse-allegation-1.2027036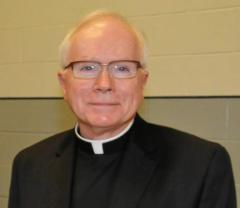 Boylan
Diocese of Scranton and law enforcement officials would not release any more information Monday concerning the allegations the Rev. Martin M. Boylan engaged in sexual misconduct with a minor.
The allegation is still under investigation and no more information is available, Wayne County District Attorney Janine Edwards said Monday. However, she released a statement that the statute of limitations will run out when this victim reaches the age of 50. The age of the victim, who is now an adult, is unknown.
"No further comment will be issued at this time," Edwards said.
State police will be investigating the allegation, she said.
The Diocese of Scranton immediately notified Edwards' office on Friday evening after it received an allegation of sexual misconduct involving a minor against Boylan, 68. The alleged abuse took place in Wayne County, the diocese said in a Friday statement.
Bill Genello, the executive director of communications for the diocese, refused to comment further Monday. Bishop Joseph C. Bambera did not respond to a request to be interviewed.
The diocese suspended Boylan's "faculties to exercise priestly ministries within the Diocese" pending an investigation of the accusation. Boylan was pastor of St. Patrick's Parish in West Scranton until last week. He was assigned to the church on July 11, 2011. He was also the episcopal vicar for the Northern Pastoral Region of the Diocese of Scranton.
Diocese officials would not say whether Boylan was suspended with or without pay.
It's unclear how the diocese became aware of the allegations. It's also unclear when the abuse took place and to which parish Boylan was assigned during the time of the alleged misconduct.
However, he served as administrator and pastor of St. Rita's in Lehigh Township, Wayne County in 1994, and pastor of St. John the Evangelist Parish, Honesdale, in 2001. He also served at St. Joseph Parish in Texas Township.
Ordained in 1980, Boylan was born and raised in Scranton and attended area Catholic schools. He served in various diocese positions throughout Lackawanna and surrounding counties, including as chaplain at Bishop Hannan High School, beginning in November 1987.
He was assistant pastor at St. Jude Parish in Wright Township; St. Gabriel Parish, now Annunciation Parish, in Hazleton; St. Peter's Cathedral Parish in Scranton; and St. Mary of the Immaculate Conception Parish, now Our Lady of Fatima Parish, in Wilkes-Barre. He also served as chaplain at Marywood College, now Marywood University; lived in residence at St. Clare Parish, Scranton, and St. Luke Parish, Stroudsburg.
He acted as administrator at Blessed Sacrament Parish, Wilkes-Barre and served as pastor at SS. Peter and Paul Parish in Towanda, St. Michael's Parish in Canton, St. John Nepomucene Parish in Troy and St. Aloysius Parish in Ralston.
More than 25 priests from the Diocese of Scranton have been accused of having sexual contact with minors since 1950.
In June 2014, the Rev. William Jeffrey Paulish, 57, of Blakely, was sentenced to eight to 23 months in Lackawanna County Prison after he admitted meeting a 15-year-old for a sexual encounter on Sept. 19, 2014, at the Penn State Worthington Scranton campus in Dunmore. He pleaded guilty Jan. 22, 2014, to a felony county of corruption of minors.
Ordained as a priest in 1988, Paulish was assistant pastor at Prince of Peace Parish in Old Forge. He was reassigned 15 times during his 25 years as a priest, mostly in Luzerne County.
Following Paulish's release from jail, the Diocese of Scranton began the canon law process to dismiss him from the clerical state and return him to a layman's status in the church, Genello said.
"Until that process is concluded, in keeping with requirements of canon law, he receives minimal sustenance to meet his most basic needs," Genello said in an email. "He is strictly forbidden to exercise priestly ministry or to present himself as a priest. He does not reside in any church-owned property."
Contact: kbolus@timesshamrock.com