Elizondo's suicide note does not admit to 1983 allegations
By Elaine Ayala
San Antonio Express-News
April 11, 2016

http://www.expressnews.com/news/local/article/Elizondo-s-suicide-note-does-not-admit-to-1983-7242393.php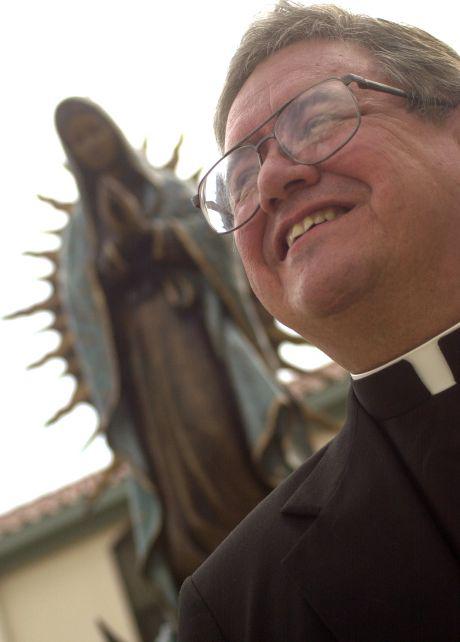 Father Virgilio Elizondo founder of the Mexican American Cultural Center.
Father Virgilio Elizondo calls himself a sinner and asks for forgiveness and mercy in a typewritten suicide note released Monday, but does not refer to last year's accusation that he molested a young boy who came to him for help more than 30 years ago.
A month after his death from a self-inflicted gunshot, the one-page document was released to local media Monday by attorney Thomas J. Henry, who represents a man, known only as John Doe, who alleges he was abused as a boy by a former priest named Jesus Armando Dominguez. The lawsuit alleges that when the boy reported the abuse by Dominguez to Elizondo in 1983, Elizondo kissed and fondled him.
The typed, unsigned note, titled "Farewell," said Elizondo hoped his death would "bring healing to anyone that I might have hurt" and said his life had been "dedicated to serving others."
Elizondo, who was 80, notes his fatigue, failing health and feeling "empty." He quoted the Gospel of John — "Greater love no one has, (than) to lay down his life for his friends" — and said he was "offering my life as a final gift."
"I freely choose my moment and way of giving my life to others," the note said. "This is not a suicide but a farewell gift. I pray that the gift of my life may bring healing to anyone that I might have hurt." ...
The Archdiocese of San Antonio did not comment but released a prepared statement Monday about the note.
"Out of respect for the privacy of the Elizondo family, the Archdiocese of San Antonio feels that it would be inappropriate for us to try to interpret or comment on the meaning of the message left by Father Virgilio Elizondo," it stated. The statement also clarified that outside of this pending litigation, the archdiocese has not been made aware of any allegation against Elizondo of sexual abuse of a minor. ...
David Clohessy, executive director of the Survivors Network of those Abused by Priests, said that argument — that survivors who wait so long after their alleged abuse don't remember it accurately — has been particularly hard on survivors.
Clohessy, a survivor himself, has worked for the organization for more than 25 years. He said he has read dozens of suicide notes written by accused priests.
He called Elizondo's "typical. He essentially admits it, albeit somewhat obliquely.
"Sadly, few child molesters, even as they're dying, summon the courage to tell the truth," he said. "Often, they come very close, and I think that's what Father Elizondo did here. It would have been extraordinarily quick and easy to say, 'I didn't do this.' Yet he didn't."
"It's horrifying on so many levels," said Clohessy, which is why he said SNAP asked San Antonio church officials "to low-key" Elizondo's funeral.