Former Catholic Seminary Student Admits Seeking to Sexually Assault Toddlers, Infants
By Matt Hamilton
Los Angeles Times
April 13, 2016

http://www.latimes.com/local/lanow/la-me-ln-former-seminary-student--rape-toddlers-infants-20160413-story.html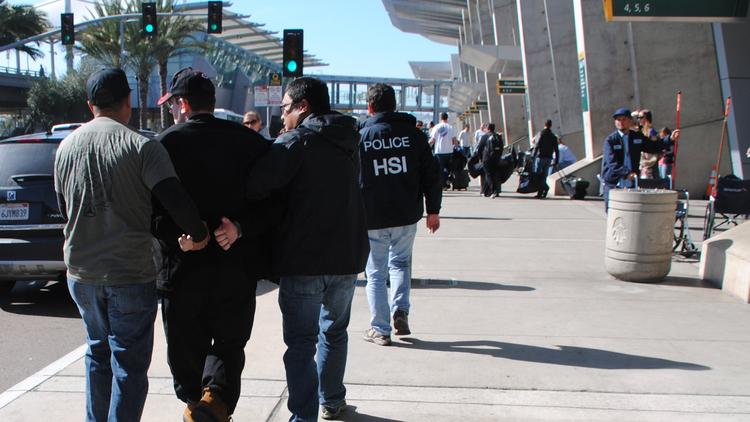 Former seminarian Joel Wright, second from left, is arrested at San Diego's airport on federal charges that he sought to sexually assault small children in Mexico. ((U.S. Immigration and Customs Enforcement via AP))



A former Roman Catholic seminary student from Ohio pleaded guilty Wednesday to trying to adopt or "own" young children in Tijuana in order to sexually assault them, prosecutors said.

Joel Alexander Wright, 23, admitted to traveling to San Diego in January, when he was arrested at San Diego International Airport with a duffel bag stocked with baby clothes, bottles, toys, candy and lubricant, according to his plea agreement.

For months before arriving in San Diego, Wright had corresponded with a witness, and later, undercover federal agents, according to court papers. He thought he would be meeting up with three children, all under the age of 3, at a Tijuana hotel.

"There are no words to describe the horror that might have happened, had an innocent baby been placed in this man's arms," U.S. Atty. Laura Duffy said in a statement. "There is nothing more important on my agenda than keeping children safe from pedophiles."

Federal investigators were informed of a tip received by the National Center for Missing and Exploited Children in which an unidentified person in Tijuana reported correspondence with a person soliciting the adoption of Mexican children, according to the complaint filed against Wright.

He posted Craigslist ads, starting in November 2015, in which he sought a travel guide for a trip to Tijuana, according to the plea agreement. At first he expressed a desire to marry a woman and adopt a child, but the conversation pivoted toward sex with minors, according to the complaint. In later correspondence, he confessed to wanting to "adopt / own a baby girl (under the age of 3)" and that he wanted to have sexual intercourse with the child, according to his plea agreement.

"I won't pay until I have seen the baby and I will pay the parents then," Wright said.

Online, he referred to himself as Francis and said he wanted three babies to "play with." At one point, he said he had prior experiences with children and professed his desire for baby girls, noting that virgins are the best.

Wright was studying to become a Roman Catholic priest at Pontifical College Josephinum in Columbus, which said in a statement to the San Diego Union-Tribune that it was "shocked and saddened" to learn of the allegations against a former student.

According to court papers, Wright acknowledged his religious commitment in an email, writing, "Yes I like church -- it makes me feel good."

On Jan. 29, he traveled from Columbus, Ohio, and he called a predetermined number after landing. He was later arrested at the airport.

Wright pleaded guilty to one count of attempted enticement of a minor, a charge that carries a minimum of 10 years and a maximum of life in prison.

The government has agreed to ask a judge to sentence Wright at the low end of the penalty range, according to his plea agreement. He's scheduled to be sentenced by U.S. District Judge Dana Sabraw on July 1.