Archdiocese seeks to remove priest from pregnant-teenager facility
By Jameson Cook
Daily Tribune
April 16, 2016

http://www.dailytribune.com/article/DT/20160416/NEWS/160419643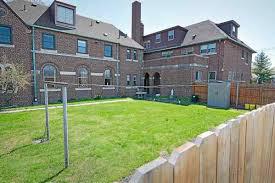 Gianna House Pregnancy and Parenting Residence, located adjacent to St. Veronica Church in Eastpointe.
The Archdiocese of Detroit is seeking to remove a priest from his role at an Eastpointe facility for pregnant teenagers because he was found to have had sexual misconduct with a teenage girl in the 1970s.
The Archdiocese believes the Rev. Kenneth Kaucheck should not continue as development director of Gianna House Pregnancy and Parenting Residence, which he founded last year along with Sister Mary Diane Masson in a former convent adjacent to St. Veronica Catholic Church in Eastpointe.
Kaucheck, while serving as a priest in Royal Oak and Ferndale, was banned in April 2009 from public ministry and placed on "temporary restriction" by the Archdiocese of Detroit after the organization determined that in 1976 he committed sexual misconduct with a 16-year-old girl who he was counseling at Guardian Angels Parish in Clawson. He was removed that parish and transferred to a Dearborn parish.
Kaucheck, 62 when he received the banishment, in 2009 left his post as pastor at St. Mary Parish in Royal Oak and St. James Parish in Ferndale.
Archdiocese spokesman Joe Kohn told The Macomb Daily on Thursday the organization has acted to remove Kaucheck from his position at Gianna House subject to the requirements under the Catholic's Church's legal process, the Congregation for Clerk of the Vatican.
"Father Kaucheck does remain barred from public ministry," Kohn said. "It is our position Father Kaucheck's involvement in Gianna House is public ministry. We are addressing the matter under canon law."
Kaucheck, who is a canonical lawyer himself, can have a lawyer represent him and combat the removal via the process.
Kohn said he could not elaborate on the case but said a public-ministry post is defined as "any position in which it would be assumed the priest's identity would be relevant."
Gianna House, founded last year, counsels and instructs girls under 18 who are pregnant and during their first year of motherhood. Gianna currently serves the girls as outpatients; its facility is under renovation to house up to 15 girls and their children later this year.
Dr. Robert Welch, who is chairman of the Gianna House Board of Directors, said Friday he was unaware of Kaucheck's removal from public ministry in 2009 and the Archdiocese's attempt to oust him from the Gianna House position.
"This is obviously shocking news to me," Welch said. "This is troubling news, certainly."
He said Kaucheck has been pleasant to work with and hasn't noticed anything that would raise suspicion. He has worked with Kaucheck for about five years while the organization looked for and found a location for the facility.
"He seems very sincere, very committed," he said. "He's very nice to work with. I've seen nothing but honorable intentions from him."
Welch was asked to join the organization due to his position as an obstetrician and gynecologist at St. John Providence Health System. Welch also is vice chair of Detroit Medical Center Obstetrics and Gynecological Clinical Operations and Wayne State University chief and division director of Maternal Fetal Medicine.
Kaucheck did not return a message left at his residence Friday.
Kaucheck's role at Gianna House troubles representatives of two organizations that advocate for victims of sexual assault. They said Kaucheck should not be involved with a group that helps teenage girls, those in the same age group as the girl with whom he allegedly had improper contact.
"It's horribly inappropriate," said Debbie McPeek, chief program officer at Turning Point in Mount Clemens, which serves "survivors" of sexual and domestic abuse.
She said Kaucheck was in a position of authority when he committed a betrayal of trust.
"To put someone (with Kaucheck's background) in a position of trust is horrendous," she said.
Matt Jatczak of the Michigan chapter of the Survivors Network of those Abused by Priests, said Kaucheck's involvement "seems irresponsible." He said Kaucheck's past should have raised "red flags."
"Now he is being around teenage women who are in a vulnerable position, that should raise all kinds of red flags," he said. "I don't know how board members could allow him to get involved."
Masson, who gained approval from her order, the Felician Sisters, to start Gianna house, defended Kaucheck's involvement. She said as development director he is not directly involved with the girls but rather seeks to raise money for the fledgling organization. She said he doesn't typically go to the Gianna House.
"He's not doing anything with the girls," she said.
She also noted that he was never found guilty of wrongdoing.
"He hasn't been proven guilty," she said. "Innocent until proven guilty."
She said she has known him since 1990.
Board of directors meetings have been held at Manresa Jesuit Retreat House in Bloomfield Hills, where Kaucheck resides.
Kaucheck receives a salary from the church.
An April 23, 2009, press release from the Archdiocese's then-director of communications, Ned McGrath, says Kaucheck was placed on administrative leave after the Archdiocesan Review Board "has deemed substantive an allegation of sexual misconduct with a person under the age of 18 involving Fr. Kaucheck dating back to the early years of his ministry in the Detroit archdiocese."
The incident occurred in 1976, the same year Kaucheck was ordained a Catholic minister and became associate pastor at Guardian Angels Parish in Clawson. The girl went to him for counseling. Kaucheck would have been 28 or 29 years old.
In 1977, he was transferred from Guardian Angels to Sacred Heart Parish in Dearborn, according to the Archdiocese. The transfer occurred after the girl's father complained to the lead priest at Guardian Angels, says a published report.
The matter was revived in January 2009 when the victim complained to the Archdiocese after she saw Kaucheck in a doctor's office, a random contact, according to a published report. The incident was reported to Clawson police. Oakland County prosecutors did not charge him with a crime because the girl had reached the age of sexual consent, which is 16, the report said.
Over the years, Kaucheck has served in about a dozen roles in several locations, according to the Archdiocese.
Three years after being assigned to Sacred Heart in Dearborn in 1977, he became associate pastor at Christ the King Parish in Detroit, and that same year was campus minister at Gabriel Richard Center in Dearborn. In 1982, he became a pastor at Epiphany Parish in Detroit and in 1983 was named auditor in annulment cases for the Archdiocesan Metropolitan (Marriage) Tribunal. In 1992, he was named Tribunal grievance clerk and associate pastor at St. Anastasia Parish in Troy, where he became lead pastor in 1996. In 2004, he became pastor at Our Lady Star of the Sea Parish in Grosse Pointe Woods and two years later was named temporary administrator at Holy Family in Detroit. He became pastor at St. Mary in Royal Oak and St. James in Ferndale in 2008.
The 10,000-square-foot Gianna House will provide bedrooms for up to 15 residents (including mothers and their children), a chapel, two residential staff suites, two WSU intern bedrooms and offices, staff offices, a mom and baby shop, and a kitchen, dining room and family room, according to Masson's message in the October 2015 Gianna House newsletter.
Masson says in the newsletter Gianna House officials have been warmly welcomed by St. Veronica Pastor, Rev. Stanley Pachla, and Eastpointe Mayor Suzanne Pixley and her staff.
Contact: jamie.cook@macombdaily.com