Lawsuit seeks removal of convicted Indian priest
By Jean Hopfensperger
Star Tribune
April 19, 2016

http://www.startribune.com/lawsuit-seeks-removal-of-convicted-indian-priest/376292471/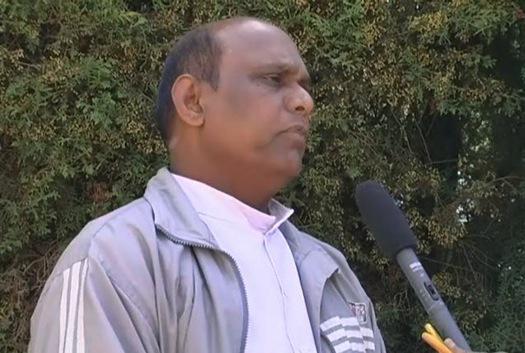 This image taken from television shows the Rev. Joseph Palanivel Jeyapaul speaking to a journalist in Ootacamund in southern India, Tuesday, April 6, 2010.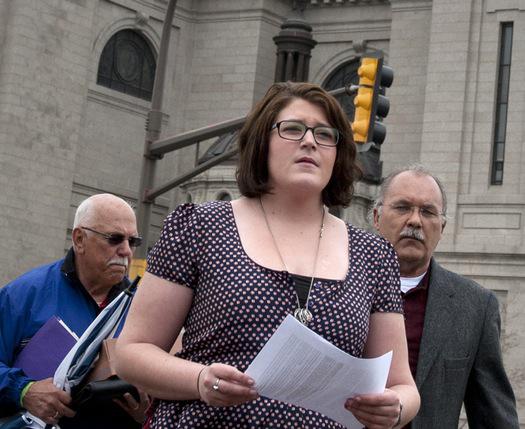 Megan Peterson, shown in 2012 when she delivered a letter to the Archdiocese of St. Paul asking bishops to help find other victims of the Rev. Paul Jeyapaul.
Megan Peterson was astounded to learn that the Vatican had reinstated a priest from India who was convicted last year of sexually abusing a teenage girl in northern Minnesota.
She took her fight to remove that priest, the Rev. Joseph Jeyapaul, to federal court Tuesday, filing a lawsuit to prevent him from "harming the children of India.''
Jeyapaul is among a handful of foreign Catholic priests to be successfully extradited to the United States to face charges of sexually abusing a minor. He pleaded guilty to criminal sexual conduct against a teenager at his Minnesota parish in 2015.
Peterson accused Jeyapaul of rape and sexual abuse in a civil suit that was settled out of court in 2011.
"This pope has said that bishops who cover up [sexual abuse] and the offending clerics have no place in the church," Peterson said at a news conference in St. Paul Tuesday. "I feel like this is a slap in the face."
The Jeyapaul case is unusual, not just because of the extradition, but because the abuse was relatively recent, involved teenage girls, and drew international attention.
Peterson's attorney, Jeff Anderson, said the federal complaint will be a test of a new legal strategy that has been successful in Minnesota — namely claiming that the priest was a "public nuisance" who threatened the safety of children.
Whether it is successful in India is unclear. Jeyapaul's bishop, Bishop Amalraj Arulappan of the Diocese of Ootacamund was served legal papers Tuesday, he said.
Jeyapaul worked roughly a year in the Crookston Diocese, from 2004 to 2005.
In 2007, Peterson filed a civil complaint charging Jeyapaul had raped her and repeatedly assaulted her, including in the confessional at Blessed Sacrament Church in her town of Greenbush. She was 14 at the time. Peterson, now 26, reached a monetary settlement with the Crookston Diocese.
Another girl, identified as Jane Doe 121, filed a criminal complaint against the diocese in 2008, claiming Jeyapaul sexually assaulted her on her 16th birthday.
By the time of the complaints, Jeyapaul had returned to India. In a rare move, he was extradited back to Roseau County in November of 2014, pleaded guilty to fourth-degree criminal sexual conduct in Jane Doe's case in May of 2015, and was sentenced a month later.
He was sentenced to one year, one day in jail, which included jail time already served. Jeyapaul was deported to India in July.
In February of 2016, about a half year later, the Vatican's Congregation for the Doctrine of the Faith approved his request for reinstatement.
Given the rarity of successful criminal charges against priests, much less foreign priests, the Vatican acted recklessly in returning Jeyapaul to ministry, victims' advocates say.
"This man has been convicted, extradited, and deported," said Barbara Dorris, national outreach director for Survivors Network of Those Abused by Priests (SNAP), at the news ­conference.
"If they'd take a predator like Jeyapaul, how many more have they slipped back into dioceses?"
Contact: hopfen@startribune.com