Sexual Abuse Survivor Suing Diocese for Reinstating Priest Who Molested Her
Christian Times
April 21, 2016

http://christiantimes.com/article/sexual-abuse-survivor-suing-diocese-for-reinstating-priest-who-molested-her/54750.htm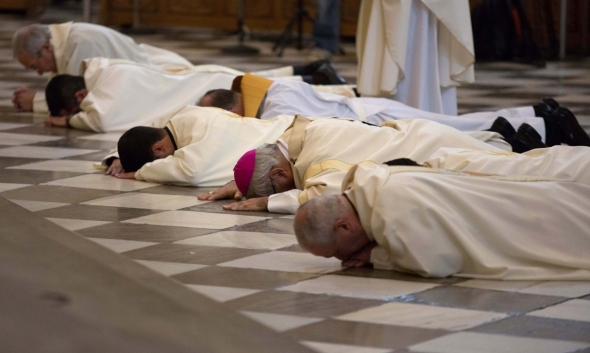 Archbishop of Granada Francisco Javier Martinez (second from right) leads priests in prostrating in front of the altar to seek pardon for sexual abuse in the Church at the cathedral in Granada, southern Spain, on Nov. 23, 2014.



According to New York Daily News, Minnesota attorney Jeff Anderson, the legal counsel of abuse victim Megan Peterson, will be filing a case against the Diocese of Ootacamund. Peterson believes that letting the offender, Joseph Palanivel Jeyapaul, go back to priesthood is akin to giving him the green light to prey on children once more.

"We hope Catholics in Minnesota, India and elsewhere bombard their bishops with calls and emails until this irresponsible move is reversed," said David Clohessy, director of advocacy group Survivors Network of those Abused by Priests. "This may well be the worst case of callous and reckless actions by Catholic officials we've seen in 15 years."

The now 26-year-old Peterson, who is a member of SNAP, was a choir member and altar server at a church in Minnesota during her early teenage years. At 14, she was sexually violated by Jeyapaul in his parish office, and continued to abuse her in the following months. The priest, according to the report, even went so far as to blame his victim and made her confess for making him "impure." The school counselor and law enforcement officials were subsequently informed and, in 2010, he was charged for assaulting not only Peterson but also another girl. He fled to India but was arrested and extradited to the U.S. in 2012. A plea deal was reached and charges filed by Peterson were dropped.

Jeyapaul flew back to India in late 2015 and asked to be allowed to return to church service. In January, his reinstatement was approved by the Vatican's Congregation for the Doctrine.

"It may be the most irresponsible Vatican move we've ever seen: Catholic officials in Rome have lifted the suspension of a recently convicted predator priest," said Barbara Dorris of SNAP, as quoted by Christian Today. "We are stunned and saddened by such blatant recklessness and callousness. But we're grateful that one of the priest's victims is filing a new lawsuit, using a new approach, to try and protect kids from this admitted child molesting cleric."

Peterson, according to NY Daily News, said that it's clear which side the church is on, and it's not on the side of child protection and morality.

"The bottom line is that the Church is not protecting children," she said.