US Woman Slaps Indian Bishop with Lawsuit
By Christopher Joseph
UCA nEWS
April 21, 2016

http://www.ucanews.com/news/us-woman-slaps-indian-bishop-with-lawsuit/75835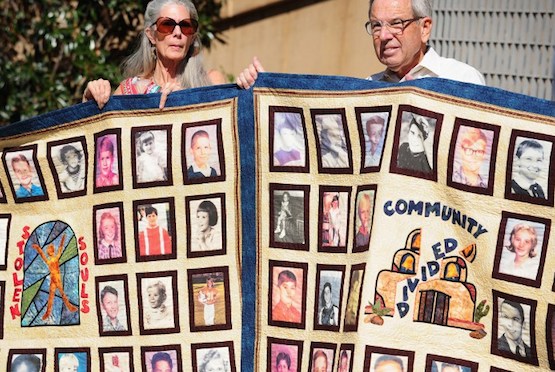 Abuse victims and their supporters hold quilts bearing portraits of abused children outside the Cathedral of Our Lady of the Angels in Los Angeles, California, in this Feb 1, 2013 photo. A woman from Minnesota has filed a lawsuit against a bishop in India for reinstating a convicted Indian priest she says abused her. (Photo by AFP)



A diocese in southern India has started consulting legal experts after a 26-year-old woman in the United States filed a lawsuit against its bishop for "reinstating" a priest she said sexually abused her.

Megan Peterson filed a federal lawsuit in St. Paul, Minnesota on April 18 against Bishop Arulappan Amalraj of Ootacamund for allegedly reinstating Father Joseph Palanivel Jayapaul, who was convicted of abuse.

"It was like a slap in the face," Peterson said in a video published on the website of her lawyer Jeff Anderson.

Anderson said the suit is against the bishop and the diocese for creating a "dangerous" situation because of their decision to "reinstate" a "convicted predator priest" to the ministry.

Father Jeyapaul, who served in the Crookston Diocese between 2004 and 2005, was arrested in India in 2012 and extradited to the U.S. on charges of sexually abusing two girls, including Peterson. He pleaded guilty to one count of sexually abusing a minor while working in Crookston. He was deported to India immediately after having already served the year and a day prison term handed down.

The case involving Peterson was dropped after a plea deal.

The 61-year-old priest's suspension, imposed in 2010 after the sex abuse accusations came to light, was revoked on Jan. 16 after consultations with the Vatican's Congregation for the Doctrine of the Faith, diocesan officials said.

Peterson's lawsuit is based on a misunderstanding, said Father S. Selvanathan, public relations officer of Ootacamund Diocese in Tamil Nadu state.

Father Jayapaul was "not reinstated to the ministry. His suspension was revoked and he was given a place of residence. He has not been given any pastoral duties and he is not in charge of any parish or community," the priest said.

His suspension was revoked on the explicit condition that canonical action will be taken if he engages in pastoral care, Father Selvanathan said.

However, the diocese is consulting legal experts on how to handle Peterson's lawsuit after being notified by her via e-mail, he said.

"There is no direct demand for any compensation" at the moment but she could claim some sort of "settlement" in the future, he said.

A senior bishops' conference official said they "have no official information on the case."

"When it comes to us we will take it up with appropriate forums and respond through proper channels," said Father Joseph Chinnayan, the conference's deputy secretary-general.