UPDATE: Magisterial district judge rules that charges against Franciscan leaders can proceed
By Dave Sutor
Tribune-Democrat
April 27, 2016

http://goo.gl/fVvgGh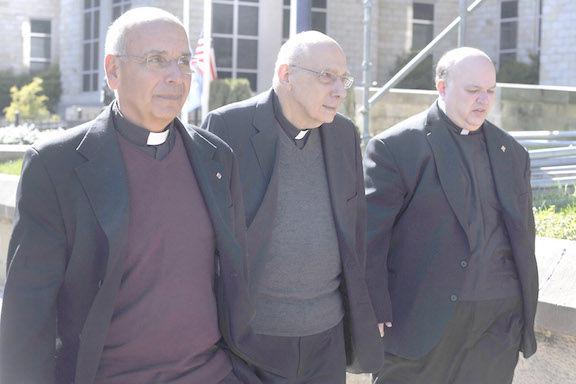 Franciscan leaders (from left) the Revs. Robert J. D'Aversa, Giles A. Schinelli and Anthony M. Criscitelli return to Blair County Courthouse in Hollidaysburg in this file photo from April 14, 2016. Blair County Magisterial District Judge Paula Aigner determined on Wednesday, April 27, 2016, that enough evidence existed to move forward with the cases against the three.
HOLLIDAYSBURG – The only three individuals charged in connection to the Brother Stephen Baker child sexual abuse scandal are being held over for trial.
On Wednesday, Blair County Magisterial District Judge Paula Aigner determined – at the conclusion of a preliminary hearing – enough evidence existed to move forward with the cases against Revs. Giles A. Schinelli, 73; Robert J. D'Aversa, 69; and Anthony M. Criscitelli, 62. All three are charged with conspiracy and endangering the welfare of children.
Deputy Attorney General Daniel Dye argued the priests – in their roles as ministers provincial of the Third Order Regular, Province of the Immaculate Conception – gave Baker assignments that provided him access to children.
The commonwealth contended they should have known he posed a danger because at least one known allegation of past sexual abuse had been made against him.
Baker then allegedly abused maybe more than 100 children during the years he was at Bishop McCort High School.
"We're pleased with the court's ruling, and the prosecution moves forward," Dye said.
Their arraignments are set for June 3.
"The judge's decision to allow prosecutors to proceed to trial provides sexual abuse victims of Brother Stephen Baker reason to believe that children will be protected, validation of sexual abuse claims is possible and that the legal system can work," said Mitchell Garabedian, a civil attorney who represented more than 30 of Baker's victims, in an email. "The decision provides a ray of hope for many sexual abuse victims of Brother Stephen Baker."
Baker was accused of abusing children in Michigan, Minnesota and Ohio before coming to Pennsylvania, although the past allegations did not become publicly known until shortly before Baker reportedly committed suicide in January 2013.
"One of the things that victims have been waiting for is for the criminal court to judge these matters," said Robert Hoatson, co-founder and president of Road to Recovery, a nonprofit organization that assists victims of sexual abuse.
"The courthouse doors have been closed to us for decades, centuries I guess."
Schinelli, the minister provincial from 1986 to 1994, sent Baker for a psychological evaluation after learning about a previous allegation of sexual abuse made against the brother. After receiving a medical report, Schinelli assigned Baker to Bishop McCort, where he officially served from 1992 until 2000 and still had unofficial access for years afterwards.
Former Bishop McCort Principal William Rushin testified that he felt "I should have been notified" about the allegation against Baker.
"Obviously, as respect to my client, I'm disappointed that it was held for court, but not surprised," said Charles Porter Jr., an attorney representing Schinelli. "The standard at a preliminary hearing is a generous standard in terms of the commonwealth. I think the bottom line is you have a man who had an allegation, made inquiries, got a report from a doctor and the doctor – a medical doctor – said the man was fine. I don't know how one can have criminal intent when they've relied on the advice of a medical professional in terms of making a decision, how one can have criminal intent under those circumstances."
D'Aversa, the minister provincial from 1994 to 2002, relieved Baker of his official duties at the Johnstown school in 2000. However, he allegedly failed to inform school officials and law enforcement that Baker was removed because a new and "credible" allegation of child sexual abuse was made, according to Dye.
Bob Ridge, D'Aversa's attorney, argued his client took steps to prevent Baker from having interaction with minors.
Criscitelli, who served as minister provincial from 2002 to 2010, knew Baker had "safety plans," requiring he have no contact with minors. Criscitelli, though, lived in Minnesota, which left Baker without direct supervision in Pennsylvania, according to the grand jury.
James Kraus, Criscitelli's lawyer, said his client sent Baker to counseling and gave him no assignment in which he would supervise children. Baker was, however, permitted to work at the friars' shop in a Blair County mall.
"None of these people failed to take action," said Ridge during closing remarks.
Dye, during his closing argument, countered: "These individuals, your honor, were deciding how much risk was appropriate to expose other people's children to."
Contact: dsutor@tribdem.com