Ex-Naperville priest gets prison for child sex crimes in Michigan
By Bill Bird
Naperville Sun
April 30, 2016

http://www.chicagotribune.com/suburbs/naperville-sun/crime/ct-nvs-naperville-ex-priest-sentenced-st-0501-20160430-story.html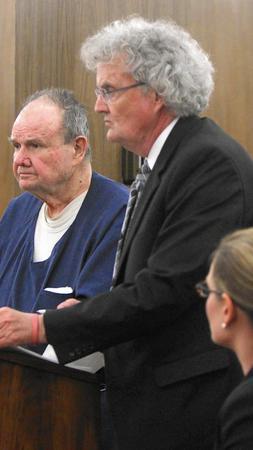 James Rapp, left, stands during his sentencing hearing at the Jackson County Circuit Court, in Jackson, Mich., on Friday.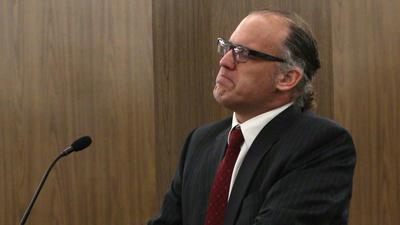 John C. Wood speaks during the sentencing hearing for James Rapp on April 29, 2016. Wood said he was assaulted by Rapp during an overnight wrestling trip to Detroit where he roomed with Rapp in a diocese-owned dormitory. According to Wood, Rapp "said the Lord's Prayer on his knees, got in bed with me and had his way."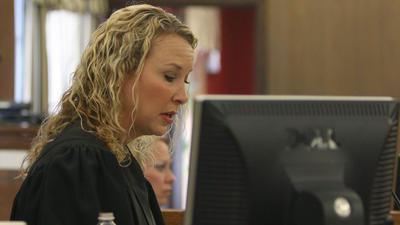 Judge Susan Beebe delivers the sentence for James Rapp in Jackson County Circuit Court in Jackson, Mich., on April 29, 2016.
A former Roman Catholic priest once assigned to St. Raphael Church in Naperville was sentenced Friday to between 20 and 40 years in prison for sexually abusing students in the 1980s while a high school teacher in Michigan.
James Rapp, 75, served in the Roman Catholic Church Diocese of Joliet between 1987 and 1990. That included his tenure at St. Raphael Church at 1215 Modaff Road in Naperville's West Highlands neighborhood.
Rapp is completing a 20-year term in an Oklahoma prison for sexually molesting children while serving as a priest in that state. He was convicted Friday of a total of six counts of criminal sexual conduct while a priest, teacher and athletic coach at Lumen Christi Catholic High School in Jackson, Mich., located in the south-central part of the state about 40 miles west of Ann Arbor.
A judge heard more than two hours of testimony from six men who described in detail how Rapp molested them. Rapp coerced students into having sexual contact while working as a teacher and wrestling coach at Lumen Christi High School in Jackson.
"His crime and position was a murder on my soul," Andy Russell said. "He's a monster, and his path of destruction extends far further than it ever should have."
Michigan Attorney General Bill Schuette prosecuted Rapp. A news release from Schuette's office said two of Rapp's students from 1980 to '86 came forward in 2013 to report having been sexually abused by him.
An investigation by the Jackson County, Mich., sheriff's department located "more than a dozen" youths who said they were molested by Rapp, according to the release. Charges were filed in January and June 2015 against Rapp.
"Today the victims of James Rapp received some closure after over 30 years of waiting," Schuette said in a statement. "These victims were robbed of their childhood, and that can never be undone. Today's sentencing, hopefully, offers some solace, knowing this man will never be able to hurt a child again."
Rapp was ordained in 1959 and "held multiple teaching assignments across the country," according to Schuette's office. In addition to Naperville and Jackson, he taught in Philadelphia from 1959 to '61; in Salt Lake City from 1968 to '73; in Lockport, N.Y., in 1979 and 1980; and in Duncan, Okla., near Oklahoma City, from 1990 to '98.
Edward Flavin, director of communications for the Roman Catholic Church Diocese of Joliet, confirmed Rapp served at St. Raphael Church as "a member of the religious order, the Oblates of St. Francis de Sales." Rapp "served for three years here in our diocese," Flavin wrote in March in an email.
"There were no complaints that I can find while he served in this role," Flavin said. "There were no positive or negative reviews from his superiors in his file from 1987-1990."
Flavin added that Rapp in 1990 "voluntarily left" the diocese "to accept an assignment in the Archdiocese of Oklahoma City."
Contact: wbird@tribpub.com