Crookston Diocese: Priest placed on leave after abuse allegations surface
By Jess Bengtson
CrookstTimes
May 3, 2016

http://www.crookstontimes.com/article/20160503/NEWS/160509899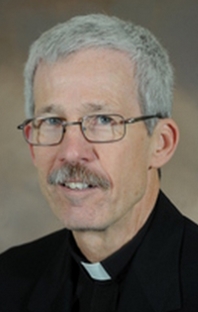 Father Pat Sullivan
Crookston, Minn.
Crookston Catholic Diocese priest Father Pat Sullivan, who has been practicing at St. Elizabeth's in Dilworth and St. Andrews in Hawley, has been placed on administrative leave after a civil complaint alleges that Sullivan engaged in "unpermitted sexual conduct" with a minor when he was 15 years old, said Rev. Michael Joseph Hoeppner, Bishop of the Diocese of Crookston in a statement.
The priest denies the allegation.
Vicar General of the Crookston Diocese, Monsignor Mike Foltz says they were notified late Friday afternoon of the allegation and Foltz traveled to St. Elizabeth and St. Andrews to notify parishioners.
The alleged misconduct happened in 2008 at St. Mary's Mission on the Red Lake Reservation. No criminal charges have been filed.
"The Diocese is working with local and federal authorities to conduct a thorough investigation into this matter," said Hoeppner. "The Diocese takes these accusations very seriously and prays for a swift and just resolution to this matter."
"The Diocese has fully adopted the Charter for the Protection of Children and Young People, as promulgated by the U.S. Conference of Catholic Bishops," he added. "The Diocese of Crookston is committed to the protection of children and safe environment of our parishes, schools and greater communities. We encourage anyone, or any organization, with information regarding the abuse or exploitation of children or young people to immediately report that information to law enforcement."
Father Sullivan has been in the Crookston Diocese, which covers the northwest Minnesota area, since he was ordained in 1982.
PRIESTS ACCUSED
The Crookston Diocese website, crookston.org, lists priests who have served within the Crookston Diocese coverage area and have been accused of abuse of a minor.
Father Stanley Bourassa was ordained in 1955 and worked as Assistant Pastor at St. Anne in Crookston from 1957-1961, and also worked in Red Lake Falls, Bemidji, East Grand Forks, Mentor, Fosston, Thief River Falls, Goodridge, Grygla, Burnsville and Sabin, retired in 1999. He died August 11, 2004.
Father Henry Carriere was ordained in 1946 and worked as Assistant Pastor for the Cathedral of Immaculate Conception in Crookston in 1946, and also worked in Fertile, Bemidji, Argyle, Guthrie, Laporte, Park Rapids, Brooks, Plummer, Terrebonne, Roseau and Badger, retired in 1990. He was removed from ministry in 2002. He died November 3, 2003.
Father J. Vincent Fitzgerald, OMI, was ordained in 1950 and worked in Kelliher, Shooks, Naytahwaush, Big Elbow Lake and White Earth. He died September 27, 2009.
Father Gerald Foley was ordained in 1961 and worked as a Pastor at St. Anne in Crookston, and also worked in Dorothy, Red Lake Falls, Ada, Moorhead, Sabin, Minneapolis, Des Moines, Iowa; and St. Paul. Foley was laicized (removed) in 2006. He is currently living in Minneapolis.
Father Joseph Palanivel Jeyapaul was ordained in 1982 and worked in Thief River Falls, Greenbush, Middle River and Carlsbad. Jeyapaul was removed from ministry in 2005. He is currently living in India.
Father James Porter was ordained in 1960 and worked in Bemidji. He died February 11, 2005.
Father Francis Reid was ordained in 1964 and worked as Assistant Pastor for the Cathedral of the Immaculate Conception in Crookston from 1964-65. He also worked in Bemidji, Argyle, Thief River Falls, Waubun, Akeley, Nevis, Ponsford, Mahnomen, Park Rapids, Two Inlets, Ponsford and Lake Itasca. Reid was removed from ministry in 1992. He died April 15, 2007.
Father Othman Hohmann, who worked or resided in the Diocese of Crookston, is the subject of allegations made against institutions other than the Diocese of Crookston. Hohmann worked in Mahnomen, Oakes, N.D. and Detroit Lakes. He died January 24, 1980.
If you or someone you know has been the victim of sexual misconduct on the part of a priest, deacon, or individual representing the Diocese of Crookston, its parishes, or its schools, please contact the Victims' Assistance Coordinator: Louann McGlynn at (218) 281-7895 (24-hour confidential number) or email lmcglynn@crookston.org.