'I apologize for the pain': Bishop leads prayer vigil for victims of priest abuse
By Dave Sutor
Tribune-Democrat
May 17, 2016

http://www.tribdem.com/news/i-apologize-for-the-pain-bishop-leads-prayer-vigil-for/article_240ca2d2-1be3-11e6-acf6-4b9dd7b89383.html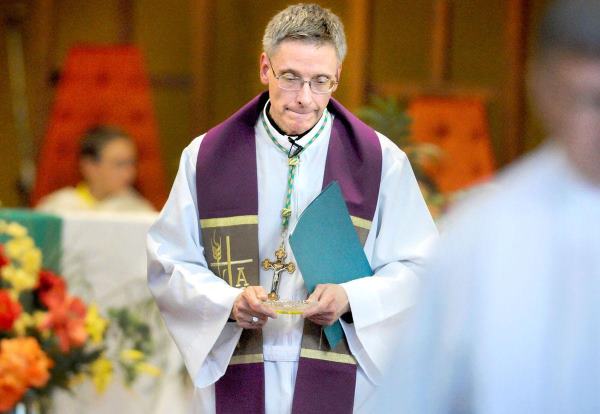 Bishop Mark Bartchak of The Diocese of Altoona-Johnstown leaves the podium after his homily and calls for 20 minutes of silent reflection during "Prayer for Victims and Survivors of Sexual Abuse" service held at St. Andrew Church in Johnstown on Monday, May 16, 2016.
Photo by Thomas Slusser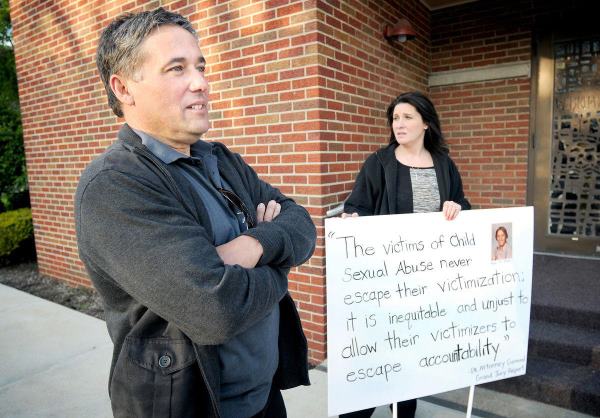 Paul D. Claar, of Altoona, Pa., survivor of clergy sexual abuse, stands outside with the support of his wife, Keri Claar, to help shed light on victims and survivors of sexual abuse by clergy members of The Diocese of Altoona-Johnstown prior to start of "Prayer for Victims and Survivors of Sexual Abuse" service held at St. Andrew Church in Johnstown on Monday.
Photo by Thomas Slusser
Bishop Mark Bartchak started his reflection on Monday by posing the question "What can you possibly say at a time like this?" during a prayer service for victims of sexual abuse.
It is a question many members of the Roman Catholic Diocese of Altoona–Johnstown have wrestled with since the state Office of the Attorney General released a grand jury report in March that accused the organization of being involved in a decades-long coverup to protect priests and other religious leaders who allegedly sexually abused children.
"As we gather this evening for this prayer, I am very much aware that a lot of people are hurting and have been hurting for some time because children and young people have been sexually abused by clergy and religious, as well as by others, and we must continue our efforts to safeguard our children and young people at all times," Bartchak told an audience of about three dozen worshipers at St. Andrew Church.
"We need to assist those who are hurting, not just those who were victimized, but their families and others in our parishes and communities who share their pain."
Then, as he has in the past, the bishop apologized for the abuse.
"I would not dare to presume to express how anyone feels about the descriptions of child abuse in our diocese that have been recently publicized," Bartchak said. "Many have told me that they cried as they read about or listened to those accounts. Many have told me that they have prayed and they have wept for themselves, for a family member or a friend. For all of this, I am truly sorry. On behalf of the church, I apologize for the pain, the heartache and the hurt, the suffering that has occurred."
One of the reported victims, Paul D. Claar of Altoona, attended the event. He feels little has been done to change the coverup culture that the attorney general's office accused former Bishop Joseph Adamec and former Bishop James Hogan of orchestrating.
"It hasn't changed at all," Claar said. "I had faith in this bishop whenever he was appointed that he would remedy the situation or clean it up, and he has done nothing but continue the coverup, like his predecessors, Adamec and Hogan."
He felt the service was held for self-serving reasons.
"I think tonight, it's for them," said Claar, who is still a practicing Catholic.
"It's not for the victims. I think that they're at the point now I think they're asking for people to pray more for them, more so, than the victims because if they were really concerned about the victims it wouldn't be 2016 when they were doing this service. It would have been 20 years ago when it was first brought to their attention."
Claar, now 50, alleges he was abused by Rev. Bernard V. Grattan from 1979-1982 when they were at St. Patrick Church in Newry, Blair County. Grattan was mentioned by name in the attorney general's report. He was included on the diocese's list of priests who have had credible allegations made against them.
Grattan has been laicized.
Contact: dsutor@tribdem.com