Report of abuse didn't stop priest from abusing again
By Kevin Sweeney
Journal
May 22, 2016

http://www.nujournal.com/page/content.detail/id/581479/Report-of-abuse-didn-t-stop-priest-from-abusing-again.html?nav=5009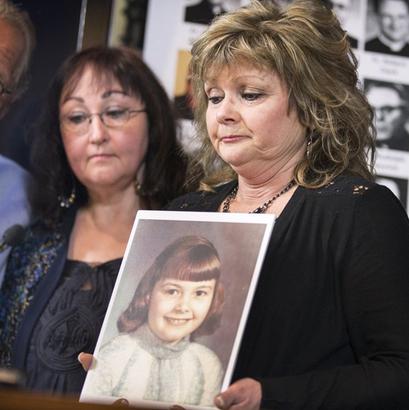 Leila Navidi – Star Tribune
Editor's Note: This is the second in a series of articles The Journal is publishing on the issue of sexual abuse of children by priests in the New Ulm Diocese. Today's article tells the story of Kim Schmit, who was abused as a child in Willmar by Fr. David Roney.
Next Sunday: Leon's story.
Kim Schmit is different from many other victims of clerical sex abuse of children. She told someone what happened, when it happened.
Her parents told officials at St. Mary's Church in Willmar what Father David Roney had done to her, and were assured Roney would be dealt with. But Roney remained pastor at St. Mary's and has been the subject of several lawsuits accusing him of sexually abusing more children in the years after Schmit's accusation. To Schmit, it was an example of the way the Catholic Church as an organization has harbored and protected predatory priests.
Schmit's family had moved to Willmar when she was 2. Her father, a self-taught musician, was the music teacher at St. Mary's Catholic School. Her mother was a stay-at-home mom.
"She didn't even have a drivers license. She would send a taxi cab to pick us up from after school functions," Schmit recalls.
As a child, Schmit's mother would send her and her younger sister to St. Mary's for religious education classes on weekdays and Saturday mornings. She and her sister would wait at St. Mary's school for the cab to pick them up.
Schmit said she was usually with her sister, but one Saturday she was alone.
"I was waiting in the entryway for my cab. I looked and I could see Father Roney coming from the church across the street toward the school. It must have been fall, because the leaves were swirling and his cloak was blowing in the breeze."
Schmit said she had always thought of priests being kind of "Godlike," and although Roney had a grandfatherly, soft spoken quality that made kids tend to flock to him, she felt a little intimidated, and backed away as he entered.
"Right away he started talking with me. I don't even remember the conversation, but he took both my hands in his and backed me away from the entrance area, up against the back wall where there were some pillars in a more secluded area."
Schmit remembers looking up at Roney's collar, and feeling important because he was paying attention to her. But then he put her hands on his penis and moved them up and down.
"I remember thinking, 'This isn't right,' being shocked and stunned," Schmit said.
The episode ended when her cab pulled up, and Roney let her go.
When she went home and her mother asked how church had gone, Schmit told her what Roney did.
"She says she tried not to act surprised, because I was just a little kid," said Schmit. She was sent outside to play, while her mother told her father what she had said.
"My father was a little concerned that he would lose his job if he accused a priest wrongly, so he sent my mother back to question me again, to see if I might have been mistaken," Schmit said.
Schmit's detailed description convinced her mother she was telling the truth. Her father told people he knew at the school what had happened, and they assured him Roney would be dealt with and taken care of. Roney was sent for an evaluation at a state hospital, Schmit said, and received some kind of reprimand, but he remained at St. Mary's.
Several years later, in 7th grade, Schmit became friends with Lori Stoltz, another girl in Willmar.
"We were listening to records in her bedroom one day. We were talking, and she told me what Father Roney had done to her and her sisters, when she was 11 or 12," said Schmit.
"That's when I said, 'Oh, my God, that's what happened to me with the same priest when I was seven, and it was supposed to have been taken care of, and he was not supposed to be doing that anymore."
Schmit said she had a lot of conflicting emotions as a child as a result of the incident. She knew what had happened was wrong, but also felt "maybe it was okay because it was a priest," she said. "Then I thought, 'I'm special because he chose me to pay attention to.'"
Still, she was shocked and upset to learn Roney was continuing his abuse with other children, Schmit said.
She has felt the impact of the abuse throughout her life. Schmit said she developed a mistrust of priests, event the ones her parents would invite home for dinner. She was shy in school, and later, when she started dating, she didn't know how to relate to boys. During her 36-year marriage, she said, she had problems with intimacy with her husband. When he died, Schmit said, she regrets he died "not knowing the real me."
Schmit raised her children in the church, got them through Communion and Confirmation, but she lost connection with the Catholic church. She and her husband went to a local Lutheran church, "but I just couldn't connect."
Schmit's life has been filled with other tragedy. Her son, Josh, was killed at age 26 by a roadside bomb in Iraq in 2007 while serving with the Army. Seven years later, her husband Greg, suffering from issues connected with his son's death and his own military service, committed suicide. She could not accept the comfort the Church offered in her grief.
After her son died, she said, two priests came to her door, offering to preside over his funeral service.
"They stepped in and I just flashed back to that, being pressed up against the wall," said Schmit. The service was presided over her Lutheran pastor, who was also a brigadier general in the National Guard, and a priest.
"We had to go the Catholic church to meet Gov. (Tim) Pawlenty who had helicoptered in. I remember sitting in the pew at St. Mary's and thinking, 'Why am I here at the most tragic time in my life?'"
Two years after her son's death, Schmit said she had a mental breakdown of her own. "I was just mentally worn out," she said.
While a patient in the hospital, one of the parade of counselors who came to see her was a young priest.
"He sat down and wanted me to tell my troubles to him," Schmit said. "I said, 'All right, here we go, here's my opportunity.' I just opened my mouth and vomited a whole bunch of stuff out at him. I told him what the priest did to me when I seven. He got up and he sighed, and he just said, 'I'll be praying for you.' He got up and walked out, and I got up and looked as walk down the hall. And I got a (feeling of) jubilation, thinking 'Good, I finally got back at Father Roney, in a way. I just depressed a priest here in the mental ward.'"
Through grief counseling following her son's death, Schmit said she has learned to deal with the abuse, but she decided to become involved in making changes through legal action. She had heard from others about the abuses Roney continued to carry out. In 2007 she was contacted by someone from the Jeff Anderson law office, checking on the complaint her father had made, but so close after her son's death she said she couldn't face it.
But as Anderson was fighting to change the state law to allow childhood victims of sex abuse a chance to sue their abusers after the statute of limitations had closed, Stoltz contacted her and she agreed to help. She also filed a lawsuit against the New Ulm Diocese, and in March, she and Stoltz went public in a press conference held to release the New Ulm Diocese's list of priests who had been credibly accused of abusing children.
Schmit said money was never a consideration in her lawsuit. She wanted to tell her story, to reveal Roney as a predator, and to make changes in the way the Church handles cases of clerical sex abuse.
"Father Roney was the perpetrator, but the Diocese was the monster. They hid it, they let him do it, they did nothing to stop him... They thought they had enough power to protect their priests and save the organization's reputation."
In a deposition with her lawsuit, Schmit remembers being intimidated by all the people and priests in the room. "I told Jeff (Anderson) that what I really wanted, what I had never got, was an apology."
Anderson brought in Bishop John LeVoir, who talked with her, apologized for Roney and for what had happened, said Schmit. It meant a lot to her.
"I hope the diocese is really and truly sorry for all of this now, for harboring and hiding and trying to protect. I just hope it opens the light for all these organizations. You can't run forever and hide criminals and get away with it. Just do the right thing from the get-go."
She feels the Church is in need of healing. "It is tarnished, and people are shaking their heads, but it can get better if they fix the problem, instead of saying, 'We didn't do that.'"