Former priest, attorneys inspect alleged crime scenes
By Lorenzo Zazueta-Castro
Monitor
June 15, 2016

http://www.themonitor.com/news/local/former-priest-attorneys-inspect-alleged-crime-scenes/article_0b467294-335a-11e6-babc-6b1899ced02c.html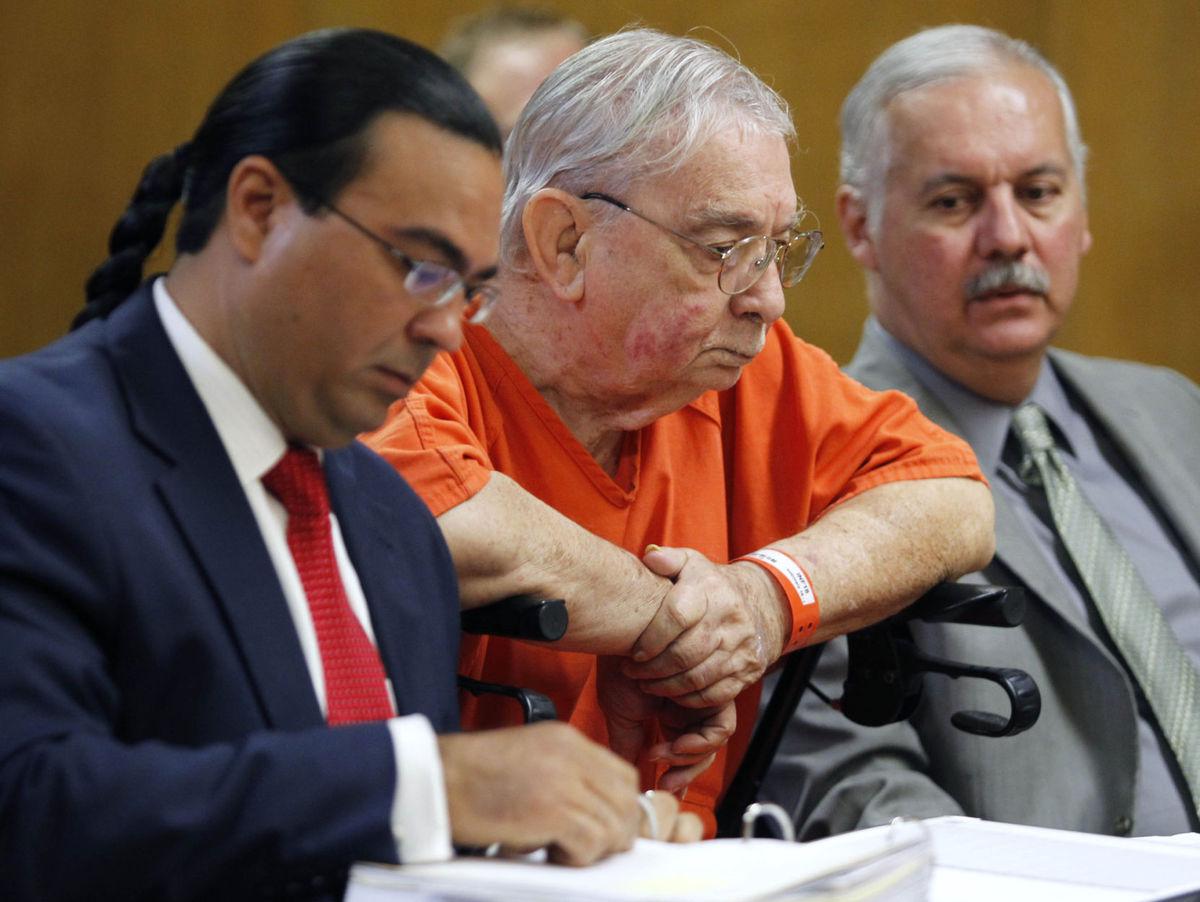 John Feit sits next to attorney O. Rene Flores, left, during a pre-trail hearing Tuesday April 19, 2016 in the 92nd State District Court at the Hidalgo County Courthouse in Edinburg.
Photo by Nathan Lambrecht
EDINBURG — The former priest accused of killing a McAllen teacher and beauty queen was back at the scene of the alleged crime Tuesday during a walkthrough with his attorney.
Feit's attorney O. Rene Flores and the state's attorney, Michael Garza, inspected the grounds of the Basilica of the National Shrine of Our Lady of San Juan del Valle on Tuesday, where John Bernard Feit once lived and where the state alleges he hid Irene Garza's body before dumping it in a nearby canal.
Flores on Wednesday declined comment on what he and his staff looked at and reviewed during the walk-through.
The Edinburg-based attorney said he and Garza were not permitted to speak to the media regarding the walk-through.
The 83-year-old former priest is accused in the April 1960 death of Irene Garza, a schoolteacher and beauty queen who was last seen going to confession at McAllen's Sacred Heart Catholic Church. Her body was found five days later after it was dumped in a canal.
Both attorneys and Feit, who remains in custody and was accompanied by deputies with the Hidalgo County Sheriff's Office, inspected the church and more specifically the rectory where visiting priests lived.
Flores still plans on seeking a bond reduction for his client, a topic not discussed during last week's status hearing.
District Judge Luis Singleterry has said that he would consider granting a lesser bond to allow Feit to be released into the custody of his family, but only under specific provisions.
One of the main provisions that would allow for the bond would be the relocation of Feit's family to Hidalgo County.
Flores, during a hearing in March, said at least two members of Feit's family had already made plans to move to Hidalgo County in anticipation of Feit's release on bond.
A date for the next scheduled hearing has not been set, according to Singleterry's court staff.
Feit is currently in custody at the Hidalgo County Jail on a $750,000 bond. He has 24-hour medical care inside the jail.
If convicted of the murder charge, Feit faces the possibility of life in prison.
Contact: lzazueta@themonitor.com