Apuron accused once more
By Louella Losinio
Guam Daily Post
June 15, 2016

http://www.postguam.com/news/local/apuron-accused-once-more/article_3e445da6-32e1-11e6-9510-a326c6a1b05b.html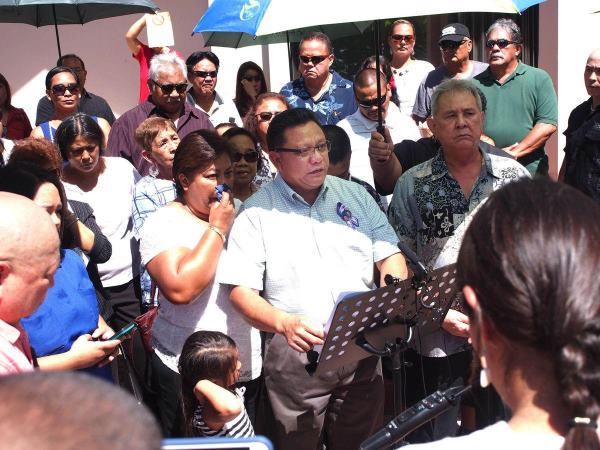 ACCUSER: Roland Sondia, center, is flanked by his wife Frances, left, and attorney David Lujan as he speaks during a press conference in front of the Agana Cathedral Pastoral Center on Wednesday, June 15. Sondia accused Archbishop Anthony Apuron of molesting him in 1977 when Sondia was a 15-year-old altar boy at Our Lady of Mount Carmel Church in Agat. Sondia is the fourth person in five weeks to accuse then-parish priest Apuron of sexual misconduct.
Photo by Norman Taruc
Roland Sondia yesterday became the fourth Agat resident since mid-May to accuse Archbishop Anthony Apuron of sexual abuse. He made the accusation yesterday, June 15 during a press conference in front of the Pastoral Office at the Dulce Nombre de Maria Cathedral-Basilica in Hagåtña.
"When I was an altar boy almost 39 years ago, at the age of 15, I was molested by then-parish priest Anthony Sablan Apuron. This was a man who I trusted and had a lot of respect for," Sondia said.
According to Sondia, the incident occurred in 1977 when he was an altar boy at Our Lady of Mount Carmel Church in Agat.
"In the middle of the night, I was sexually molested by Apuron," he said. "It was around 1 a.m. in the middle of the week when a couple of altar boys and I were asleep on futons on the living room floor at the Mount Carmel rectory. I was awakened when I felt someone tapping on my shoulder and calling my name."
Sondia said he looked up and Apuron was asking for his help and gestured to follow him to the bedroom. In the dark, Sondia said Apuron put his arms around his shoulder, pulled him closer and asked, "Do you want to try me?" Before he could do anything, Sondia said Apuron started "rubbing my privates." Sondia asked, "What are you doing?" and told Apuron to stop. However, Sondia said Apuron continued and kept saying, "Just try me."
According to Sondia, he eventually "found the strength to break free" and ran to the door. "I remember glancing back and he was just sitting at the edge of the bed with his head down. I grabbed my belongings and ran out of the front door of the rectory slamming it shut," he said.
"I stopped serving at any of the Masses that Father Tony celebrated. It was very uncomfortable. I tried my best to put the incident behind me," he said.
In 1979, Sondia started working in Hagåtña near the Cathedral-Basilica. "So for the past 37 years, I basically have been in the area where there's a very good chance I will run into Anthony Apuron."
Sondia said he did run into Apuron while making a connecting flight in Honolulu in 2003.
"I have not spoken to Apuron since that day in Honolulu. I know that there are other boys who were victims of this man. I hope and pray that they will also come forward," he said.
Limitations
Patti Babauta Portodo-Hernandez, one of Sondia's family members present at the press conference, asked that the Guam Legislature lift the statute of limitations on sex abuse cases.
With the incidents having occurred decades ago, the current statute of limitations governing child sex abuse cases have become a concern. There is proposed legislation awaiting action at the Guam Legislature which would address this concern.
Bill 326, introduced by Sen. Frank Blas Jr., seeks to lift the statute of limitations for filing civil actions against perpetrators of child sex abuse.
Should the bill become law, victims of child sex abuse that occurred on Guam who have been barred from filing suit against their abusers due to the expiration of the statute of limitations, would be permitted to file those claims in the Superior Court of Guam.
Other victims
According to lawyer David Lujan, two more alleged victims of Apuron will come forward in the coming days. In another press conference, Lujan, who is also representing Sondia, said should Apuron or the archdiocese initiate legal action, it would be welcome because there will be more disclosures.
Walter Denton spoke earlier this month in the same area where the press conference was held yesterday. His accusation followed an announcement that Pope Francis had relieved Apuron of his duties and appointed an interim administrator for the archdiocese.
In May, alleged victim Roy Quintanilla described to the media how Apuron allegedly sexually molested him 40 years ago, also while Apuron was a priest in Agat and Quintanilla was an altar boy.
Following Quintanilla's accusation, Doris Concepcion – formerly of Guam but now living in Arizona – said her son, Joseph A. Quinata, told her shortly before his death in 2005 of being sexually abused by Apuron in the late 1970s.
In November 2014, John Toves accused Apuron of molesting his cousin in the 1980s when they were still seminarians.
Apuron, who has headed the archdiocese since 1986, has not been charged with any crime and has denied all accusations.
Contact: louella@postguam.com