Robert L. Steadman, 90, former state Superior Court top judge
By J.m. Lawrence
BostGlobe
June 27, 2016

https://www.bostonglobe.com/metro/2016/06/26/robert-steadman-former-massachusetts-superior-court-chief-justice/9WAdaN9DwKZ7J73jijbMDL/story.html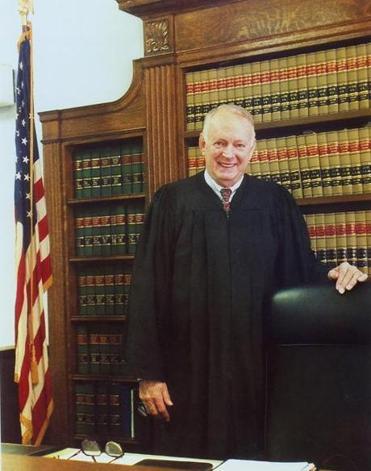 Judge Steadman, who spent 17 years on the Superior Court bench, was named chief justice in 1988.
In a New Bedford courtroom, Massachusetts Superior Court Judge Robert L. Steadman weighed the unfathomable crimes of pedophile former priest James R. Porter against claims that the Catholic Church hierarchy had enabled Porter's sexual abuse of dozens of children in the 1960s.
The depths of the church sex abuse scandal had yet to be exposed on that December day in 1993 as Judge Steadman heard 22 of Porter's victims describe shattered childhoods, suicide attempts, and lost faith. Prosecutors asked the judge to sentence Porter to serve 36 to 50 years in prison. The defense argued Porter was a repentant sex offender who needed treatment, not jail.
"The defendant stands before me today as an effigy, representing all the other named and unnamed child abusers," Judge Steadman said, according to a New York Times account. "Yet justice requires that James Porter, the symbol, be cast aside and that James Porter, the man, be judged."
Porter had shown "complete disregard of the physical, spiritual, and psychological impact" of his crimes, said the judge, who ordered Porter to serve 18 to 20 years for sexually assaulting 28 boys and girls.
Judge Steadman, who spent 17 years on the Superior Court bench and was named chief justice in 1988, died June 14 in the Pat Roche Hospice Home in Hingham from complications of a recent fall. He was 90 and lived in Hanover.
Colleagues said he left a legacy of wise decisions and a Superior Court greatly improved by his leadership. He spearheaded the court's shift from paper dockets to computers and reduced case backlogs through "radical operational changes," including setting time standards for how long cases should require, former Superior Court chief justice Robert A. Mulligan said.
Judge Steadman's reforms cut the pending civil caseload in half over five years, Mulligan said, and he launched a written evaluation process for Superior Court judges that was later adopted by other court departments.
"Bob, tall, strong John Wayne-type (he probably would prefer Cary Grant), was invariably kind, solicitous, cheerful, a natural leader beloved by his judicial colleagues, and I don't think it an exaggeration to say that he was a man of heroic virtue," Mulligan said in a statement.
Trial Court Chief Justice Paula M. Carey called Judge Steadman "a caring, thoughtful, and fair-minded judge, with a strong intellect and an equally strong sense of justice, which he displayed throughout his long and distinguished judicial career."
Ruth E. Brady, who was a court administrative assistant for many years, said Judge Steadman always sent flowers on Secretary's Day. "The chief always gave — never took," she said. "He will be remembered not only as a brilliant jurist, but also for his kindness to others, his intelligence, his compassion and understanding, his love of people, his quick wit and sense of humor, and his love and devotion to family."
Born in Cambridge to Canadian immigrants, Judge Steadman did not come from a life of privilege. His father, James C. Steadman, was a laborer and later sold cars. His mother, the former Mary Ellen Carew, was a housekeeper for Harvard University. She died from cancer when her son was a junior in high school.
Recounting the challenges of the Great Depression to his own children, Judge Steadman said his family survived on a monotonous diet of turnips. He joined the Army immediately after graduating in 1944 from Rindge Technical School, which later became Cambridge Rindge and Latin, and reveled in receiving three varied meals a day in the military.
"He thought that was luxurious," said his son, Robert Jr. of Mansfield.
With the help of the GI Bill after the war, Judge Steadman graduated from Suffolk University in 1948 and from Suffolk University Law School in 1951. He held a variety of jobs while going to school, including butcher and TV salesman, his son said.
After law school, Judge Steadman launched his own firm in Boston and practiced law for 27 years until Governor Edward King nominated him to the Superior Court bench. He took a pay cut to become a judge. "He was not driven by money," his son said. "He spent his whole career in the law, and to him becoming a judge was the pinnacle of his profession."
Judge Steadman was married for 63 years to the former Elaine Nickerson. She recalled that they met on a blind date when she was studying nursing and worked at Children's Hospital.
Judge Steadman enjoyed taking his family on power boat excursions up the coast aboard the Stormy Angel. He also was a longtime member of the Masons and was named deputy grand master for the Grand Lodge in Massachusetts in 1997.
He rarely brought the misery of the criminal court home with him, his family said. "He certainly had a share of the high-profile murder cases, but he didn't necessarily talk about the big cases," said his daughter, Angela of Boxford, who is an attorney.
"He liked to talk about the little things, the interesting people he saw," she said. "He's someone who would say, 'This guy is such a hard worker,' or 'That person has a big heart.' "
Arthur Sharp, a close friend through the Masons, marveled at how Judge Steadman maintained his relentlessly positive disposition over the years. "I didn't know how he could carry some of the burdens he was carrying," Sharp said.
A service has been held for Judge Steadman, who in addition to his wife, son, and daughter leaves two grandsons. Burial will be private.
Roderick MacLeish, an attorney who represented victims of the church sexual abuse scandal, recalled appearing in Judge Steadman's courtroom many times, including the day of Porter's sentencing.
"Judge Steadman listened to victims intently and with compassion," MacLeish recalled, though he noted that some of the victims were disappointed Porter did not receive a life sentence. Porter died of cancer in 2005.
MacLeish said Judge Steadman "was an intellectually gifted judge and was a giant among the many outstanding Superior Court judges at that time."
After mandatory retirement from the bench at age 70, Judge Steadman worked as a mediator and also lectured about trial advocacy.
"He was a consummate gentleman, a talented trial judge, and an empathetic yet strong chief justice who inspired countless judges to be the best judges they could be," former Superior Court chief justice Barbara J. Rouse said.
Contact: jmlawrence@me.com