Altoona Man Abused by Priest Kills Himself Just Days after Defeat of Reform Measure in Bill
By Ivey DeJesus
The PennLive
July 4, 2016

http://www.pennlive.com/news/2016/07/altoona_victim_statute_limitat.html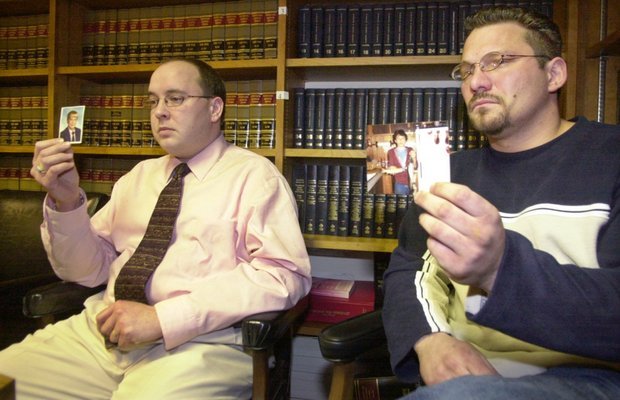 Brian Gergely (right) was sexually abused by his priest for years. Gergely, 46, took his own life on Friday. He is pictured here with Kevin Hoover in 2003 after filing a lawsuit gainst the Altoona-Johnstown Diocese. (Associated Press)



He was 10 years old, the product of a devout Catholic family that worshipped at Holy Name Catholic Church in Ebensburg.

An altar boy, Brian Gergely should have been preoccupied with the task of assisting his priest with the rites of Mass. Instead, he was consumed with the idea of escaping the monster behind the black robe who sexually abused him in the sacristy and the confessional.

"I was standing in the sacristy and he pinned me to the desk. I was just a little guy," Gergely said during an interview in March with The Guardian, recounting the violent abuse at the hands of Monsignor Francis McCaa.

"My parents were patrons," Gergely said. "They were going door to door raising money for the church. The community put Monsignor McCaa on a pedestal."

As an adult, Gergely shared his story of abuse with others — from his high school biology class, where he first broke the news of his abuse, to national and international media covering the worldwide clergy sex abuse scandal.

On Friday, Gergely, 46, took his own life. He hanged himself. His father found him.

His friends, other survivors of sexual abuse and victims advocates point to the fact that his death comes just days after the state Senate voted in favor of a bill that reforms the state's child sex crimes law.

Last week, the Senate stripped House Bill 1947 — by a 49-0 vote — of a measure that would have allowed victims of past abuse whose legal rights had expired to seek justice in the courts.

"It's a very hopeless feeling when you are floundering and you want to have someone believe you, someone external," said Kevin Hoover, who along with Gergely and scores of other boys at Holy Name, was abused by McCaa.

"You want to be able to go to the legal system and say this happened, help me bring these people to justice. To have those doors slam in your face when your trust has already been shattered by another system — that's a devastating and hopeless and helpless feeling."

In March, a grand jury report on an investigation into systemic child sex abuse of children by priests from the Altoona-Johnstown Diocese called McCaa a "monster." Investigators found he sexually abused 15 victims between 1961 and 1985.

Gergely's abuse began when he was 10. The abuse was still going on when he was attending Bishop Carroll High School.

"It's the physical death of the spiritual death that was done to us," Hoover said of his former classmate's death. "They have environment that allow these heinous acts to occur rather than dealing with it. It leaves these damaged souls in their wake."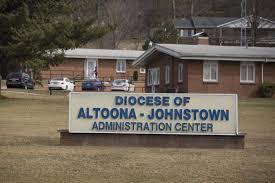 A grand jury investigation found systemic child sex abuse at the hands of more than 50 priests from the Altoona-Johnstown Diocese.



House Bill 1947, which returned to the House this week for a vote of concurrence before making its way to Gov. Tom Wolf's desk, would widely reforms the statute of limitations. It would eliminate all criminal statute of limitations for such crimes in the future and widen the civil time limits on civil actions.

But the bill no longer offers a "look-back" measure that would have allowed past victims to sue their perpetrators.

Former friend and school mate at Bishop Carroll Michele Gonsman said Gergely was certain to have looked at the measure as a last hope for other victims. Gonsman described him as a "tormented soul," who in spite of going public with his abuse, never found peace and struggled throughout the years with drug and alcohol abuse.

"All he wanted was justice," said Gonsman, herself a survivor of child sex abuse by a neighbor. "They decimated the bill and he struggled and struggled, and he killed himself."

Judith Weiss Collins, a survivor of clergy sex abuse out of Allentown Diocese, said the defeat of the retroactive measure in the bill "took away all hope" for victims.

"It's the losing the hope that is so devastating," said Collins, who at 64, would not have benefitted from the look-back measure in the bill. "That was a hit. That was a huge blow to me."

Collins, who was abused for seven years as a child, and again as an adult, said that while she has never been suicidal, the idea consumes the mind of most survivors.

"Talk to anyone who has been abused and the suicidal idealization is always there," she said. "It's just wretched ... but loss of hope that is it ... knowing you can't do anything. That we can't do anything to gain back anything that was lost."

Gergely's attorney, Richard Serbin, said his client had been vocal and public about his advocacy on behalf of victims. Serbin on Sunday said that while Gergely would not have personally benefitted from the retroactive measure he was motivated by a desire to help others.

"People don't appreciate that every time a victim loses the opportunity to file a claim, you lose the opportunity to stop a child predator," he said. "Every time a sex abuse victim loses the opportunity to remove a predator from their access to children, when we take that right away, we take away the opportunity to identify a molester. It sends the wrong message."

Serbin said he last spoke with Gergely about 10 days ago. An Altoona-based attorney who has represented more than 300 victims of child sex abuse, said that for victims almost anything can trigger powerful memories and emotions, from a television program to a wedding at a church.

"Those triggering events can bring back the demons, the dark thoughts that they try to forget," he said.

In the wake of the clergy sex abuse scandal out of the Boston Archdiocese, Hoover, Gergely and several others in 2005 settled a civil suit against the Altoona-Johnstown Diocese, Bishop Joseph Adamec, and former Bishop Joseph Hogan. The suit claimed the church should have known about the abuse and was negligent. Gergely and the others won their suit, but filed a release waiving future rights to claim. The retroactive measure would not have allowed him to file another claim. Hoover said it would have accomplished something else.

"We won but that doesn't make the issues go away," Hoover said. "It helps reduce the amount of self blame."

Rep. Mark Rozzi, D-Berks, who spearheaded child sex crime laws reform legislation in the House, said he was heartbroken over the news about Gergely.

"This is why I'm so passionate about my legislation," said Rozzi, himself a survivor of clergy sex abuse. "Victims of childhood sexual abuse continue to endure immeasurable pain daily. Brian's suicide is just one example of how victims deal with their everyday struggle. Some are barely hanging on."

Rozzi, who in the House, had pushed for retroactivity in the reform legislation, said the defeat of the retroactive measure in the bill for victims "dashed their hopes of ever having their voices heard in a court of law."

"The removal of the retroactive statute was a devastating blow to many of these past victims," he said. "The Senators used constitutionality as the guise for the removal of that language. That decision should be left to the PA Supreme Court to make, not Senators pretending to be justices."

House GOP spokesman Steve Miskin said Gergely's death was a "tragedy and terribly unspeakable that it came to that."

"Obviously with the retroactivity there were those who believe it was unconstitutional," he said. "That's where we have been for a number of years. But the fact remains that the Supreme Court has never specifically decided on these cases on retroactivity. The feeling was in the House let's get this done. Let's give the the victims a chance. Let's let the courts decide. The Senate obviously felt differently."

Miskin said he could not anticipate what the House will do with the amended bill.

Marci Hamilton, a Distinguished Scholar in Residence at the University of Pennsylvania and the founder of CHILD USA, pointed out the scientific evidence that the incidence of suicide among survivors of child sex abuse is significantly higher than the general population.

"One of the most difficult aspects of dealing with the stress of statute of limitations reform in the state legislatures is the fragility and vulnerability of some of the survivors who bravely come forward," Hamilton said. "This is heartbreaking and a warning to society that there is much at stake in denying survivors justice."

Hamilton said the amended HB1947 "froze out" a generation of victims.

"They were informed repeatedly about the studies showing that these victims have a higher rate of suicide, PTSD, depression, and addiction," she said. "Those are irrefutable facts. The horrific part is that the Senators did it for greedy insurance lobbyists and the corrupt bishops who covered up for all of the Brians in Pennsylvania. Worse, he is not the only survivor struggling to keep his head above water after ten years of Pennsylvania lawmakers dithering and obfuscating."

The retroactive measure in the bill was widely defeated under the argument that reviving expired statutes of limitations violated the state's Constitution. That argument was made several times by a handful of expert witnesses at hearings, including state Solicitor General Bruce Castor, as well as Senate President Pro Tempore Joe Scarnati, R?Jefferson County, who introduced the amendments to the bill, including the elimination of retroactivity

Opposition to the retroactive measure was mounted largely by the Pennsylvania Catholic Conference, the insurance industry and several business lobby groups - all of which argued that the measure would be detrimental to their interests and singled them out unfairly.

Scarnati on Sunday said: "We empathize with all victims of child-sex abuse -- young and old -- and their families. We continue to work to provide an effective and permanent law that offers another important tool for prosecutors and protections for survivors of abuse and future victims."

He noted that under his amendment, HB 1947 expands the criminal and civil statue of limitations for child-sex abuse survivors. The bill provides those who have been abused in the past for whom the statute of limitations has not expired the ability to sue organizations until they turn 50. Those who are abused on or after the effective date of the bill will have until age 50 to sue organizations, and beyond that time will be able to sue individuals. Survivors will also be able to sue governmental defendants, if applicable, by lowering the standard from "gross negligence" to "negligence," meaning it is easier for survivors to seek recourse.

In a written statement, Amy Hill, spokeswoman for the conference said: "Words cannot express the sorrow that comes with the tragic loss of Brian Gergely. Brian and his family are in our prayers. We stress that help is available to all survivors of childhood sexual abuse. All 10 Pennsylvania dioceses financially cover the expenses of counseling or treatment services offered through local resources not affiliated with the Church. Anyone who is abused should immediately contact law enforcement and anyone who is struggling should contact their county's crime victim support services office, or a group like www.MaleSurvivor.org, www.1in6.org, www.rainn.org, and others."

Hill reiterated the details of the assistance provided by the church to sexual abuse survivors. The assistance that survivors receive through the dioceses, Hill noted, is directed by counselors and professionals independent of the church.

"We will pay for these services no matter how long ago the crime was committed and for as long as necessary," she said.

Hamilton urged lawmakers to make reform of the statute of limitations a "non-controversial pathway to healing and justice."

She urged the House to restore a retroactivity measure to HB1947.

More than three dozen states across the country have installed similar reforms.

"The sky has never fallen in a state that took this important step, and it won't in Pennsylvania either," Hamilton said.

Gonsman said she fears other victims like Gergely will succumb to the feelings of hopelessness.

"You have victims who are very fragile," she said. "A lot of them have been following the statute of limitations reform and hanging on every word, every hearing. I know they have to be devastated."

Hoover said he had a message for the General Assembly with regards to the reform legislation and the abuse of children: "This is terrorism. We have been terrorized and they are terrorists. They need to get strong on the church and do what is right and expand the ability for people to have a sense of justice. It's not going to solve emotional elements but you will have sense of justice....and it's on the record that someone believes us."

Gergely was the son of Esther and Jerry Gergely Sr. His sister, Brenda, and brothers, Jerry Jr. and Mark, are all of Ebensburg

Gergely graduated in 1988 from Bishop Carroll High School, where he was a star running back. He received a bachelor's degree in criminal justice from Edinboro University in 1992. He also is a graduate of the Applied Behavioral Analysis Institute of Pennsylvania and went on to pursue a career in the mental health field.

He was an advocate for victims of sexual abuse within the church, and wrote a book, "The Last Altar Boy: A Memoir," which was in the process of being published.

Information on funeral services:

Friends received from 2 to 4 and 6 to 8 p.m. Tuesday at Matevish and Matevish Funeral Home, 307 N. Center St., Ebensburg.

Funeral Mass at 11 a.m. Wednesday at Holy Name Catholic Church, the Rev. Monsignor David Lockard.

Committal, Holy Name Cemetery, Ebensburg.

Contact: idejesus@pennlive.com