Attorney for former Passaic priest convicted of sex charges seeks new trial
By Kibret Markos
Record
July 15, 2016

http://www.northjersey.com/news/attorney-for-former-passaic-priest-convicted-of-sex-charges-seeks-new-trial-1.1631191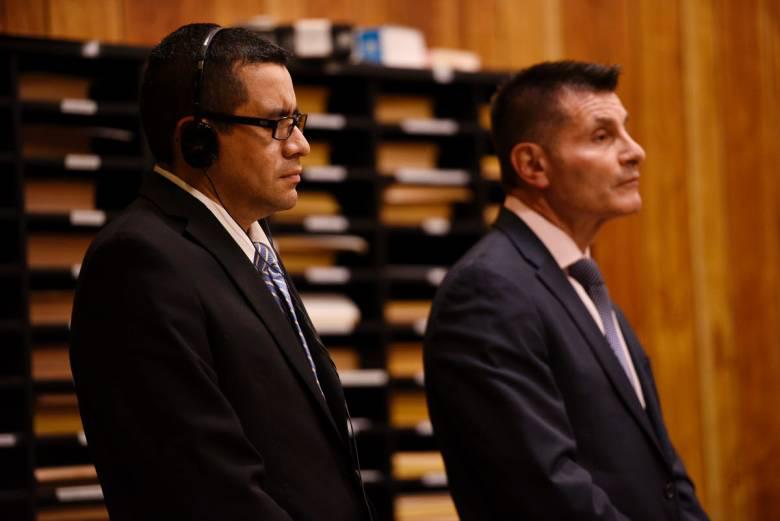 Jose Lopez, left, in court on Tuesday, June 28, 2016, with attorney is James Porfido.
The attorney for a former Passaic priest convicted of sex charges two weeks ago asked a judge on Friday for a new trial, arguing that the jury convicted his client without sufficient evidence.
Passaic County prosecutors, however, argued that the trial of Jose Lopez in state Superior Court in Paterson involved no irregularity that warrants a new trial. Judge Sohail Mohammed said he will make a decision next week.
Lopez, 37, was convicted in June 28 of luring, child endangerment and criminal sexual contact after prosecutors argued that he took a 14-year-old girl into his private suite at St. Mary's Church in Passaic and molested her. The jury found him not guilty of attempted sexual assault.
Lopez, who faces up to 10 years in prison, has since been held without bail at the Passaic County Jail as he awaits sentencing in November.
Defense attorney James Porfido said at a hearing before Mohammed that the panel that convicted Lopez deliberated for only five hours to reach a verdict. He said that period of time could not have been enough to consider all of the evidence in the trial and argued that the jury was ready to convict his client from the start without listening to the case.
Porifdo also said that jurors had discussed the case among themselves before deliberations started — which is a violation of court rules and numerous instructions by the judge.
Lisa Squitieri, a Passaic County chief assistant prosecutor, argued that five hours is actually a long time to deliberate, and that the jury found Lopez not guilty of one of the four charges against him — indicating that they did not rush to a verdict as Porfido argued.
Squitieri also said that the jurors did not discuss details of the case, but rather made comments like "This was a long day."
A judge could set aside a jury verdict or order a new trial for a defendant if the judge finds the verdict to be unreasonable or highly against the weight of the evidence. Such requests are commonly made by defense attorneys but are rarely granted.
Contact: markos@northjersey.com