Did the Vatican Halt an Investigation into Former Twin Cities Archbishop Nienstedt?
By Laura Yuen, Peter Cox
Minnesota Public Radio
July 21, 2016

https://www.mprnews.org/story/2016/07/21/nienstedt-investigation-documents

[Affidavit of Thomas E. Ring - Redacted]

[July 7, 2014 Memo]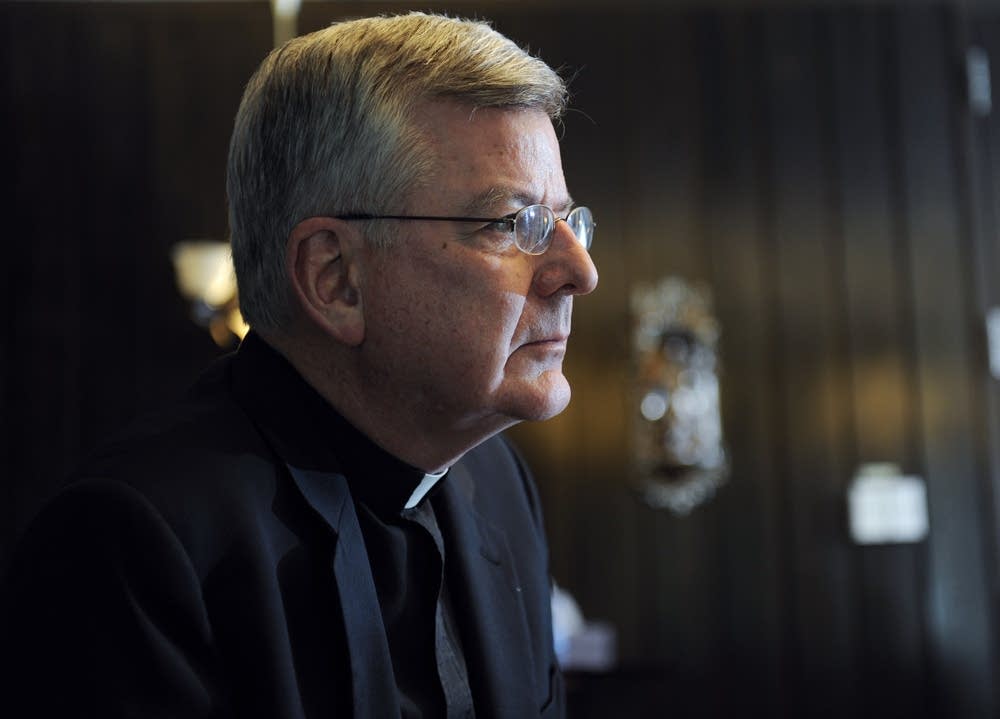 Archbishop John Nienstedt talks with a reporter at his office in July 2014. Craig Lassig | AP file 2014



Documents released by the Ramsey County Attorney's Office Wednesday showed the extraordinary measures Catholic officials took to quash a private investigation into former Twin Cities Archbishop John Nienstedt.

Nienstedt himself had ordered the investigation, citing unspecified allegations against himself. He said at the time that the allegations did not "involve minors or lay members of the faithful, and they do not implicate any kind of illegal or criminal behavior" and "involve events alleged to have occurred at least a decade ago, before I began serving in the Archdiocese of St. Paul and Minneapolis."

He called those unspecified claims, at the time, "absolutely and entirely false."

But as MPR News previously reported, once the lawyers hired to conduct the investigation started uncovering allegations of Nienstedt's alleged sexual misconduct with adult men, the archbishop attempted to obstruct their work.

One new document, released Wednesday, goes even further: It suggests that the order to halt the investigation came not from Nienstedt, but straight from the Vatican.

A July 2014 memo from the Rev. Daniel Griffith, who at the time was in charge of the archdiocese's department focused on protecting children, accuses the apostolic nuncio — the Vatican's representative to the United States — of ordering the investigation to end abruptly, without following up on all the leads investigators had uncovered.

Griffith also alleges the nuncio — who, at the time, was Archbishop Carlo Maria Vigano — ordered top church officials to destroy a letter that indicated their disagreement with him.

If that assertion is true, it means the Vatican could have played a role in destroying potential evidence.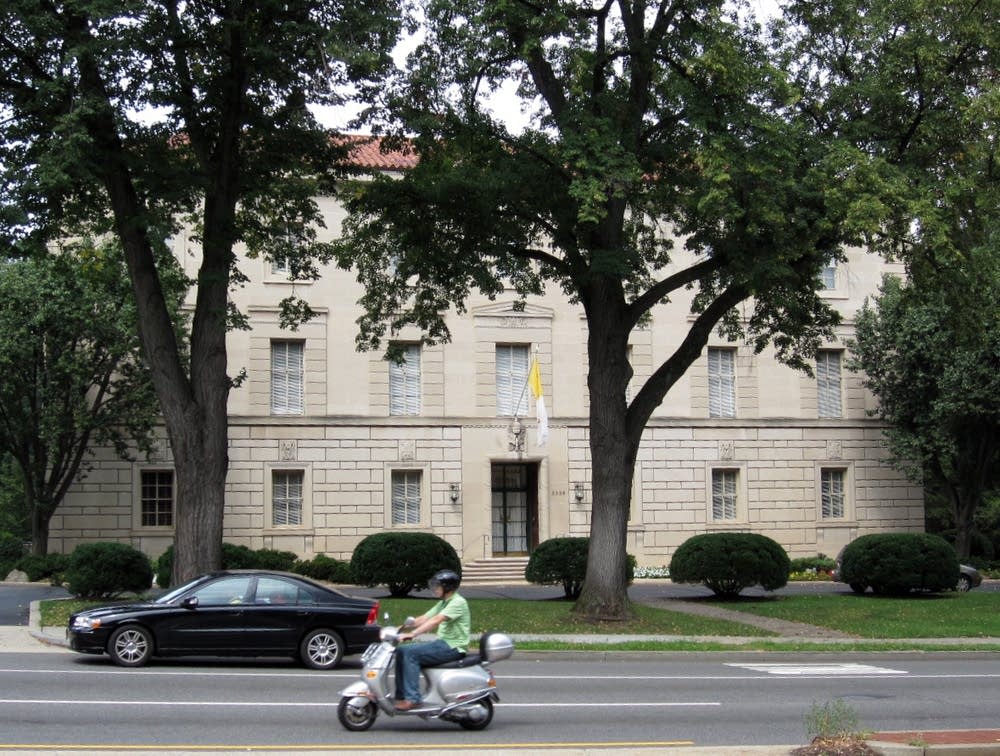 Apostolic Nunciature in Washington, D.C. Courtesy Florence Craye | Creative Commons via Flickr



How it all started

By fall of 2013, the Archdiocese of St. Paul and Minneapolis received allegations against Neinstedt, claiming sexual misconduct with men. At some point, officials became aware that Nienstedt may have had a relationship with Curtis Wehmeyer, the former priest, now in prison, whose abuses and cover-up led to the unraveling of the archdiocese's clergy sexual abuse scandal.

The archdiocese hired the law firm Greene Espel to investigate.

The firm's investigators gathered affidavits from 11 people who detailed a number of allegations of misconduct by Nienstedt spanning many years. Some of the statements came from priests who said Nienstedt sexually harassed them and made unwelcome advances against them.

Several months later, MPR News reported, two Twin Cities church leaders — Auxiliary Bishops Lee Piche and Andrew Cozzens — went to Washington, D.C., to meet with Vigano. Shortly after that meeting, the investigation — as it was originally ordered — was over.

But until now, it was never clear who exactly made the call to halt the investigation.

Settlement unearths new evidence

On Wednesday, the archdiocese admitted wrongdoing in the way it handled sexual abuse allegations against Curtis Wehmeyer. The admission came as part of a settlement deal with the Ramsey County Attorney's Office, which dropped criminal charges it had filed against the church last year.

Later in the day, Jeff Anderson, an attorney for many abuse victims, held a news conference to highlight Griffith's July 2014 memo, which was released by Choi as part of the settlement. The letter was written to Piche and Cozzens just after Greene Espel withdrew from the Nienstedt investigation.

Griffith, a priest well-respected throughout the archdiocese, had been put in charge of the archdiocese's child safety program after Wehmeyer was sentenced to prison.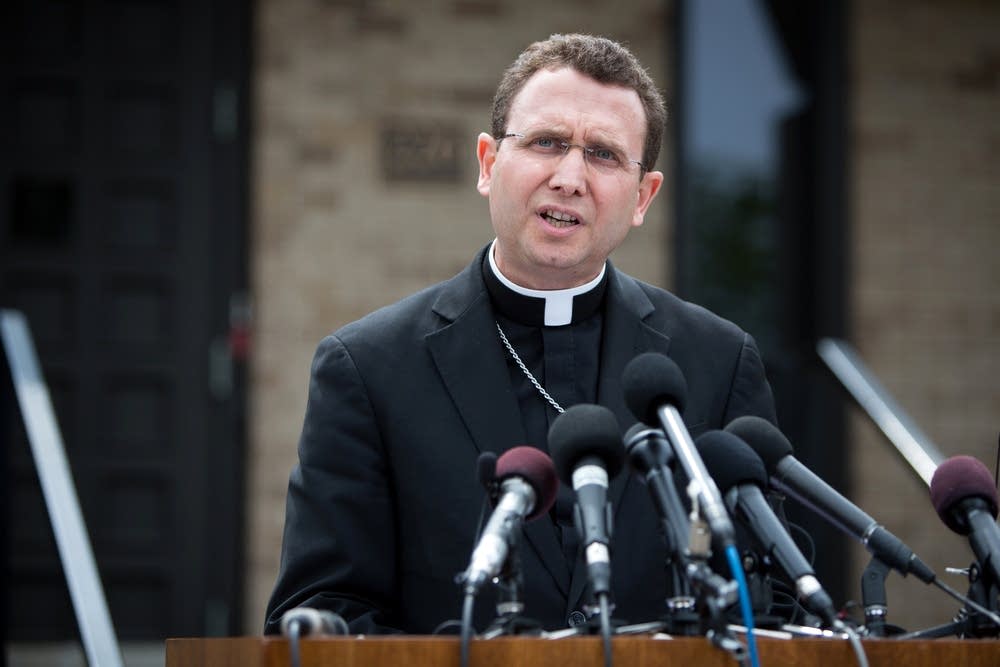 Auxiliary Bishop Andrew Cozzens read a statement about Archbishop John Nienstedt's resignation last June. Jennifer Simonson | MPR News file 2015



In his letter, Griffith summarizes his deep concerns about the allegations against Nienstedt, and how top officials responded.

He says shortly after the meeting in Washington, Nienstedt convinced the nuncio that the allegations were not as serious as described.

The nuncio then instructed the lawyers at Greene Espel not to pursue any further leads, Griffith writes. Even more damning, Griffith says, Vigano instructed the bishops to destroy a letter in which they objected to his decision to shut down the investigation.

He calls the events a "good, old-fashioned cover-up to preserve power and avoid scandal and accountability."

Swift responses

An attorney for the archdiocese responded Wednesday that the criminal charges had been dismissed and "that dismissal is unconditional and speaks for itself."

David Clohessy, director of Survivors Network of those Abused by Priests, said he's not shocked by the allegation. "I think it's very, very significant that Vatican officials are interfering with investigations here in the United States about clergy sexual misdeeds," he said Wednesday.

In a written statement Wednesday, Nienstedt reiterated his earlier assertions that the investigation had been prompted by allegations more than a decade old, and outside the Twin Cities archdiocese, though he did not elaborate. He said again that the unspecified allegations were false, and said he still has not seen the results of the investigation.

"However," he added, "I want to be clear and reiterate the public responses that I have made since the investigation began. I am a heterosexual man who has been celibate my entire life. I have never solicited sex, improperly touched anyone and have not used my authority to cover up, or even try to cover up, any allegation of sexual abuse."

He called the allegations "a personal attack against me due to my unwavering stance on issues consistent with Catholic Church teaching, such as opposition to so-called same sex marriage," and went on to say that he saw the allegations as retribution for decisions he made as a supervisor and leader of the archdiocese.

Griffith said Wednesday he stands behind the contents of his letter. "The memo speaks for itself," he wrote in an email. "I have confidence in Archbishop [Bernard] Hebda, Tim O'Malley and his safe environment team. I welcome the opportunity to work with them in protecting children and in facilitating greater healing for the victims of clergy abuse."

The results of the private investigation have not yet — and may never be — released. A spokesman for the Ramsey County Attorney's Office said Wednesday that prosecutors had asked for a report from the Greene Espel investigation, but the archdiocese declined, citing attorney-client privileges.